Olives Coca Recipe
Healthy, light, crispy … And especially tasty! The Coca with Spanish olives is a typical recipe of the Mediterranean, with the unmistakable taste of the Hojiblanca black olives. We suggest you prepare it with black olives, but you can use the variety you prefer to give it your personal touch, they are all delicious! What are you waiting for? Get your hands on the dough!
INGREDIENTS
200 gr pitted Hojiblanca black olives
450 gr bread flour
150 ml water
90 ml olive oil
25 gr baking powder
1 tbs salt
1 tbs sugar
Fresh Rosemary
Coarse salt
DIRECTIONS
1. Set the oven temperature until 180º.
2. Add the baking powder, warm water and the olive oil in a bowl.
Blend with a whisk until the baking powder dissolves. Include the flour, sugar and salt. Mix it all until getting a workable dough.
3. Work with the dough to make a ball and set aside in a cold and damp place covered with a cloth for 1 hour.
4. Roll the dough and give it a focaccia shape over a floured surface. Let rise again and when it makes double, add the Hojiblanca olives above the dough and the rosemary and the coarse salt over it.
5. Place the focaccia into the oven up to 180º for 15 minutes.
6. Cut it into portions and serve.
An Interview with 'Olives from Spain' Responsible Paula Sánchez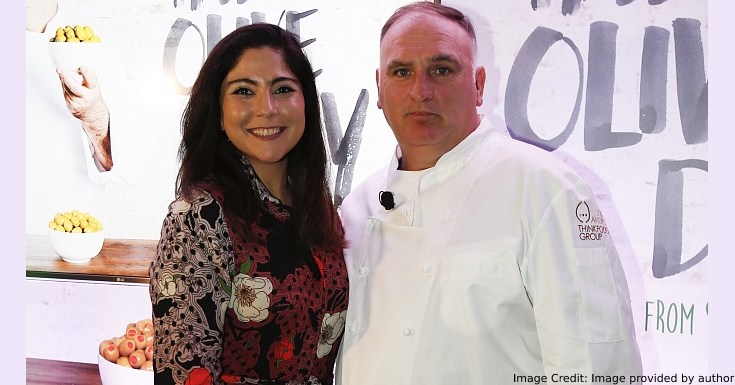 What are the goals of Olives from Spain program in the US?
Our main objective is to make known the multiple virtues of the table olive, its versatility, its nutritional properties, give ideas on how to integrate it into dishes, how to get to know its different varieties and above all, to have fun and enjoy with one of the few foods that naturally have the 4 basic flavors: salty, bitter, sour and sweet.
What make these olives so special?
The olives are versatile; they go both with salty and sweet dishes. They are easy to store, you can find them in any supermarket and also have an affordable price! You can cook with them or you can just open a can and enjoy them. They are also a light and healthy snack. In Spain, we have been growing table olives for over 2,000 years and we are the world's leading producer and exporter, we are experts in olives!
What is the path followed between the tree and the American consumer?
A little olive would have taken quite a journey before reaching America, its adventure likely beginning in the warm Spanish sun, because olives require a lot of warmth, sunlight, and rich, fertile soils. Olives are a huge part of the country's culture, from its starring role in traditional tapas to its position as an important economic driver in Spain's agricultural sector.
Olives grow and ripen throughout the summer, usually becoming ready to pick between September and November. Then they are carefully harvested, hand-picked by workers carrying baskets around their necks to protect against bruising.
It's a traditional method of harvesting that exists alongside modern farming to this day and can be quite time-consuming given that there are about 1.2 million olive trees in Spain. The country is the largest producer of table olives in the world, as well as the largest exporter, according to the International Olive Council.
To hit "table" standard, olives from Spain must have a small, smooth pit, average fat content, delicate taste, firm flesh, and fine skin.
While people may think the color of an olive denotes its variety, the color only tells you when an olive was picked from the tree.
But olives can't be consumed directly from the tree. They contain phenolic compounds that make them too bitter to be eaten raw, so they must be processed before being exported. Before being packed for shipment, olives can be processed with or without fermentation, depending on the type of olive and style of processing.
The fruit is subject to a cooking method, brine or repeatedly rinsed in water. The curing process can take from a few days to several months if brine or salt packing is used. In the case of black olives from Spain, it is possible to use an alkaline treatment with air or let them mature in the tree, which is the traditional method. Once cured and ready for consumption, olives are packed up and shipped to America.
Are the Olives from Spain the preferred by the USA citizens?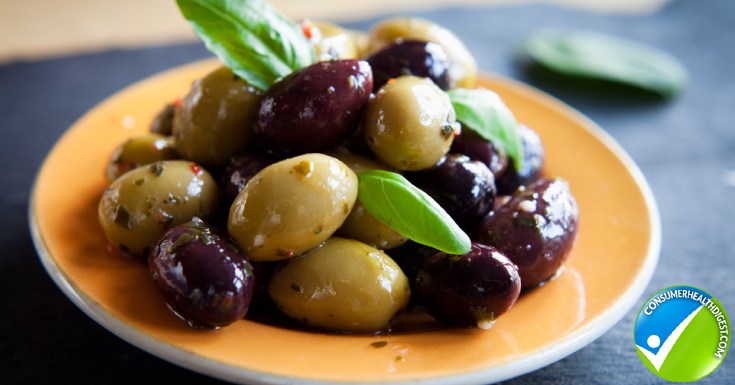 Spanish olives are present in more than 120 markets and the USA is the main importer of Spanish table olives. The USA imports more than 299 million lbs. of olives each year for a value of more than $400 million (85% of this worth comes from the EU and 55% from Spain).
Therefore, the USA consumes about 165 million lbs. of Spanish olives each year. Spain is the world leader in the production and exports of table olives, accounting for 21% of world production and 30% of world exports
How many varieties we can find?
Just in Spain, you can find more than 90 different varieties and presentations available, but the most common are: The green olive (Manzanilla) that you can find pitted, boneless or stuffed. The queen olive (called Gordal in Spain) that it's larger than most olives. And the black olive (Hojiblanca) it has a light, flexible flavor and it's the perfect match for a sweet dish.
Are they good for health?
Yes, they are. Olives contain 150kcal in around 100 grams, which is four times lower than processed snacks. That's 37kcal for every seven olives. With oleic acid (up to 77% of olives' fat content is oleic acid, a "good fat"). Additionally, black olives are a particularly good source of iron, accounting for 45.5% of the recommended daily allowance.
Are we dealing with a new ingredient?
Although it is an ingredient that has been integrated into Mediterranean gastronomy for hundreds of years, it is true that for Americans can be seen as something new, at least the fact of seeing it as an ingredient and a very complete food beyond just a topping for pizzas and salads.
Olives are an excellent ingredient that, having the 4 basic flavors (salty, bitter, sour and sweet) perfectly combines with all types of dishes, from the simplest as a dressing to the most sophisticated, whether salty or sweet recipes. It is also nutritionally speaking very interesting and has many properties that make it not only tasty but healthy.
Good for children?
Sure! They are also ideal for children to start taking their first steps in the kitchen. We have several easy and fun recipes to make with children on our website
How many olives from Spain are consumed in our market.
Already answered
A little history about them in the USA.
The olive tree was one of the first crops introduced by the Spaniards in America, the olive tree arrived from Mexico to Peru; at the end of the 16th century, both countries already had olive groves in production. The olive tree arrived in Chile from Peru.
In Argentina, cultivation began in the 16th century. In 1769 and in San Diego Bay (California) the first olive tree was planted and in the following 54 years, olive trees were planted in the 21 missions that were established along the entire Californian coast.
The preparation on an industrial scale of the first table olives in Spain, began at the end of the 19th century in the province of Seville (Andalusia) Since then and until now, Spain has led the world markets, both in terms of production and sales volume. And since then you can find Spanish olive in the United States being that most of the olives consumed in the USA (More than 83%) come from Europe.
USA is the main importer of Spanish table olives. The USA imports more than 299 million lbs. of olives each year for a value of more than $400 million (85% of this worth comes from the EU and 55% from Spain). Therefore, the USA consumes about 165 million lbs. of Spanish olives each year.
Image Credits
Feature Image Credit: Images provided by author
Inpost Image Credit: Images provided by author, shutterstock.com
View All