A Classic Italian Dish Is Now The Perfect Breakfast Or Brunch
What a way to start your day. Last night, I had an idea to do a breakfast manicotti using my homemade chickpea flour tortillas. Sadly, my tortillas broke in half, so I decided to make a breakfast lasagna out of it instead.
It only goes to show that you can make due with whatever you have. If you are new to chickpea, let me give you a rundown.
What Is Chickpea And How Do You Make It Into Flour?
Chickpea or garbanzo beans are a legume that is rich in nutrients especially protein and low in fat. Chickpea flour is simply chickpea grinded then sieved into flour. I make a batch of it that lasts for at least a week. It's really popular in my family.
A cup of chickpea flour is about 43 grams of carbs, which can make meals serving for 2-3 people. So it's slightly higher in carb but lower in serving sizes.
Chickpea Flour Is Paleo Friendly
Chickpea flour is popular for people on the paleo diet. When I used to do the ketogenic diet, I came across it. Once I stopped keto, I decided to try it (even though I'm not on a paleo diet).
There are so many recipes for pasta, bread, oven fried chicken, and pizza crust and of course, tortillas.
What I Learned From Using Chickpea Flour?
I started using chickpea flour about 2 months ago, and I have learned a lot. The first thing is, chickpea flour is very light. Making the tortillas was similar to making pancake or crepes batter. It's the same process for making pizza crust. That might be unusual for some, but it works.
This lasagna is a first for me, but I was all too eager to make it. Step by step, I began prepping ingredients and making changes so it could work. The final product….. Perfection! This lasagna is better than my flatbread sandwich.
What a delicious breakfast that would make an amazing brunch. My brother almost paid me to make another… I was tempted to accept.
This recipe is very versatile. You can personalize it any way you want. Use low-fat ingredients to reduce fat and calories. I hope you enjoy this as much as I did. A healthier twist on a classic Italian cuisine and one very close to my heart.
Chickpea Flour Tortilla Breakfast Lasagna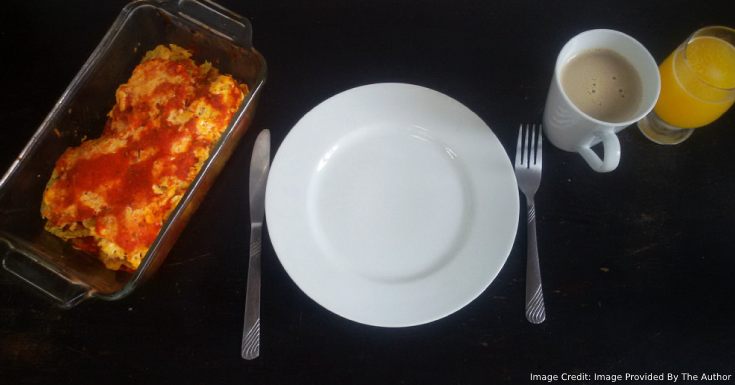 Serving: 3
Prep time: 15 minutes
Cook time: 45 minutes
Ingredients
For the tortillas (makes 6 medium tortillas):
1cup chickpea flour
½ tsp salt
1 tsp oil (I used coconut oil)
water for mixing
For the filling:
2 whole eggs
½ pound ground breakfast sausage
3 tbsp sour cream or mayo (low fat is good)
½ cup cheddar cheese/ mozzarella
2 tbsp fresh herbs, separated
1cup tomato sauce
Salt and black pepper to taste
Oil for cooking, (again, I used coconut oil)
Instructions
Preheat the oven at 375 degrees F. Grease a lasagna pan with your choice of spray, oil or butter.
Mix together the ingredients for the tortillas. Place a frying pan over medium-high heat. Pour in a tablespoon of oil, turn the pan, so all of it is coated by the oil.
Pour in 2 tablespoon batter, using a spoon to spread it out in a circular form. Cook on each side for about 2 minutes or until its golden brown. Remove the first tortilla on a plate then pour in the rest of the batter and repeat the process.
Combine the sour cream/ mayo, cheese and pepper then set aside.
In a bowl, whisk together the eggs, herb, salt, and pepper.
In a separate bowl, add the tomato sauce, herbs, salt and pepper then mix it all together and place aside.
Add the oil to the pan and cook the ground sausage. Remember to drain the meat of excess fat. Add in the eggs and cook as you would scrambled eggs.
Once done, turn off the heat and add in half the cheese mix. Stir until everything is well combined.
Now it's time to assemble the lasagna. Add some of the tomato sauce to the bottom of the pan. Cut the tortillas in half, place four-piece in the pan then add the egg and sausage mixture and another layer of tomato sauce.
Repeat the layers of tortilla, eggs, tomato sauce. The top layer of tortilla, cover with the remaining cheese mixture and tomato sauce. Place it the over and let it bake for 20-25 minutes until the cheese has melted.
10.Once done, allow it to cool then serve it up warm with a hot cup of coffee, tea and/ freshly squeezed orange juice.
Nutrition Facts per serving: Calories- 976; Total fat 76g; Total Carbohydrates- 33g, Fiber- 5g; Sugar- 9g; Protein- 41g.
Read More: Make Delicious Porridge With Matcha Green Tea And Chia Seed
Conclusion
If you have never used chickpea flour before, I highly recommend it. The nutrient value as well as the versatility of it is amazing.
So far, my favorite creation made from chickpea flour is a tie between this lasagna and my crispy oven fried chicken that I normally make with oat flour. Even my mother loves it. She makes her dumplings with it.
Here's a tip, you can make chickpea flour at home. If you have a strong blender or food processor, simply place the chickpeas into it and blend. Then sieve the chickpea in parts, a few tablespoons at a time and discard the remains.
I usually blend the leftovers once again to get as much flour out of it as possible. I currently live in Jamaica (where I was born and raised). Store bought chickpea flour, and other healthy flours are extremely expenses.
When I found out that I could make my own, I was incredibly happy. I love it. Chickpea flour, as well as oat flour, are my top 2 flours.
What else am I going to make? I guess you just have to wait and see.
Image Credits
Feature Image Credit: Image Provided By The Author
Inpost Image Credit: Image Provided By The Author
View All