In This Review
What is SuperBeets?
Humann SuperBeets is marketed as a "Superfood" supplement that boosts circulation in the body which is said to help improve stamina and energy levels.
It offers a highly concentrated form of beets rich in dietary nitrates and nutrients. The product uses a special, patented drying process for retaining the integrity of nutrients and dietary nitrites from the beets.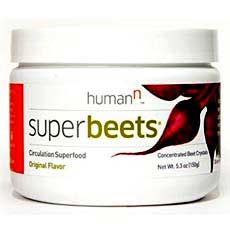 The supplement's dietary nitrites are then converted by the body into nitric oxide which offers a number of benefits like increasing energy level, supporting healthy blood pressure levels[1] and promoting healthy circulation in the body. There are two flavors which are natural apple and black cherry.
Who is the Manufacturer of SuperBeets?
The product is from Neogenis Labs which claims to be a leader in the research of nitric oxide. The company is based in Austin, Texas. They offer a range of products that are highly regarded by nutritionists, physicians, athletes, and ordinary consumers according to their official website.
It claims to be a pioneer in patented technology for delivering bioavailable dietary nitrates in a special form that can be easily converted by the body into nitric oxide. The company is not well-known but its products are made in the United States.
Advertisement
*All individuals are unique. Your results can and will vary.
SEE ALSO –
Turmeric Curcumin Plus
is a natural health supplement which doesn't require you to change your lifestyle to be effectiveness.
Who Promotes SuperBeets?
Several celebrities promote SuperBeets, including Ben Shapiro and Tomi Lauren.
What Does humanN SuperBeets Claim?
Great source of dietary nitrates which are converted by the body into nitric oxide
Helps with healthy circulation in the body
Helps maintain healthy blood pressure levels
The boosts energy level and stamina
Helps enhance exercise endurance
It also contains antioxidants and electrolytes
SuperBeets Ingredients – Are they Safe & Effective?
SuperBeets only contain the highest quality non-GMO beetroot powder which is known to offer the highest dietary nitrite concentration. The beets are grown in the United States in the rich and carefully cultivated the soil for optimum potency.
A special growing and drying process is used to conserve the highest nutritional value. The non-GMO beetroot powder contains dietary nitrate which is easily converted by the body into nitric oxide.
However, Nitrate in the human diet is present mainly in beetroots and most of the leafy green vegetables like spinach and lettuce as studied in Journal of Analytical & Bioanalytical Techniques.
Beetroot juice has been consumed for centuries because it is known to offer health benefits. It became very popular because athletes from the United Kingdom claimed that it helped them deliver one of their best performances in recent decades at the 2012 London Olympics.
How Does SuperBeets Work?
With one teaspoon of Humann SuperBeets, the user will get the nitric oxide equivalent of three whole beets. This provides the body with dietary nitrates which are easily converted by the body into nitric oxide. It helps increase nitric oxide level in the body which offers several health benefits such as improving overall circulation in the body.
Advertisement
*All individuals are unique. Your results can and will vary.
There are some studies indicating that this can also improve physical performance while improving stamina and endurance. It may also help protect the body from free radical damage since it contains antioxidants and nutrients.[2]
What are the Advantages of SuperBeets?
It is from a known supplement company that specializes in nitric oxide research
The product contains high quality, non-GMO beetroot powder
It is an all-natural nitric oxide supplement
The active ingredient is backed by science
The beetroot supplement is easy to use
There is a 90-day money back guarantee
It is made in the USA
There are many good feedbacks from users
What are the Disadvantages of SuperBeets?
There is no independent clinical test proving that the supplement really offers health benefits
It is a little expensive compared to other beetroot supplements
The taste is not very good according to people who have tried the two flavors
There are some feedbacks saying they didn't feel any benefits from using it
SEE ALSO – ActivatedYou Reviews and Vitamin Energy Reviews
Is SuperBeets a Scam?
SuperBeets is a beetroot powder supplement that comes at a slightly higher price.
It's difficult to see if this supplement varies from any other beet-based supplement available for a fraction of the cost.
Although the company claims that one serving equals three beets, there is no proof or precise figures to back up this claim. The number of nitrates the key component used to raise nitric oxide levels.
Aside from a report conducted by HumanN, the firm that manufactures SuperBeets, there hasn't been any analysis done on them. Beets, in general, are good for your health and have been shown to lower blood pressure, boost blood flow, and improve athletic ability. SuperBeets, with this in mind, has the ability to do the same.
READ ALSO – NutriO2 Reviews
SuperBeets Reviews
Have been using the powder for about 3 weeks. They sent a free package of chews. Is there any difference between the formulation or bioavailability of the chews and the powder? If not, the chews taste better, so why not just get the chews? ~ review by Michael Caldwell
SuperBeets FAQ
Q: How Should You Take SuperBeets?
A: Mix 1 scoop of the powder with about 4 ounces of water then stir or shake until it is completely dissolved.
Drink the mixture immediately after. For best results, it should be taken daily preferably in the afternoon for a boost of energy and nitric oxide level.
Advertisement
*All individuals are unique. Your results can and will vary.
It is best taken with Neo40 Daily which is also a nitric oxide supplement from the same company.
Q: What are the Side Effects of SuperBeets?
A: There are some side effects associated with beets and their supplements:
Can cause low calcium levels and kidney damage.
It may exacerbate kidney disease.
Note: According to at least one section of the SuperBeets website, you shouldn't take more than two 5g scoops in a 24-hour period, while elsewhere they claim you shouldn't take more than four scoops.
Q: What is Neo40?
A: From the makers of Superbeets, Neo40 is a custom formula that naturally replenishes nitric acid levels.
Q: Are there any free trials or offers for Superbeets?
A: You can refer to its Official Website for the offers and trials.
Q: Can weight loss be achieved with Superbeets?
A: Not sure since it is for boosting energy and increasing stamina.
Q: I bought the SuperBeets Chews I received it today. Was reading about side effects it says about kidney damage. How true is this?
A: Unless you have had a kidney stone, you may not be in any danger. If you are susceptible to oxalate-containing kidney stones, however, then beets, beet greens, and beetroot powder could pose a problem. They are quite high in oxalates and may promote kidney stone formation in susceptible individuals.
Q: Can Super Beets Be Taken If You Are on Blood Pressure Meds?
A: The recommended daily serving of SuperBeets is 1 teaspoon (5 grams) mixed with water. The product appears to be safe, but no research on its safety exists. Because of its potential to lower blood pressure, those on blood-pressure-lowering medications should speak with their doctor before taking SuperBeets.
YOU MAY ALSO LIKE –
Turmeric Curcumin Plus
is a natural health supplement which doesn't require you to change your lifestyle to be effectiveness.
Warnings
Never exceed two scoops of SuperBeets in a 24-hour period. It is not for women who are pregnant or those who are breastfeeding. You need to consult your healthcare professional before taking this supplement if you have a medical condition or are under medication since it may cause adverse effects.
How much does Superbeets Cost?
You have the option of a one-time purchase priced as follows for either original or black cherry flavor.
1 box (30 servings): $39.95 + $8.95 for shipping & handling.
2 boxes + 1 FREE (90 servings): $79.90 (free shipping & handling) | TOTAL SAVINGS: 33%
4 boxes + 2 FREE (180 servings): $149.90 (free shipping & handling) | TOTAL SAVINGS: 37%
If you sign up for an auto-ship subscription (where they send you a fresh supply each month) you save a little money and shipping is always free.
What are Customers Saying About SuperBeets in their Reviews?
Interestingly, we found very little online customer feedback for SuperBeets at the time of our research.
SEE ALSO – Umzu Redwood Review
SuperBeets Review – Final Verdict
Humann SuperBeets is a good energy booster and it is an excellent nitric oxide supplement that is all-natural. The product has good feedback and it comes with a comprehensive money-back guarantee.
At the same time, there are a lot of people saying that it didn't really help them out which is something that you should account for. It is best to take another look at health supplements in the market.
The only problem is the high price but this is definitely a product worth trying if you're in the market for a nitric oxide supplement.
We laid out the facts, will you buy HumanN SuperBeets? Comment below and tell us what you think!
The most effective health supplements that are currently present on the market can be found below. We have taken our time and rated these products in accordance to these five essential factors: quality of active ingredients, energy boosting, hormone balance restoration, cognitive function improvement and immune system strengthening.
Our Top Health Supplements Choices
Verdict on Claimed Benefits: Below is our summary of the available evidence for the claimed benefits of below mentioned health supplements and probiotic supplements based on the available research: