In This Review
Overview of Orgain
Orgain is a brand of protein products including powders, bars oils, and shakes. They come in various delicious flavors and offer health benefits like suppressing appetite, promoting weight loss, lowering blood pressure, building muscle mass and strength, providing energy, and helping with exercise recovery. These are organic products which are also gluten-free, vegan, lactose-free, and kosher.
How Does It Rate?
Overall Rating: 3.8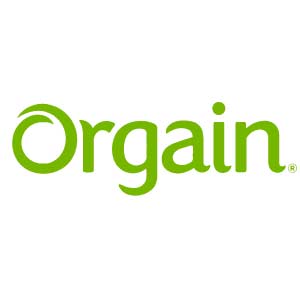 Orgain

Brand Highlights
It's gluten-free, vegan, lactose-free, and kosher
The company provides a number of recipes.
They offer 2 Orgain kids protein products.
You get 25% off first subscription orders.
Key Ingredients
Beta Carotene
Niacinamide
Organic Vitamin and Mineral Blend
Organic Pea Protein
Organic Chia
Organic Brown Rice Protein
Acacia
High Oleic Sunflower Oil
Collagen Peptides
Pros
Orgain clean protein could suppress hunger and help with weight loss.
The product may help lower blood pressure.
Orgain Protein Powder might build muscles mass and strength.
Orgain may give you added energy.
These products can promote exercise recovery.
Cons
There's no company contact information on the website.
The products have more carbs and fats than other similar products.
Some products contains allergens like tree nuts.
---
Top Recommended Products
Orgain Keto Protein Powder
Keto-Friendly Organic Formula
Key Ingredients: Organic Coconut Oil, Organic Acacia, Organic Rice Bran Extract, Organic Pea Protein
Price: $36.99
What It Does: Orgain Organic Protein Powder curbs appetite, builds muscles, provides energy, helps with exercise recovery
---
Clean Orgain Protein Shake 20g
Pure Fresh Protein for Wellness
Advertisement
*All individuals are unique. Your results can and will vary.
Key Ingredients: Grass-Fed Milk Protein Concentrate, Organic Agave, Monk Fruit Extract
Price: $29.99
What It Does: Curbs appetite, builds muscles, provides energy, helps with exercise recovery
---
Orgain Organic Almond Milk
Get Your Daily Glass of Almonds
Key Ingredients: Organic Almond Milk, Organic Pea Protein, Sea Salt, Locust Bean Gum
Price: $26.99
What It Does: It provides a nutritious alternative to cow's milk.
---
Kids Organic Plant Protein Nutritional Shake
Kids Need Protein Too
Key Ingredients: Organic Pea Protein, Organic Chai Seeds, Organcxie Rice Dextrin
Price: $27.99
What It Does: It provides kids with good clean nutrition.
Advertisement
*All individuals are unique. Your results can and will vary.
---
How Does Orgain Work?
Orgain is full of plant-based protein which can provide additional energy. In addition, it travels to the muscles and helps to build mass and strength. Protein fills up the stomach, suppressing the appetite and helping with weight loss.
This is also true of the fiber in the product, which can additionally help promote digestive health.
An article in the American Journal of Clinical Nutrition discussed the role of protein in weight loss and maintenance [1].
In addition, protein can help with muscle repair and speed up exercise recovery. An article in Frontiers in Nutrition discussed protein supplementation in performance and recovery [2].
These products are also high in antioxidants, which can kill harmful free radicals and decrease oxidative stress. This promotes healing in the body and strengthens the immune system.
What Are the Ingredients in Orgain?
These are some of the primary active ingredients in Orgain:
Collagen Peptides – Collagen exists naturally in the body but declines with age. It can offer numerous benefits including eliminating wrinkles and lines in the skin, promoting nail and hair strength, rebuilding damaged cartilage, building muscle mass, and helping to ease digestion.
A review in the Journal of Cosmetic Dermatology discussed collagen supplementation for skin health [3].
Organic Rice Bran Extract – This is the outer layer of the rice crop which is a good source of fiber and nutrients. It may promote healthy digestion and help with weight loss by suppressing appetite.
It may also lower blood pressure. A study on rats in Nutrients found that rice bran reduced weight gain and moderated lipid metabolism [4].
Organic Chai Seeds – These seeds are high in fiber and very rich in healing antioxidants which strengthen the immune system. They can suppress appetite and decrease the amount of food you consume. They support heart and bone health and could reduce blood sugar levels.
An article in Natural Medicine Journal explored the anti-inflammatory and chemoprotective effects of chai tea [5].
Almond Milk – Almond milk is high in Vitamin E, which is a potent antioxidant that promotes healing in the body and makes the immune system stronger.
It also supports heart health and may decrease the risk of stroke and cancer. An article in the World Journal of Dairy and Food Sciences discussed the nutritional and sensory properties of almond seed milk [6].
Who Should Buy Orgain?
Orgain is a line of organic protein intended for people who want to work on weight loss goals, build muscle, or reap some of the other positive health benefits of these products. Finally, it's for anyone who wants a plant-based option for a beverage.
Orgain (FAQs)
Q: What Do the Orgain Reviews Say?
A: The Orgain reviews varied depending on the product, but many of them were quite good. There were users who said they experienced weight loss and muscle-building benefits. There were also customers who said they got few results from these products, and some had side effects like stomach upset.
Advertisement
*All individuals are unique. Your results can and will vary.
Q: Is Orgain Protein Powder Safe?
A: Orgain Organic Protein is safe. They are completely organic and include no fillers or additives. There may, however, be mild side effects that accompany taking them. If you experience symptoms that are unpleasant, stop using Orgain.
Q: What are some similar products to Metamucil?
A: Some products similar to Metamucil include Natures Craft MSM, Neat Nutrition, Neocell Super Collagen
Q: What is the Orgain Return Policy?
A: The company has a 30-day return policy, but it does not apply to any food products. Therefore these product are really final sale. If you buy from another retailer, they may offer a refund policy.
Q: Is Orgain Protein Powder Good?
A: There are good aspects to this product, such as the reasonable prices, organic ingredients, and selection of flavors. There are also negatives, like the high amount of carbs in the products and the inclusion of some allergens like tree nuts.
Q: Where to Buy Orgain Products?
A: You can purchase these products on the manufacturer's website, as well as from a number of other online and offline retailers like Whole Foods and Amazon. On the official site you can get a subscription or make a one-time purchase. The manufacturer pays all shipping costs. Here are the prices of some of the top products:
Orgain Grass-Fed Whey Protein Powder – $31.99
Orgain Protein Bars – $19.99
Orgain Organic Protein Shake 20g – $29.99
Orgain Plant-Based Protein Shake 20g –$29.99
Orgain Keto Collagen Protein Powder – $34.99
Orgain Organic Plant-Based Protein Powder 1.12lb – $25.99
Orgain Organic Protein Almind Milk (sweetened or unsweetened) – $26.99
Q: What Sets Orgain Apart From the Competition?
A: Orgain Protein has a very pleasant, cheerful product design, and they offer a number of unique and delicious flavors compared to some of the other brands. On the down side, these products have more carbs than some of the other similar products.
Conclusion
Orgain is an organic product line which produces protein powder, shakes, bars, and oils for flavor and health benefits. They promise to suppress the appetite and help with weight loss, build and strengthen muscle mass, decrease blood pressure, and help with exercise recovery. Orgain offers a nice selection of products, including kids items.
There were a number of Orgain reviews for the different products, and they varied somewhat. There were some very good ones for users who said they loved the line and they got weight loss and other benefits. Other users said the product did little for them, and some didn't like any of the flavors.
Orgain is an all-natural formula free of chemical or artificial additives, and it should be safe. However, there are some mild side effects which could occur. If you should experience unpleasant symptoms, stop using these products right away. You may want to check with a dietician before starting on this regimen.
Up NEXT – Magic Spoon Cereal Review: Childhood Flavors Without the Sugar and Carbs
The most effective health supplements that are currently present on the market can be found below. We have taken our time and rated these products in accordance to these five essential factors: quality of active ingredients, energy boosting, hormone balance restoration, cognitive function improvement and immune system strengthening.
Our Top Health Supplements Choices
Verdict on Claimed Benefits: Below is our summary of the available evidence for the claimed benefits of below mentioned health supplements and probiotic supplements based on the available research: