What is Ocuvite?
Ocuvite is a brand of eye vitamins and mineral supplements from a company that specializes in eye care. There are different formulations for specific needs like the Eye Health Gummies, Adult 50+, and Eye + Multi formulas. These supplements are for replenishing essential eye nutrients that are lost with aging.
The family of eye vitamins & mineral supplements also work to protect eye health as a person ages. In this product review, we will be taking a closer look at the Ocuvite Eye + Multi formula which is an all-in-one eye vitamin, and multi-mineral supplement which is the most popular among the products. One bottle with 150 soft gels is priced at $33.99 online.
Who is the Manufacturer of Ocuvite?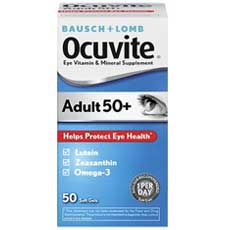 The Ocuvite family of eye vitamins and mineral supplements are from Bausch + Lomb which traces its roots to 1853 when a German immigrant opened a small optical goods shop in Rochester, New York.
The company started with innovative eyeglass frames along with specialized optical products made with a high degree of manufacturing precision. The company currently holds numerous patents for microscopes, camera shutters, and binoculars based on how the eye reacts to light.
Bausch + Lomb has already established a good reputation in the industry and the company offers a wide range of eye care products today.
How Does Ocuvite Work?
Ocuvite Eye + Multi formula provides the user with vital nutrients that are essential to eye health. As a person gets older, he/she needs more of certain vitamins and minerals. The problem is that these nutrients are difficult to consume through food sources.
Thus, Ocuvite supplements are designed for specific needs providing vitamins and minerals that work to maintain optimal eye health. The formulations include important nutrients that protect eye health and help restore its youthful qualities using clinically proven active ingredients.
Ocuvite Ingredients – Are they Safe & Effective?
The ingredients in the product include:
Omega-3 Fatty Acids – These are particularly beneficial for your eye sight and for your overall health condition.
Lutein – This is something that is going to provide you with additional benefits for your vision and overall eyesight.
Advertisement
*All individuals are unique. Your results can and will vary.
Zeaxanthin – This is rather rich in carotenoids which are known to help your vision as well and it might complement the functioning of the product in general.
ALSO READ – Activated You Morning Complete
What are the Advantages of Ocuvite?
The product might be able to improve your overall eye health
It might be able to improve your vision substantially
It is made of ingredients which are all natural and lack any chemicals
The product doesn't seem to have any side effects to it
What are the Disadvantages of Ocuvite?
There is no substantial evidence backing the claims of the product
No free trial or money back guarantee is offered
There are some negative feedbacks saying it is not very effective
Also Read Other Health Supplement Product Reviews
Directions for Use
Take two tablets with a meal once per day followed by a glass of water.
Precautions
If you have any medical condition or are under medication, check with your healthcare provider before taking Ocuvite Eye + Multi formula in order to avoid interactions or adverse effects. Check the ingredients carefully and make sure you're not allergic to any of them before intake.
FAQ
Q: Does it interact with Other Supplements or Medication?
A: There is a possibility that Ocuvite Eye + Multi formula will interact with other supplements or medications so it would be best to consult your healthcare provider before intake if you are taking medication or other supplements.
Q: Will Ocuvite+50 help with Diabetic Retinopathy in early stage?
A: According to Abdhish R Bhavsar MD, "At present, while vitamins may be helpful for overall health, and certainly if you have macular degeneration, there is no significant evidence that vitamins can help diabetic retinopathy or vision in individuals with diabetes."
SEE ALSO – Umzu Redwood and Goli Nutrition
Ocuvite Review – Final Verdict
This is a product that might be able to improve your eyesight and overall vision. It is intended to provide you with quite a lot of benefits in this particular regard, which is definitely something worth accounting for. The product might be able to help you fix issues with blurry vision, for instance.
At the same time, it is also quite important to note that the ingredients in the product are well-known and used in other products of the kind. This does attribute to the overall credibility.
Yet, it's also important to note that this is a rather broad field – there are a lot of competitive products. This is why you might be able to take another look at the market and see if there isn't something better for you.
Advertisement
*All individuals are unique. Your results can and will vary.
The most effective health supplements that are currently present on the market can be found below. We have taken our time and rated these products in accordance to these five essential factors: quality of active ingredients, energy boosting, hormone balance restoration, cognitive function improvement and immune system strengthening.
Our Top Health Supplements Choices
Verdict on Claimed Benefits: Below is our summary of the available evidence for the claimed benefits of below mentioned health supplements and probiotic supplements based on the available research: