In This Review
Overview of NutriO2
NutriO2 is a cellular enhancement supplement which is composed of activated stabilized oxygen. Increasing the level of oxygen in the body is meant to kill damaging bacteria and viruses.
When these microorganisms are eradicated, it radically improves the health of the body. This product was developed by a man called Kevin Richardson.
How Does It Rate?
Overall Rating: 3.7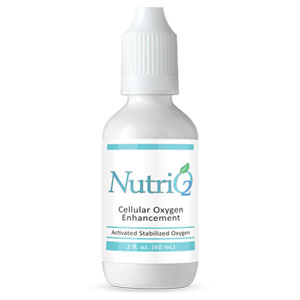 NutriO2 – Cellular Oxygen Enhancement
Brand Highlights
This product was manufactured by Nutrio 02, which is a fairly new company that produces nutritional supplements.
The company and product were formulated by a man named Kevin Richardson.
He wanted to produce an oxygen-rich solution which would kill the bacteria and viruses in the body.
Pros
It can kill damaging bacteria and viruses in the body.
The product can increase the amount of oxygen in the body.
NutriO2 could improve your overall health.
Cons
Some people in the medical community claim this is food grade hydrogen peroxide, not oxygen, and can damage the body.
There may be a strange aftertaste or a filmy layer on the tongue.
---
How does NutriO2 work?
The liquid oxygen enters your bloodstream and boosts your overall cellular oxygen levels. It also stabilizes your body's metabolic processes and increases your energy level.
According to the American Chemical Society, additional oxygen also destroys the harmful bacteria, viruses, and possibly disease in your body. Finally, the additional energy is very healthy for the immune system.
NutriO2 Ingredients – Are they safe and effective?
The only ingredient included in this product is liquid oxygen. Providing cells with additional oxygen is supposed to be beneficial to health in a number of ways. Certainly, the benefits of liquid oxygen to improve respiratory conditions have been documented in Respiratory Medicine.
The American Chemical Society states that it can destroy bacteria and disease in the body[1].
FAQs
Q: How should you take NutriO2?
A: The recommended dosage is 15 drops per day, added to an 8 ounce glass of water, coffee, tea, or any other beverage.
CAUTION: Take it half an hour before you eat, or one hour after. Do not take more than the recommended dosage.
Q: How much does NutriO2 cost?
A: This product is for sale on the official website, and the prices are reduced at the moment:
1 bottle – $49.95, reduced from $89.95
3 bottle – $119.95, reduced from $149.90
6 bottles – $199.95, reduced from $339.75
You can also purchase this product on third-party websites. The prices vary somewhat.
Q: Does NutriO2 offer a free trial?
A: No, the manufacturer isn't offering a free trial for this product. If you want to purchase the product, you can get it on the company website and on Amazon.
Q: How long is the NutriO2 good?
A: The long-term effects of this product are not clear.
Q: Can NutriO2 be safe to use after the expiry date. I have 3 unopened 60ml bottles that expired in July 2019.
A: According to Healthline, expiration dates on vitamins and dietary supplements are extremely conservative to ensure consumers receive quality products. For best results, avoid using vitamins that are past their expiration date. These vitamins may not be as potent.
Q: Why can't I buy NutriO2?
A: The NutriO2 oxygen-based solution is only available online. This means you can only purchase it online, specifically from its official website and on Amazon. The product might be out of stock and not available. Note On Amazon: Currently unavailable. (We don't know when or if this item will be back in stock.)
NutriO2 Review – Conclusion
NutriO2 is a product that was very well-liked by customers. Users saw the benefits of taking in additional oxygen in various regions of the body. One user found a potentially dangerous skin anomaly thanks to this product.
Customers who were displeased about this product weren't numerous. There was some customer who said that this liquid did nothing for them. Others tried to get a refund for various reasons and were unsuccessful, so this is an issue with this manufacturer.
According to the manufacturer's claims, there are no side effects associated with this product, and there were no customers who complained of any such issues.
If you do have any uncomfortable side effects, stop taking the product. It's very important that you get approval from your family doctor before using this product.
The most effective health supplements that are currently present on the market can be found below. We have taken our time and rated these products in accordance to these five essential factors: quality of active ingredients, energy boosting, hormone balance restoration, cognitive function improvement and immune system strengthening.
Our Top Health Supplements Choices
Verdict on Claimed Benefits: Below is our summary of the available evidence for the claimed benefits of below mentioned health supplements and probiotic supplements based on the available research: