In This Review
What Is Nerve Renew?
Nerve Renew is a powerful nerve supplement that is backed by science that helps your nerves function normally. It does this by giving you the nutrients needed to maintain and open micro blood vessels, nourish nerve fibers, and promote the function of the nervous system.
Nerve Renew is an all-natural product, which means you don't have to worry about side effects or other risks. In fact, it can be taken with other medications without any problems or interference in your treatment. It is also safe for both men and women of all ages.
You can take Nerve Renew on a daily basis if you are looking for something that will help improve your overall health by keeping your nerves healthy and functioning normally throughout the day.
How Does Nerve Renew Rate?
Overall Rating: 4.8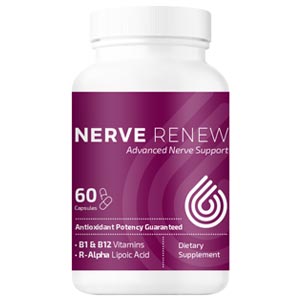 Nerve Renew
Nerve Renew Highlights
Free Two Week Trial
Satisfaction Guaranteed
Positive Reviews
Ingredients Backed By Science
Made In GMP- certified facilities.
Key Ingredients
Vitamin D
Vitamin B2
Vitamin B6
Vitamin B12
Benfotiamine
Stabilized R-Alpha Lipoic Acid
Proprietary Blend
Feverfew Herb Extract
Passion Flower Herb Extract
Skullcap Root Extract
Oat Straw Extract
Pros
Good for nerve pain
contains all natural ingredients
eases nerves
contains antioxidants
Affordable price
About The Nerve Renew Brand
The manufacturer of Nerve Renew is Life Renew, a company founded by Dr. Don Kennedy a medical professional at Stetson University, Florida. The supplement is manufactured in GMP-certified facilities, and the company is located in Boise, Idaho.
---
Which Are The Best Selling Nerve Renew Products?

1. Nerve Renew-Advanced Nerve Support
Key Ingredients: Vitamin D, B12, B6, B2, Benfotiamine, Stabilized R-alpha Lipoic Acid, Proprietary Blend (Oat straw herb extract, Skullcap root extract, passionflower herb extract, feverfew herb extract).
What It Does: Support healthy nerve function, Support mental clarity, and energy, and strengthen protective tissue around the nerves.
Price: $69.00
---

2. Nerve Renew Cream
Key Igredients: Vitamin B6, MSM, Boswellia serrata, Cetyl Myristoleate, Arnica, Tea tree oil, Shea butter
What It Does: Soothes and moisturizes the skin
Price: $27.00
---

3. Nerve Renew Optimizer
Key Ingredients: R- Alpha-Lipoic Acid
What It Does: Improve circulation and blood vessel dilation, and reduced discomfort in the legs and hands, Reduce stress and anxiety.
Price: $29.00
---

4. Nerve Review- No2 Optimizer- Nitric
Key Ingredients: Lemon Balm, Chamomile, Zinc, Magnesium, Melatonin, Valerian Root, L-Theanine, 5-HTP
What It Does: Restorative sleep, increased sensitivity, improved energy, and mental clarity, support healthy nerve function.
Price: $29.00
---

5. Nerve Review- No2 Optimizer- Nitric Oxide Booster
Key Ingredients: Arginine Alpha-Ketoglutarate, L-arginine, Arginine Ketoisocaproate, Ornithine Alpha-Ketoglutarate, L-Arginine Hydrochloride, Magnesium Stearate
What It Does: Relaxes and widens blood vessels, promotes healthy blood flow to all parts of the body
Price: $37.00
---
6. Sleep Aid
Key Ingredients: Chamomille, Velerian Root, Zinc/B6/Magnesium, Lemon Balm, 5-HTP/GABA
What It Does: Helps you sleep fast, heightens sleep quality to improve nerve regeneration, reduces pain-related sleep disruptions, and boosts mental clarity and energy.
Price: $29.00 per bottle
---

7. Energy and Fatigue Optimizer
Key Ingredients: Malic Acid, Acetyl L-Carnitine, NADH, Pantothenic Acid, D-RIBOSE, Taurine, L-Citrulline Malate, Yerba Mate, Rhodiola Rosea
What It Does: Helps improve daily energy levels without crashes or jitters, elevates moot and feeling, promotes healthy performance and stamina, improves focus and alertness
Price : $47.00
Save 20% under the subscriber deal
---

8. Copper Compression Socks
Key Ingredients: Copper infused compression socks
What It Does: helps reduce fatigue by supporting ankles, improves nerve function, promotes healthy blood circulation, promotes the removal of toxins, including lactic acid, reduces fluid pooling
Price: $27.00 (3 pairs)
---

9. Nerve Restore Red Light Slipper
Key Ingredients: Near Infrared Light (total 132 units), remote control, battery
What It Does: Helps initiate nerve growth, promotes healthy blood circulation to extreme regions in the body, improves nerve recovery function, heightens nerve regeneration
Price: $150.00
---

10. Curcumin Nerve Defense
Key Ingredient: Meriva curcumin blend, BioPerine
What It Does: Improves occasional swelling, helps raise antioxidation in the body to increase cell life
Price: $29.00
---
How Does Nerve Renew Work?
Nerve Renew works in four stages – enhancing blood flow, repairing stage, relieving symptoms, and maintenance.
Enhancing Blood Flow
The vitamins and antioxidants in this supplement lower oxidative stress, therefore, increasing blood flow to the damaged nerves, which then promotes healing.
Repairing the Nerves
By increasing blood supply to the damaged nerves, it then repairs the damage. Vitamin B12 plays a large role in repairing these nerves.
Relieving Neuropathy Symptoms
Symptoms of neuropathy include pain, numbness of hands and feet, muscle weakness, tingling, etc. Once the repair has started, it then diminishes the symptoms.
Maintenance
The last stage is the maintenance stage which means you continue taking these supplements. If you feeling better, you may want to stop taking Nerve Renew, and this would be a mistake. You want to continue taking the supplement to continue promoting healing and keep your symptoms under control.
Nerve Renew Ingredients
Vitamin D 25mcg – Cholecalciferol (1) (Vitamin D) is a fat-soluble vitamin that plays a role in bone health, immune function, muscle strength, and the absorption of calcium and phosphorus.
Vitamin D is produced when sunlight strikes the skin, which allows it to be absorbed by the body. It can also be found in foods like oily fish and egg yolks.
Vitamin D deficiency can lead to bone pain, muscle weakness, frequent infections, depression and even cancer.
Vitamin B2 8mg – Vitamin B2 (2) is a water-soluble vitamin that helps metabolize carbohydrates and fats. It's also essential for the production of red blood cells, which carry oxygen throughout your body.
Vitamin B2 can be found in foods like milk, eggs, fish, poultry, and green vegetables.
If you don't get enough vitamin B2 from your diet, you may develop symptoms such as fatigue and weakness; skin discoloration; constipation; loss of appetite; nausea; vomiting; diarrhea; mouth sores; loss of smell or taste; and numbness or tingling in your hands or feet.
Vitamin B6 8mg – Vitamin B6 (3) is a water-soluble vitamin that has many functions in the body. It supports nerve health, helps convert food into energy, and keeps blood sugar levels steady. There are two forms of Vitamin B6: pyridoxine and pyridoxal. Both forms can be found in foods like meat, fish, poultry, beans and peas, bananas, and fortified cereals. Some people may need additional amounts of Vitamin B6 if they have certain health conditions such as diabetes or high blood pressure.
Vitamin B12 4mg – Vitamin B12 (4) is a water-soluble vitamin that plays an important role in red blood cell production and DNA synthesis. It also helps to maintain healthy nerve cells, including those of the brain and spinal cord, and helps prevent anemia by producing red blood cells.
A deficiency in Vitamin B12 can lead to severe anemia, weakness, tingling in the arms and legs, memory loss, dementia and even depression.
Benfotiamine 600mg – Benfotiamine (5), also known as thiamin tetrahydrofurfuryl disulfide, is a fat-soluble form of the vitamin B1.
Benfotiamine is a synthetic derivative of thiamin (vitamin B1), which has been modified and reduced to create an effective dosage that is easy to absorb and use by the body. Benfotiamine has been shown to have multiple benefits for people suffering from diabetes and other conditions, including Alzheimer's disease, Parkinson's disease, and diabetic retinopathy.
Stabilized R-Alpha Lipoic Acid 300mg
– R-Alpha Lipoic Acid (6) is a vitamin-like compound that is essential for healthy metabolism. It has been shown to be effective in the treatment of many conditions, including diabetes and diabetic neuropathy, cardiovascular disease, liver disease, Alzheimer's disease and other forms of age-related cognitive decline.
Feverfew Herb Extract – Feverfew Herb Extract (7) is a natural anti-inflammatory made from the dried leaves of the feverfew plant. The extract is used to treat migraine headaches and other types of pain.
Passion Flower Herb Extract – Passion Flower Herb Extract (8) is a natural supplement that helps your body relax. It works by increasing the activity of gamma-aminobutyric acid (GABA) in your brain, which can help reduce anxiety and stress.
Passion Flower Herb Extract is an herbal extract that comes from the plant Passiflora incarnata, also known as passion flower or maypop. The flowers of this plant contain flavonoids, which are antioxidants that may have anti-inflammatory properties. Passion Flower Herb Extract has been used for centuries to treat various conditions, including anxiety and sleep disorders.
Skullcap Root Extract – The Skullcap Root Extract (9) is a natural product that has been shown to have a number of benefits. For example, it may help you to improve your memory and focus. It can also reduce the symptoms of stress and anxiety. In addition, it can help with sleep issues and improve cognitive function in older people.
Oat Straw Extract – Oat straw extract (10) is a natural supplement that can be used to improve sleep quality, reduce stress and anxiety, lower blood pressure and cholesterol, and improve immune function. It has also been shown to have anti-inflammatory properties.
Who Should Buy Nerve Renew?
Those who are looking for an effective way to solve symptoms of peripheral neuropathy. This dietary supplement is well-known as a powerful nerve pain reliever. Plus, it may help improve mood and help improve cognitive function.
Nerve Renew FAQs
Q: Is Nerve Renew Safe?
A: Yes, Nerve Renew is a safe product. However there are some medications that may interact with it this is why it's essential to talk to your healthcare provider before taking this supplement
Q: Does Nerve Renew Work?
A: Yes. Nerve Renew does work and is backed by studies that support the health benefits of the ingredients.
Q: Are There Any Side Effects of Nerve Renew?
A: There are no known side effects of this supplement.
Q: Where Can Nerve Renew Be Purchased?
A: It can only be purchased online. If you buy it from it's official website you can get a free two week trial and a discount on multiple bottles.
Q: How do You Take Nerve Renew?
A: Nerve Renew recommends taking two capsules twice per day. However, you should talk to your healthcare provider before taking any dietary supplements.
What Do Nerve Renew Reviewers Say?
We read through dozens of reviews for Nerve Renew on Amazon and found that most reviewers gave the product between three and four stars out of five. Most people said that it helped improve their energy levels or reduce pain associated with neuropathy. Some users did not notice any change in their symptoms after taking it for a few weeks, however.
Some reviewers mentioned side effects like headaches or stomach pain. Others said they experienced no side effects at all when using this product regularly over time."
Nerve Renew Final Thoughts
Nerve Renew Nerve Support is a dietary supplement that claims to support the health of your nerves. It contains a blend of vitamins and minerals, including vitamins A, B1, B3, B6, B12 and folic acid.
Nerve Renew Nerve Support has been pren to improve nerve function in individuals who suffer from chronic nerve pain. It can also help to prevent nerve damage when taken regularly over time.
Nerve Renew Nerve Support is safe for most people as long as they don't have an allergy to any of its ingredients. This product should not be used by anyone who is pregnant or breastfeeding because it could cause harm to the fetus or nursing baby.