In This Review
What is Live Conscious Beyond Greens?
Live Conscious Beyond Greens is a powdered supplement that is supposedly packed with various superfoods.
The greens blend is rich in antioxidants, vitamins, and minerals that provide multiple health benefits. Notably, it is free from preservatives, shellfish, soy, gluten, and dairy. It is vegan-friendly and keto-friendly.
It is also formulated using all non-GMO ingredients and is manufactured in GMP approved facility to ensure both safety and quality.
How Does It Rate?
Overall Rating: 4.7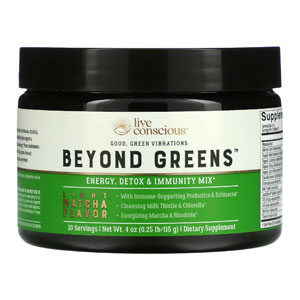 Live Conscious Beyond Greens
Brand Highlights
Live Conscious is the manufacturer of Beyond Greens.
The company creates supplements by joining the forces of traditional wisdom and contemporary science.
Notable products include vitamins, probiotics, and protein powders. Some of these Live Conscious supplements are Beyond Collagen, Collagen Peptides, Cosmic Cacao Protein, and Vanilla Dream Protein.
Key Ingredients
Reishi Mushroom
Cordyceps Mushroom
Chlorella
Echinacea Purpurea
Milk Thistle
Pros
Helps to relieve stress and anxiety
Plays an active role in enhancing immune health and detoxification
It promotes digestion thanks to fiber composition
Helps increase the antioxidant level in the body and support radical scavenging
It enhances both energy and ATP production
Cons
The light matcha flavor may not have a considerable change on the overall taste
---
How Does Live Conscious Beyond Greens Work?
Live Conscious Beyond Greens is a product that is packed with several nutrients that work to reinforce good health. All the ingredients in the product are supposedly organic, meaning they provide optimum benefits.
These natural ingredients enhance body processes such as detoxification, digestion, cognitive function, and energy production. By improving these body functions, the body is able to perform at optimum while preventing diseases. It may also support fat burning thus initiating weight loss.
Live Conscious Beyond Greens Ingredients – Are they Safe & Effective?
Reishi Mushroom – Scientifically, this mushroom is known as Ganoderma Llucidum and has been used to promote health and longevity in Asian countries. According to research studies published in the Cochrane Library, this mushroom is claimed to have promising anticancer and immunomodulatory properties.
Cordyceps Mushroom – This mushroom is a rare naturally occurring fungus traditionally used in Chinese medicine. It contains cordycepin, a vital bioactive component that has therapeutic and nutraceutical potential. A review article in the Molecules journal claims that cordycepin has anti-aging, anti-diabetic, anti-fungal, anti-inflammatory properties.
Chlorella – This is a green unicellular alga that contains numerous nutrients and vitamins. Studies in the Nutrients Journal claim that Chlorella exhibited important pharmacological activities including antioxidant, antidiabetics, antihypertensive, antihyperlipidemic, and immunomodulatory properties.
Echinacea Purpurea – This is a perennial medicinal herb with anti-inflammatory and immunostimulatory properties. A publication in the journal of Pharmacognosy Review provides that Echinacea Purpurea has the potential to alleviate cold-like symptoms. It has other beneficial effects such as anti-anxiety and anti-depression.
Milk Thistle – This plant is scientifically identified as Silybum marianum L. It is an ancient medicinal plant that has been used to treat liver and gallbladder diseases. Studies in the Iranian Journal of Basic Medicinal Sciences declared that milk thistle was a natural treatment for the upper gastrointestinal tract and digestive problems, menstrual disorders, liver and biliary tract diseases, and varicose veins.
---
Live Conscious Beyond Greens – Questions and Answers
Q: How Should You Take Live Conscious Beyond Greens?
A: The recommended dose is to mix 1 scoop of the supplement in 8 to 12 fl oz of your favorite beverage. Drink this supplement once daily.
Q: How Much Does Live Conscious Beyond Greens Cost?
A: On the official website, Beyond Greens costs:
1 jar – $31.99
2 jars – $28.99 each
4 jars – $24.99 each
Q: Is this good as a meal replacement? I'm 71 yrs.old and like to lose 20 lbs.
A: Beyond Greens is a supplement that contains several health-promoting ingredients, but it is not meant to replace a healthy diet. If you are not getting enough fiber or nutrients in your diet, we recommend starting by consuming more whole plant foods, such as fruits and vegetables.
Q: What is Live Conscious Beyond Greens Return Policy?
A: This product has a 365-day return policy for customers who are not satisfied with their purchases. In the case of opened bottles, the company only allows two bottles per product to be returned.
Q: Does Live Conscious Beyond Greens Offer a Free Trial?
A: At the time of writing, there were no free trials offered on the Live Conscious website. However, you can get Beyond Greens coupon codes on the offers website.
Read Next – MK-677
Live Conscious Beyond Greens Review – Final Verdict
Immune health, gut health and liver health are all important aspects of overall well-being. To keep these body systems healthy, there is a need for supplementation with essential vitamins, minerals, proteins, antioxidants, as well as probiotics and prebiotics.
Live Conscious Beyond Greens is a supplement that claims to contain all these essential and powerful ingredients to boost these body systems. According to the manufacturer, this product supplies the body with effective nourishment that supports digestion, detoxification, energy production, and immune sustenance.
Going by the ingredients in the formula, this supplement may work. Scientific studies back the effectiveness of the ingredients in Beyond Greens. Moreover, Live Conscious Beyond Greens Reviews state that the supplement works. On Amazon, for instance, the supplement has a 4.4-star rating with many customers agreeing that it works as advertised.
While the supplement may cause mild adverse effects, this supplement is generally safe. This is because the ingredients are all naturally produced and are free from major allergens. Beyond Greens is also manufactured in a GMP-approved facility, meaning it complies with safety and quality standards.
Compared to similar products, this supplement has low ingredients per serving. To cover up for this flaw, Live Conscious packs its product with multiple ingredients that support each other in providing the desired results. Green food supplements by competitor brands feature fewer ingredients and offer higher ingredients per serving which may be more effective compared to Beyond Green's formulation.
Taking a look at the flavor, this blend may have a decent taste compared to similar products. Green food supplements are notoriously known for their bitter taste, making their consumption quite undesirable. However, this supplement blend features a light matcha flavor that is sweetened by stevia. Overall, the taste may be tolerable.
Green Blends can also be mixed into any drink of choice. Whether milk or smoothies, you can stir your scoop of powdered supplements effectively. The product mixes well without leaving lumps. Better yet, the dosage is only once daily which is very convenient.