In This Review
Align Probiotic Overview
Align Probiotic is a brand of all-natural digestive health supplements which promote a strong microbiome and improved gut health. These supplements offer Align Probiotic benefits like regular bowel movements, and can eliminate symptoms like diarrhea, constipation, and bloating.
There are products for adults, and there is also a line for children. Some of the supplements also help with sleep and decrease stress.
How Does It Rate?
Overall Rating: 3.8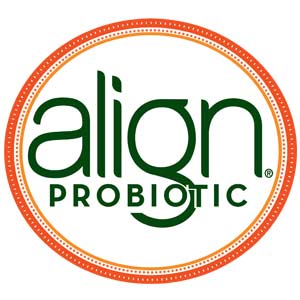 Align Probiotic

Brand Highlights
The packaging and labeling of the products meet all WHO recommendations.
The ingredients have several clinical studies supporting their benefits.
They have a probiotics line for kids.
The company provides educational information about probiotics on their website.
Key Ingredients
Fermented Whole Food Organic Blend
Bifidobacterium Breve
Artichoke Leaf
Aloe Vera
Peppermint Leaf
Lactobacillus Plantarum
Bifidobacterium Animalis
Cardamom
Inulin
Turmeric
Coriander
Pros
These supplements might support digestive wellness.
Align Probiotic could develop a strong microbiome.
The products may promote regular bowel movements.
They could decrease symptoms like gas and bloating.
Align Probiotic could strengthen the immune system.
Cons
The products are not for sale on the official website.
There may be mild Align Probiotic side effects associated with taking these products.
Some products have a short ingredient list.
---
Top Recommended Products
Align Extra Strength Probiotic Supplement
Powerful Day-to-Day Gut Health
Key Ingredients: Bifidobacterium Longum.
Price: $15.
What It Does: Support digestive health, strengthen immunity.
---
Align Restorative Sleep
Probiotic That Puts You to Sleep
Key Ingredients: Probiotics, Melatonin.
Price: $25.
What It Does: Support digestive health, strengthen immunity, promote sleep and relaxation.
---
Align Digestive De-Stress
Soothe Your Body and Relax Your Mind
Key Ingredients: Ashwagandha, Probiotics.
Price: $10-30.
What It Does: Balances the gut microbiome, elevate digestive health, decrease stress.
---
Align Kombucha On-the Go
Fizzy Drink With Powerful Probiotics
Key Ingredients: Probiotics.
Price: $25.
What It Does: Balance the microbiome, support digestive health.
---
What Does Align Probiotic Do?
Align Probiotic includes both probiotics and natural ingredients which can soothe the gut. Just like Absorb Biotics, the probiotics present in Align Probiotic are good bacteria which line the intestine and kill bad bacteria, promoting a healthy gut microbiota.
This helps promote regular bowel movements and it may ease symptoms like diarrhea and constipation. An article in The American Journal of Clinical Nutrition discussed probiotics as determinants of growth and survival in the gut [1].
Some of the supplements help with sleep, including melatonin which can balance the sleep-wake cycle and help you fall asleep more quickly.
There are other ingredients in certain products which decrease stress and improve mood by raising levels of key neurotransmitters like serotonin, dopamine, and GABA. A review in the Journal of Clinical Psychiatry discussed the role of GABA in anxiety disorders [2].
Align Probiotic is high in anti-inflammatory agents which can diminish swelling in the body and in the gut. It also contains antioxidants which kill free radicals and lessen oxidative stress, promoting healing in the body and strengthening the immune system.
What Are the Ingredients in Align Probiotic?
This is the Align Probiotic ingredients list:
Lactobacillus Plantarum
– This is a lactic acid bacteria, a live microorganism that lives in your gut and fights off damaging bacteria. It promotes healthy digestion and can decrease symptoms like gas and bloating.
A study on piglets in Frontiers in Microbiology found that this strain promotes intestinal barrier function and modulates gut bacteria [3].
Peppermint Leaf
–Peppermint can relax the smooth muscles in your gut and prevent them from contracting. As a result, this can ease stomach upset and gut spasms. Mint stimulates digestive enzymes which help breaks down the food and improve digestive health.
A review in Phytotherapy Research explored the bioactivity and potential health benefits of peppermint tea [4].
Artichoke Leaf
– Artichoke, as explored in our Liver Support Plus Reviews , is a vegetable known for its potential benefits in supporting liver function. It contains compounds like cynarin and silymarin that may help protect the liver and promote its overall health.
Bifidobacterium Breve
– This is a probiotic that lives in the intestines of human beings, promoting a healthy gut microbiota and improving regularity. There's evidence that this strain can reduce body fat and help with weight loss [5].
An article in Frontiers in Microbiology explored the bifidobacterial and their role in the human gut microbiota [6].
Turmeric
– Turmeric is a natural laxative which can help cleanse out the digestive tract and promote better overall digestion. In addition, it has potent anti-inflammatory benefits which can reduce swelling in the gut.
An article in the World Journal of Gastroenterology discussed the therapeutic potential of turmeric in digestive diseases
[7].
Who Should Buy Align Probiotic?
Align Probiotic Digestive Support may be a good brand for anyone looking to improve their digestive health in a natural way, with organically-sourced ingredients. Users with digestive problems, even serious ones, could get some benefit from this brand. There are some products in this line which help with sleep and ease stress, as well as Align Probiotic for Kids.

Align Probiotic (FAQs)
Q: What Do the Align Probiotic Reviews Say?
A: There were a wide range of Align Probiotic reviews with different types of feedback. A number of customers said they were very happy with this brand and got great digestive benefits from it. However, there were also customers who said they got very little or no results from the products. A few users reported mild Align Probiotic side effects.
Q: What are some similar products to Align Probiotic?
A: Some products similar to Align Probiotic include MAX GXL, Midogen, MK-677
Q: How Long Does It Take Align Probiotic to Work?
A: According to the manufacturer, it should take about 8 weeks for the products to show results. Of course, you should see some effects alone the way, and may experience side effects like bloating it the first couple of days.
Q: What is the Align Probiotic Return Policy?
A; As the manufacturer does not sell the supplements directly, they also have no return policy. Any retailers you buy from should have their own individual policy.
Q: How Good is Align Probiotic?
A: Align Probiotic most likely does have some benefits which make it effective in boosting digestive health. However, some of the products seems to have a limited number of Align Probiotic ingredients and could be richer in probiotics and botanicals.
Q: Where to Buy Align Probiotic?
A: You can't purchase these supplements on the manufacturer's official website, but you can get them from numerous other online and offline retailers, including grocery stores and pharmacies. The Align Probiotic price varies from $20-40 depending on the product and retailer.
Q: What Sets Align Probiotic Apart From the Competition?
A: What's unique about Align Probiotic Supplement products is that the entire brand is items which support digestive health and contain probiotics. They even have a children's line of probiotics, which is quite different.
Read Next – Nano Glutathione

Align Probiotic – Final Verdict
Align Probiotic is an all-natural brand of probiotic supplements which aim to promote digestive wellness, improve regularity, and ease symptoms like diarrhea and bloating. Some products decrease stress and improve sleep quality, and there's a kids line. Some of the products have a rather short ingredients list.
There were a variety of different Align Probiotic reviews online, with differing opinions. Many users really liked the brand and said helped ease their digestive distress. There were also users who said the product did nothing for them, and they felt it was a waste of money.
Align Probiotic is a brand of healthy organic products that should not lead to serious side effects. In the first couple of days after taking the supplement you may experience stomach upset and bloating. If it's more serious or the symptoms don't go away, stop taking the product immediately.
We believe that you should also explore another option apart from a supplement like Curcumin 2000 – Defense.
The most effective health supplements that are currently present on the market can be found below. We have taken our time and rated these products in accordance to these five essential factors: quality of active ingredients, energy boosting, hormone balance restoration, cognitive function improvement and immune system strengthening.
Our Top Health Supplements Choices
Verdict on Claimed Benefits: Below is our summary of the available evidence for the claimed benefits of below mentioned health supplements and probiotic supplements based on the available research: