Free Trial "Diet Pill Scams"
"Health and Fitness" is a huge and sensible market. There are numerous people interested in this topic.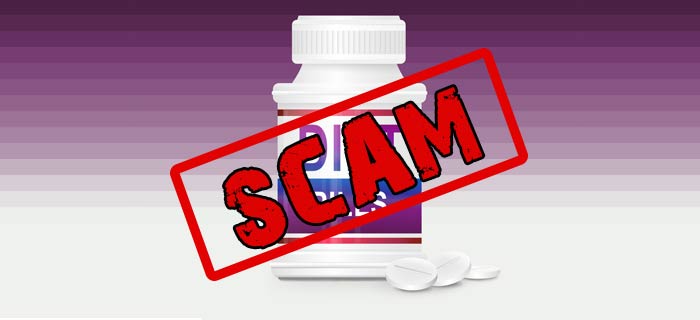 As it is a huge market, many seek to capitalize on this market.
With the view of capitalizing on this market, many fraud companies are coming up with diet pills offering the consumers with a free trial.
Many were tricked in the United States by these fraud companies, and a similar thing is now happening in the UK.
Sometimes these free trial scams can even bill $200 on your credit card, which is too much for some people.
Some of the diet pills scammers by the name of Jesse Willms and a few others from Utah were caught by the Federal Regulators for a nearly half a billion dollar fraud.
These companies make you sign up for a free trial, and then in a small print, you unknowingly sign up for a recurring bill.
What can you do to be safe from these fraud companies?
Don't Ever Sign Up For Free Trials!
Once in a blue moon, you may find a trustworthy company offering a quality product; however, it does not mean you should take a chance.
Around 99.9% of companies offering a free trial is a fraud, and it is better for you to stay away from them.
What Should You Do If You've Already Signed Up For A Free Trial?
First of all, you should stop blaming yourself for your action, as there are many people who have been scammed. There are highly capable of luring people.
Here are some of the actions you can take.
1. Gather Information
Grab a notebook and start collecting any information that might be useful to you like the company's name, address, contact number, billing date, delivery dates, terms and conditions, and more.
2. Contact the Company
You should contact the company to explain your situation. These companies are usually based in the United States; however, they might also be based in the UK.
Contacting the company is not an easy task. They will make it as difficult as possible to contact them, as it is their fraud act, which earns them money. Keep cool and keep on trying.
Try to gently talk with the employees, even if you feel like shouting because you will be dealing with the call center staff most of the time who works there to earn their living.
Ask them to cancel everything and talk about getting your money back.
You should be patient while dealing with the staffs because they can keep your phone call on hold for a long time.
3. How to Cancel a U.S. Based Free Trial?
If you find a U.S. based number, then you can easily file a complaint in the Federal Trade Concern (FTC), as these companies are under the FTC.
The FTC has some very strict rules to prevent unfair business practices.
You may have been tricked into signing up by providing wrong information, company hiding the terms and conditions, and others.
In the majority of the cases, the company will cancel the contract or they will return back your money.
After you file a complaint, the FTC will not only target the companies, but they will also target affiliates and other networks associated with them.
"The FTC works to prevent fraudulent, deceptive and unfair business practices in the marketplace and to provide information to help consumers spot, stop and avoid them.
To file a complaint or get free information on consumer issues, visit ftc.gov or call toll-free, 1-877-FTC-HELP (1-877-382-4357); TTY: 1-866-653-4261. Watch a video, How to File a Complaint, at ftc.gov/video to learn more.
The FTC enters consumer complaints into the Consumer Sentinel Network, a secure online database and investigative tool used by hundreds of civil and criminal law enforcement agencies in the U.S. and abroad."
4. Ways to Cancel a U.K. Based Free Trial!
The laws in the U.K. are not as strong as in the U.S., and the Office of Fair Trading is just catching on to the online activities.
There are only limited things that the Office of Fair Trading can do. However, Consumer Protection Regulations 2000 is a piece of legislation that can be in your favor.
By law, the supplier must provide some information like its name, address, product description, delivery cost, conditions for cancellation of the contract, and other important information.
All this information must be confirmed in writing like with a confirmation email.
You should also check the time of delivery promised by the company and the time for cancellation.
Now that you're aware of the Consumer Protection Regulations 2000, you should immediately contact them.
Explain your situation. They can help you to get your money back.
5. How to Get Your Fund Back Through the Bank?
If the company refuses to pay back your money (an unlikely situation), then you can directly contact your bank or credit card provider.
After contacting them, you should explain to them about how the company has breached the rules of the FTC or Distant Selling Regulations.
Now, the bank may assign you for a Continuous Payment Authority (CPA). You will be asked to contact the company to terminate the contract.
However, you hold the right to cancel it directly through your bank or your credit card provider.
Watch this video produced by the Federal Trade Commission (FTC) that explains Free Trial Offers in more detail:
Federal Trade Commission article and video concerning free trial offers – https://www.consumer.ftc.gov/articles/0101-free-trial-offers
Disclaimer: Please do not take any of the above as legal advice. We are not qualified lawyers and as such can't offer legal advice. We are consumer advocates so are offering our views and opinions from the point of view of the consumer. If you are in any doubt over what you have read, then please get proper qualified legal advice before going any further.
Conclusion
Try all the tips that are mentioned in this article.
If you've managed to get out of this scam, then you can probably move on peacefully.
You should realize that these scammers have no morals or guilt.
It is necessary to fight them. Spread the words in the forum or social media to aware people about these scammers and free trial offers because your words may save other people from falling into free trial scams and help them to reach out best diet pills.
View All