Obesity is a major problem nowadays and it comes with a higher risk of a multitude of health issues. According to the CDC, more than one-third or 36.5% adults in the United States are classified as obese. Consequences of excess weight don't only affect obese individuals, but their children as well. For example, the latest study discovered that parental obesity leads to developmental delays in kids. Keep reading to find out more.
Parental Obesity and Development in Children
While previous studies were concerned with the relationship between maternal obesity and childhood neurodevelopment, little is known about the effect of paternal obesity. To find out more about the impact of parental obesity on child's neurodevelopment, Edwina Yeung and a team of scientists at the NICHD's Division of Intramural Population Health Research decided to carry out a study.
For the purpose of their research, scientists reviewed data gathered from the Upstate KIDS study which originally aimed to determine whether fertility treatments could affect child development from birth through age 3. A total of 5034 women were included in the research about four months after giving birth. The research team analyzed data from 3759 singletons and 1062 nonrelated twins. Also, parents were asked to complete the ASQ (Ages and Stages Questionnaire) when their kids were 4, 8, 12, 18, 24, 30, and 36 months of age. The ASQ test serves as an indicator of how well children are able to relate to and interact with others. Basically, it aims to examine whether a child has the skills characteristic for its age.
The journal Pediatrics published results which showed that compared with normal or underweight mothers (BMI 25), children of obese mothers (with BMI 30) had increased the risk of failing the fine motor skill test. The risk was substantial, 70%. That's not all; the same link remained even after scientists included paternal BMI into the equation. Interestingly, paternal obesity was strongly linked to higher odds, 75%, of failing the personal-social domain. Furthermore, kids whose both parents are obese with BMI ?35 were more likely to experience difficulties with problem-solving.
Scientists concluded the research explaining that both paternal and maternal obesity are related to specific developmental delays in early childhood. While it's still not known why parental obesity plays the role, Yeung and her colleagues recommend that physicians should take the weight of both parents into consideration when screening young children for early interventional services and delays.
Dangers of Obesity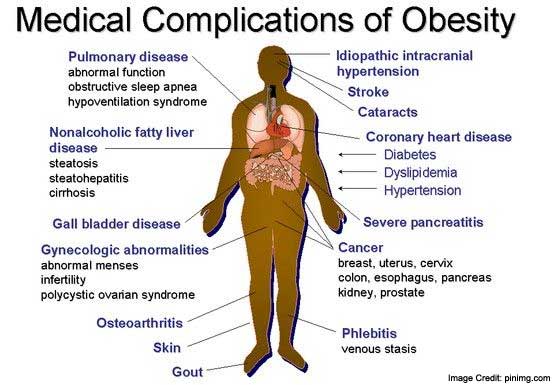 Being obese isn't just about a waist circumference; excessive weight can put one's health into jeopardy and affect the overall quality of life. Below, you can see just some of many dangers associated with obesity:
Gallstones
Heart failure
High blood pressure
High levels of triglycerides and LDL (bad) cholesterol and very low levels of HDL (good) cholesterol
Higher risk of stroke
Increased risk of colon, breast cancer, endometrial, and gallbladder cancers
Menstrual cycle issues, infertility in women
Metabolic syndrome
OHS (obesity hyperventilation syndrome), a breathing problem associated with obesity
Type 2 diabetes
DID YOU KNOW: 1 in 5 pregnant women in the United States enters into pregnancy with a BMI ?30 i.e. classified as obese.
Conclusion
Obesity has become a public health concern due to many dangers associated with it. Besides the lower quality of life and increased risk of various diseases, a person's BMI can also have an impact on the children as well. The most recent study showed that weight of both parents plays a role in a child's neurodevelopment. Obesity is linked with weaker problem-solving skills, fine motor skills, problems with interaction with others, and so on.
References
https://www.cdc.gov/obesity/data/adult.html
http://pediatrics.aappublications.org/content/early/2016/12/29/peds.2016-1459