Journal of American Heart Association published a study on May 20 which revealed that when it comes to susceptibility of contracting serious heart disease, black women have higher chances than white women.
The study was conducted by Dr. Michelle Schmiegelow of the University Hospital Gentofte in Denmark and her team. The research included more than 14,000 American women aged between 50 and 79.
Researchers conducted the study for more than 13 years and majority of participants were white women (47%), then black women (36%), and Hispanic women (17%).
The results of this research showed that 1,100 women suffered from heart-related diseases or stroke for the first time. However, there were some differences in number of black and white women.
The difference in number of women who suffered from stroke and heart diseases was attributed to the "Metabolic Syndrome". It is a set of various risk factors that include bigger waist size, high blood pressure, increased level of blood fat, low level of HDL (high density cholesterol), and vitiated sugar metabolism.
All these factors lead to heart disease, stroke, and diabetes.
The results revealed that among the black women who showed signs of at least two risk factors, the chances of suffering from heart disease were 77% higher for women who were overweight. Additionally, risks to get heart disease were 117% higher for obese women, compared to women with normal weight.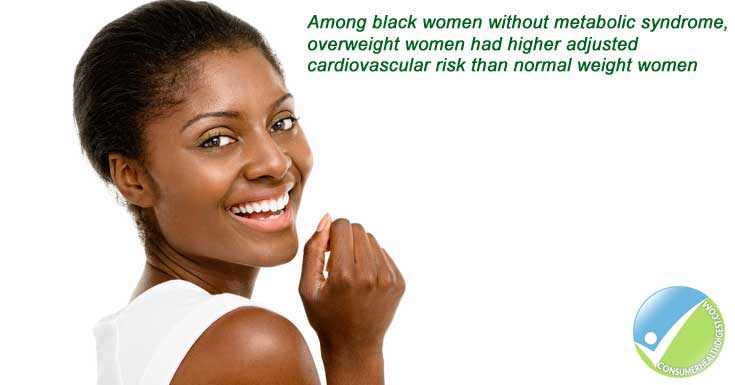 According to the study, even without showing any signs of mentioned risk factors, overweight women had a higher risk of getting heart disease. And risk of getting heart disease was two times higher for obese women comparing to women with normal weight.
On the other hand, white women who showed signs of risk factors, even when they were obese or overweight, they still did not have high chances of suffering from heart disease.
More than one-third of adults in the United States have a combination of health problems that are defined as Metabolic Syndrome. The rate of metabolic syndrome increases significantly with age. Almost half of people aged 60 or older in the United States have metabolic syndrome.
About 47% of people 60 or older have metabolic syndrome. Only about 18 % of adults 20 to 39 years old have the condition.
The reason why people are prone to developing Metabolic Syndrome as they age is because people tend to become less active, heavier and more insulin resistant as they grow older.
Dr. Mark Creager, the president of the American Heart Association, said, "It's disconcerting that there's such a high prevalence of metabolic syndrome, and it's disconcerting that the prevalence of metabolic syndrome rises dramatically as we age."
It is crucial to encourage healthy lifestyle choices among people who either have Metabolic Syndrome or they have a higher risk to develop it. Some steps that can be taken to a healthier lifestyle include avoiding beverages that contain high level of calories, eating healthy foods and preparing meals at home, and walking as much as possible.