Flu season in the United States is more severe than previously thought. Reports show [1]that Idaho and Washington are in the midst of the worst flu season since 2009 swine flu pandemic.
More than 30 children died so far[2] and flu shows no signs of slowing down. A common belief is that we spread flu through droplets via a cough, sneeze, or talk. The most recent study found that one can spread flu simply by breathing too.
Does Breathing Really Spread Flu?
According to the latest news,[3] a deadly flu virus has been killing more than 100 people per week in the US since mid-December. Also, in a period between October 7 and December 23, there were 759 flu deaths.
Even though flu is a common infectious disease little is known about the amount and infectiousness of influenza virus shed into the exhaled breath. As a result, the importance of airborne influenza transmission has been largely underestimated.
Professor of environmental health at the University of Maryland School of Public Health, Donald Milton, and a team of researchers carried out an important study on this subject. They screened 355 symptomatic volunteers with acute respiratory illness. Of these, 142 students had active influenza.
Students with flu provided 218 paired nasopharyngeal (NP) and 30-minute breath samples on days 1 and 3 after the onset of symptoms. During the experiment, students sat in a machine that measured droplets they shed while talking, breathing, sneezing, and coughing. The goal of this experiment was to track how and when students expelled virus particles.
Results of the study were published [4] in the Proceedings of the National Academy of Sciences and they showed that coughing is not the only way virus particles are expelled. Although coughing expels some flu particles, almost half of the aerosol particles collected in the absence of coughing contained flu matter, too. This means that inhaling a germ-ridden air can make you sick.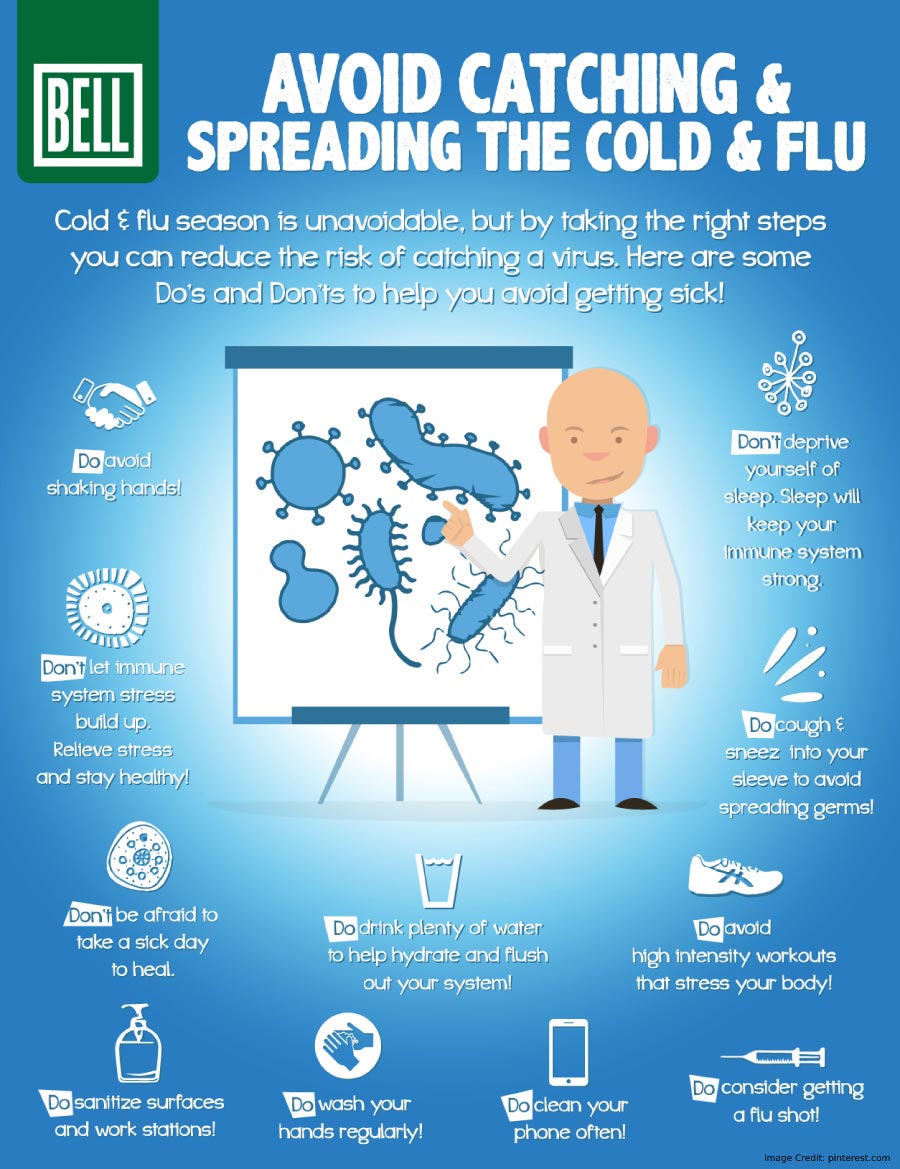 Who Expels More Virus Particles?
Professor Milton and his team also discovered that men shed more flu virus particles per cough than women despite the fact that ladies cough more frequently. Persons with higher body max index (BMI) tend to expel a greater amount of flu particles than their counterparts with smaller BMI.
Why do overweight and obese individuals expel more virus particles? Scientists theorize it could be down to higher inflammation associated with excess weight. Also, obese and overweight persons experience more frequent closing and reopening of small airways.
More Research is Needed
Although the study yielded interesting findings,[5]more research is necessary to investigate this subject more thoroughly. Scientists explain it is impossible to claim whether expelled droplets could spread flu to other people for sure.
That said, findings from this study indicate that if a person next to you looks sick and coughs, chances are he or she can infect you as well. If future studies confirm these findings, they could lead to changes public spaces are ventilated and built.
At the same time, prevention and treatment of flu could improve, especially in high-risk groups (older adults, young children, pregnant women, people with chronic conditions such as asthma, chronic lung disease, heart diseses, and others).
Conclusion
Flu season in the US has become severe and has taken hundreds of lives so far. Although flu is a common infectious disease, there is still a lot more to learn about it and improve the way it is prevented, treated, and managed.
The latest study showed that a person can spread flu simply by breathing. Scientists call for more studies on this subject to confirm these results.
Image Credits
Feature Image: shutterstock.com
In-post Image: pinterest.com
View All