What is World Water Day?
World Water Day is held on the 22nd of March, of every year. It is an international day created to raise awareness of the significance of freshwater. Another primary focus of this day is promoting the sustainable management of freshwater resources. The 1992 United Nations Conference on Environment and Development (UNCED) recommended devoting a global day to celebrate freshwater. In response to this recommendation, the United Nations General Assembly chose March 22, 1993 as the first World Water Day. Each year, a different aspect of freshwater is chosen and highlighted. "Water and Sustainable Development" is the selected theme for 2017 to draw more attention to water's role in sustainable development.
Purpose of World Water Day
The drastic effects the world is facing due to the scarcity of freshwater resources and the even more drastic consequences anticipated in the near future called upon the need for some sort of some counter plan. It was first and foremost the United Nations obligation to take the initiative to address this problem. Thus, each year, the upcoming challenges are identified by UN-Water for World Water Day and themes are set for the forthcoming years.
A number of UN bodies and international organizations have united to work on many water issues. Such issues include:
The distribution of clean drinking water during disasters
The protection of ecosystems
Making sure cities have enough water infrastructure
Looking at how we will have sufficient quantities of water to make food
Ensuring that the available freshwater sources are of sufficient quality
The current numbers and reports on the water crisis around the world are rather alarming. The World Economic Forum, held in January of this year, announced that the water crisis is the #1 global risk based on impact to society as a measure of devastation, and the #8 global risk based on likelihood of occurring within 10 years.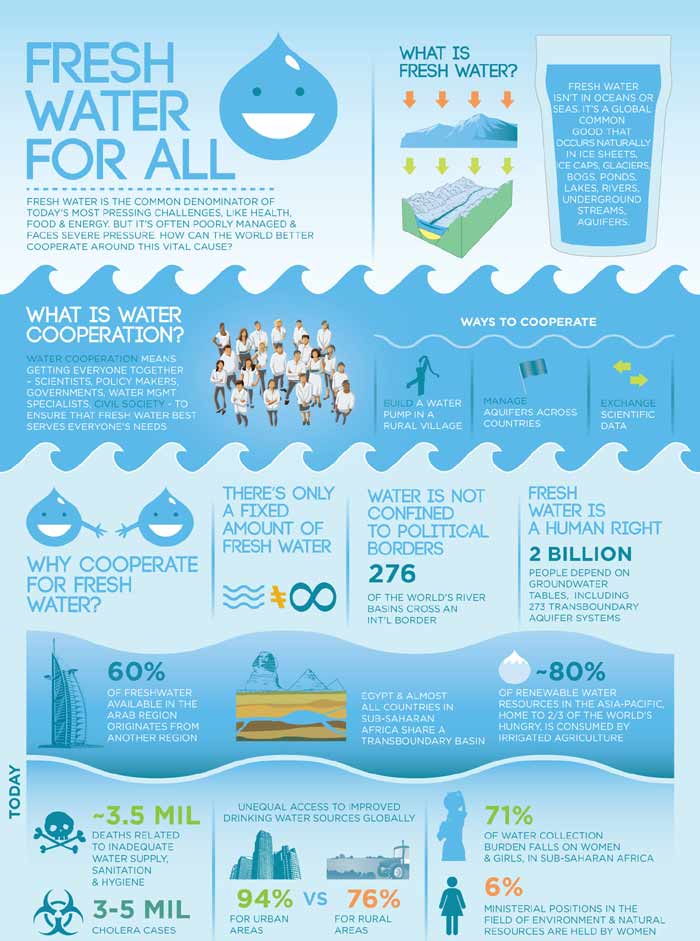 What are Some of the Water Crisis Facts?
Over 1.2 billion people around the world do not have access to clean drinking water.
An estimated 2.7 billion experience water scarcity at least one month a year.
Diarrhea caused by inadequate drinking water, sanitation, and hand hygiene kills an estimated 842,000 people every year globally or approximately 2,300 people per day.
82% of those who lack access to improved water live in rural areas while just 18% live in urban areas.
By 2025, two-thirds of the world's population may be facing water shortages.
What You Can Do on World Water Day
The first thing you can celebrate this day is to get involved. Start from your household. Educate your family members about the importance of water and inform them of the water-related disasters and tribulations being faced by so many around the globe. It is quite shocking to know that the average American uses roughly 30 times more water than the average person in sub-Saharan Africa. Initiate a plan to monitor your daily, weekly, or monthly water consumption.
Some Other Things You Can Do are:
Use social media to help spread the message and engage in discussions. For instance, on Twitter, hashtags where you can start include #WorldWaterDay and #Walk4Wells.
Join the world walks or host a Walk4Wells event. Walk4Wells is a campaign to raise awareness about the significance of clean water and to raise funds to help build wells and latrines in schools in Burkina Faso.
Write to officials in your area about the "Water for the World" Act, legislation that will help bring clean water to millions of people.
Try the 5 Gallon Challenge. The average daily water consumption in developing countries is 2.6 gallons whereas the recommended amount needed to stay healthy and hydrated is 5 gallons. Could you live on only 5 gallons of water a day? Why not try it and get your friends and family in on the challenge too.
Message on World Water Day
A day for water and sustainable development for freshwater is the campaign for World Water Day 2017. The big message on this day is to acknowledge that water is health, nature, urbanization, industry, energy, equality, and food. Water is at the foundation of sustainable development.
Secretary-General Ban Ki-moon's message for World Water Day (2014) was "On World Water Day, let us pledge to develop the policies needed to ensure that sustainable water and energy are secured for the many and not just the few". So, let us all pledge to do our part on this day and help solve this problem. Ultimately, our existence relies on the water more than any other natural resource.
[1] World Health Organization and UNICEF Joint Monitoring Programme (JMP). (2014). Progress on Drinking Water and Sanitation, 2014 Update.
[2] Tropical Medicine and International Health. August 19, no. 8 (2014): 894 - 905. Burden of disease from inadequate water, sanitation and hygiene in low- and middle-income settings: a retrospective analysis of data from 145 countries.

View All