What is World Patient Safety Day?
World Patient Safety Day is an annual event celebrated on the 9th of December to raise awareness about the safety of patients. Most people are not aware that patient safety is a worldwide public health concern since many hospitals do not provide adequate services for sick people.
In many instances, medical professional make mistakes that worsen the condition of the patient and sometimes even cause their death.
Patient safety is actually a healthcare discipline that focuses on reporting, analysis and prevention of any kind of medical error.
According to a comprehensive international research, one in every ten patients around the world is affected by healthcare errors. This is the reason the World Health Organization (WHO) says patient safety is an endemic concern.
Thus, the World Alliance for Patient Safety Day was launched by the WHO in 2005 for increasing awareness of unsafe healthcare.
The common patient safety issues include diagnostic errors like missed or delayed diagnosis. Health care-acquired infections can also occur which can lead to complications or even the death of the patient. Medical errors are becoming more common even in advanced health care facilities like hospitals in the United States.
There are also mistakes when it comes to communication not just between the patient and health care professionals but between health care professionals as well. One of the biggest safety issues is errors in regards to surgery like when the wrong operation is done on a patient.
Purpose of Patient Safety Day
The purpose of Patient Safety Day is to change high-level support and commitment for improving patient safety and service issues all over the world. Its main goal is to reduce medical errors that can worsen the condition of patients and sometimes even lead to their death.
The annual event also aims to improve public education about patient safety and the other issues connected to it. The WHO initiative also emphasizes the awareness of unsafe healthcare. It is when patients are asked to observe and adopt certain means and methods to improve healthcare processes and standards all over the world.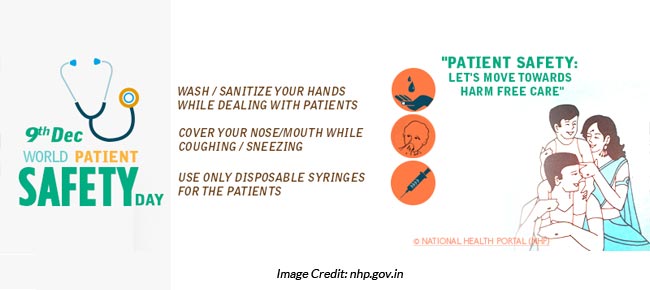 Although healthcare has evolved rapidly in recent decades, there is still a significant room for improvement in certain departments. Consultancy companies and other organizations have performed research in terms of improving safety but this has only resulted to a limited amount of data.
Therefore, the progression has become mostly dependent on patients who are somewhat left to fend for themselves and deal with healthcare errors and other problems that affect the quality of service they receive from health care facilities.
What you can do on World Patient Safety Day?
Use social media to help inform the public about World Patient Safety Day
Organize an event in your community for the initiative
Distribute informative materials regarding patient safety
Start a group in your community for advocating patient safety
Contact your local newspaper to create an informative article for the awareness campaign
Organize a World Patient Safety Day essay working with your local school or newspaper
Urge your local officials to create an event for the initiative
Encourage your local television and radio stations to make a public service announcement
Message on World Patient Safety Day
World Patient Safety Day is celebrated to make everyone safer in health care facilities. It is also a reminder that medical errors can occur due to human error or other causes.
However, with the right attitude and precautions, the risk for medical errors can be minimized significantly. This is also the time to remember those who have paid the ultimate price for the quality of medical care we have today specifically those who have died due to medical errors.
Special Tips on World Patient Safety Day
Here are special tips for patients to help in promoting better safety in healthcare:
Be prudent when it comes to your diagnosis and feel free to ask questions if certain details are not clear. You can bring along a family member or friend if you think you do not have the ability to understand the doctor's diagnosis.
Do not be afraid to get a second opinion if you are not sure about your diagnosis.
Ask your doctor for details and the pros and cons of any medical procedure prescribed.
Conclusion
World Patient Safety Day emphasizes awareness of unsafe healthcare. During this time, patients are asked to observe and adopt practices which help improve the healthcare processes and standards worldwide.
Of course, this is also a reminder for health care professionals to be more careful and improve their knowledge and techniques in order to provide the best medical care possible.
Read Next – MedicAlert Awareness Month – August
View All