What is Asthma?
Asthma is a disease that many people suffer from. It is a chronic disease that can greatly affect a person's breathing by creating an inflammatory effect in the lungs leading to the narrowing of the airway or even worse, airway closure. The person will then have difficulty breathing and have the tendency to suffer from asphyxia. There is no known cure for it but it can still be controlled for a normal and healthy life.
What Causes Asthma?
There is no clear reason for the occurrence of asthma but there are various aspects that can cause the development of asthma. Here are some of the common causes of it:
Genetics: Genes pose a big impact in the development of asthma in a person. Once the parents or even the primary relatives have asthma, there is a big chance of passing it to the next generation since it runs in the family.
Environment: It has been believed that exposure to allergens, irritants, and dust from the environment may predispose a person to developing asthma, especially to infants since they still have an immature immune system.
Allergens: Sensitivity to certain allergens or having allergies may result in the occurrence of asthma. Due to that fact that allergies can trigger histamine production, there will be a massive inflammatory effect that can cause the lungs to swell and narrow.
Moreover, there are various ways to manage asthma. So, awareness to these ways and even to the nature of the disease itself is highly important. Due to that reason, the Global Initiative for Asthma (GINA) organized the World Asthma Day.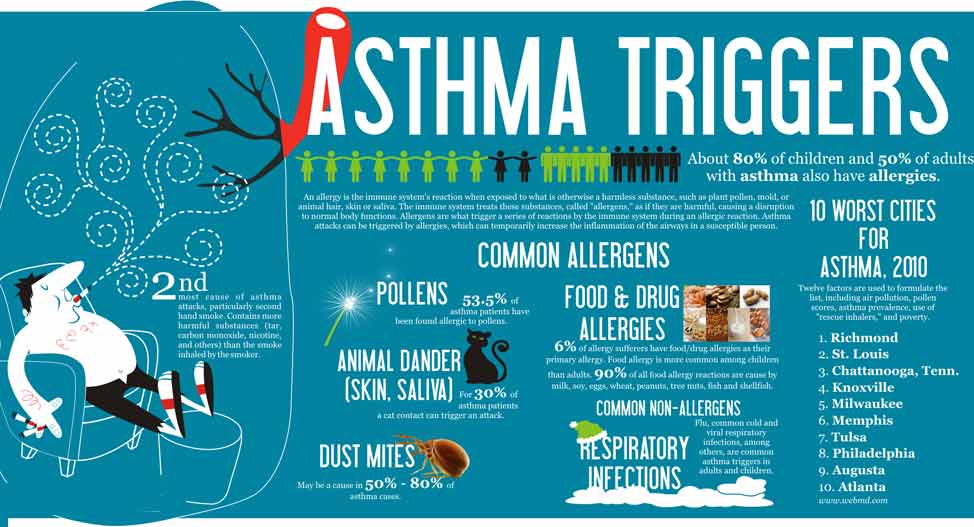 About World Asthma Day
World Asthma Day on 2nd may 2017, is an annual event organized by GINA together with other health care educators and advocates on asthma awareness. The event was first held in 1998 and was attended by more than 50 countries all over the world right after the first meeting was held in Barcelona. The aim of this event is to raise asthma awareness throughout the world and to enhance the quality of care in managing asthma especially in the self-care aspect of it.
The Role of GINA:
Assist with the organization of the event's activities.
Provide and distribute the materials and resources needed for the entire event.
Select the appropriate theme for the event each year. The theme for this year's World Asthma Day is, "You Can Control Your Asthma".
Purpose of World Asthma Day
World Asthma Day is celebrated to achieve the following purposes:
To aid in the improvement of asthma care and increase the awareness of lay people regarding asthma.
To prevent an increase in the death rate as well as to reduce the overall death rate attributed to asthma.
To encourage all persons with asthma to join together for proper diagnosis and treatment provision.
To enhance the welfare of those people without asthma while protecting the welfare of those having it.
To determine the proper treatment classification of the patient according to the standard guidelines whether they belong to the primary or secondary level.
To reduce the cases of emergency hospital visits due to asthma.
To minimize the number of days spent in the hospital by the asthmatic patient.
What You Can Do on This Day?
There are various ways to celebrate World Asthma Day in your country. The activities are divided into three categories; here are some of the activities you can be involved in:
Profile Raising
Utilizing billboards, stickers, and posters to publicize the event.
Advertising World Asthma Day both in local and national media in order to catch the attention of the people for increased participation.
Encouraging people with asthma to share their stories to be an inspiration to others.
Seeking support from celebrities and politicians with asthma.
Organizing a cleanup activity to reduce allergens that could trigger asthma in the environment.
Educating
Conducting fun games for children like quizzes regarding asthma control that will educate them.
Setting up a bulletin containing asthma information such as the nature of the disease, proper treatment, and prevention of it.
Provision of a free telephone helpline for the public regarding their concerns with asthma.
Launching a website with information and advice regarding asthma care and asthma control.
Fundraising
Holding a talent contest or concerts that promote World Asthma Day with asthma patients as performers.
Conducting an exhibition of art materials and pictures with a theme regarding asthma control.
Organize a car wash for a cause where people can actively participate.
Must Watch – World Asthma Day Interview
Message of World Asthma Day
Asthma is a life-long disease that increases over time and greatly affects the life of the person having it. Though it is common in society, a number of people still remain oblivious to this disease leading to poor management of it. So, World Asthma Day can be of great help in promoting awareness regarding asthma's nature, causes, symptoms, and treatment. It is also a way of informing the public that asthma can be controlled.
View All