What is TB Awareness Month?
The month of March is dedicated to educating everyone around the world about Tuberculosis. Persons will be educated about the causes, treatment, symptoms and prevention of this disease.
Tuberculosis Definition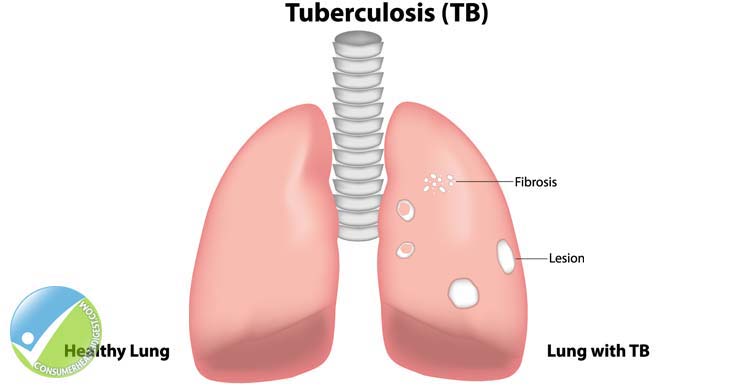 Tuberculosis, or TB, is a bacterial infection that mainly affects the lungs, although the bacteria can spread through the bloodstream and affect any organ in the human body. TB is transmitted from one individual to another through airborne droplets from the throat and lungs of a person infected with TB.
Tuberculosis Causes
The TB virus is caused by a type of bacterium known as Mycobacterium tuberculosis. The bacteria are spread when someone comes in close contact with a person with an active TB infection. When an infected individual coughs or sneezes, the bacteria are transmitted through airborne droplets to an uninfected person.
Tuberculosis Symptoms
Common symptoms that are associated with TB include:
Chest pain and difficulty breathing
Consistent fever and night sweats
Unexplained loss of weight
Coughing for longer than two weeks
Coughing up bloody mucous
Loss of appetite
Tuberculosis Treatment and Precautions
TB is curable, but this does not mean symptoms associated with the disease should be ignored. The earlier that treatment is sought, the better the outcome. TB is treated with antibiotics for six to twelve months. These antibiotics may include:
Isoniazid
Rifampin
Pyrazinamide
Ethambutol
Purpose of TB Awareness Month
The main purpose of TB Awareness month is to support worldwide efforts made for controlling TB through increasing knowledge of the disease and developing solutions to stop the spread of TB. Each year, there are activities planned that encourage governments and health facilities across the world to reach out to communities by creating programs in an attempt to increase awareness about TB. It is very important that people are made aware of all the signs and symptoms of TB. TB Awareness Month encourages individuals to participate in the efforts to stop the spread of TB by way of intervention and public knowledge.
Participants in TB Awareness month include target groups, health care facilities, pregnant women, school students, teachers, principals, church groups and government officials. Information is made available through mass media interventions where a wide range of methods is used to send messages to the public. Messages are communicated to the public through the internet, radio, television, mobile phone messaging alerts, print media, billboard advertisements and documentaries. Individuals can also help to promote TB Awareness through community engagements, regional marches, and workshops.
The World Health Organization has estimated that there are nine million individuals living with active TB. In 2014, 1.5 million (1.1 million HIV-negative and 0.4 million HIV-positive) people died from TB. The total number of people that die from TB is constantly on the rise. These numbers emphasize the urgent need to educate the public about this disease. The general public needs to be made aware that these figures are extremely high for a disease that is preventable and curable.
Health education does help. The more information that is made available and circulated about TB, the greater the chance the public will be more aware of symptoms, causes and treatments. Higher education about this disease would result in fewer deaths.
What Can You Do During TB Awareness Month?
Persons are encouraged to keep themselves informed as well as to inform others about TB. This will greatly help in spreading the word about TB. People that volunteer during TB Awareness month, such as by joining support groups or launching a door to door campaign, play a very critical role in public education; they encourage individuals to get tested to find out if they have TB. Keeping the general public informed about TB will help to increase the knowledge, awareness, attitude and public opinion of TB.
Message on TB Awareness Month
The theme for TB Awareness month is "Reach, Treat, and Cure Everyone". Tuberculosis is the number two killer worldwide. A detailed outline of steps to be taken in an effort to obtain treatment and a cure for TB, as well as to help contain the spread of the disease, is just some of the information that should be made available to the general public during TB Awareness month.
If you are showing signs or symptoms of TB, get tested.
If an individual has the HIV virus, they must do regular checks to ensure they do not have TB.
If you are participating in support groups, ensure you wear a mask while assisting.
Ensure you know what strain of TB you have. If you are not properly diagnosed, antibiotics will not work as they should.
Open windows in crowded areas.
View All