National Condom Day
National Condom Day was started during the late 1980s by an AIDS support group in the United States. Its goal is to promote condom use and educate people about the importance of practicing safe sex. It is the same day as Valentine's Day because studies show that during this day, condom sales are about 25% higher compared to the other days of the year. National Condom Day is a timely reminder for people to always practice safe sex by using a condom during sexual activity not just to protect themselves but their partners as well.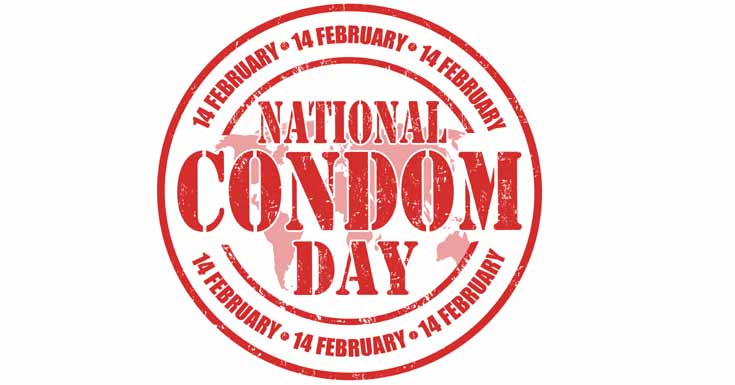 Out of all the birth control methods available, the condom is the most frequently used method because it is convenient and has a high contraceptive rate with 98% effectiveness rate for male condoms and 95% for female condoms. Take note that this is when both are used correctly and consistently. Moreover, it also protects against the spread of sexually transmitted diseases (STDs) like HIV, gonorrhoea and chlamydia.
Studies indicate that students who are sexually active often use the condom as their form of contraception. About 63% of students believe that it is the most effective contraceptive method that also protects against STDs. The problem is that condoms are not always available and the majority of students are embarrassed about buying them. Studies also indicate that people are more likely to use condoms if they are available during sexual encounters. Thus, it is also important to become more comfortable with purchasing and carrying condoms aside from using them.
Purpose of National Condom Day
The primary purpose of National Condom Day is to promote the use of condoms and educate people in regards to the need for practicing safe sex at all times. The aim of the National Condom Day is to get more people comfortable with purchasing, carrying, talking about and using condoms during sexual activity. It is also for promoting healthy and safe relationships and reminding people about the risks of sexually transmitted diseases and unplanned pregnancies as well. The day is a reminder to always practice safe sex.
National Condom Day is also a reminder of the importance of using a condom correctly. This is so that the condom will protect against STDs and unwanted pregnancies. Most people are not aware that you can get condoms for free at local clinics, health departments and other organizations. You can also learn how to use it correctly from these places while at the same time having any sexual wellness questions answered.
What You Can Do On National Condom Day
The most important thing you can do is to always use a condom and practice safe sex especially when you're promiscuous.
Make people aware that it is National Condom Day by posting or tweeting about it on social media.
Talk to family members that are of the right age regarding the importance of using a condom.
Organize an event like giving away condoms in bars, malls, etc. You can even partner with condom companies to help with your event.
Create a press release regarding National Condom Day and its importance.
Organize an assembly in your school to talk about the importance of using condoms and practicing safe sex at all times.
Hold a public forum or town hall meeting talking about the importance of using a condom.
Encourage your local newspaper, television station or radio station to create an article or program that informs the public about the importance of condom use. You can even create contests to encourage the public to participate.
Invite local officials to visit your local event on National Condom Day.
Submit an editorial or letter on local safe sex needs to your newspaper.
Encourage your local radio station to air public service announcements before and during National Condom Day.
If you are too lazy to do anything, just make a substantial donation to any organization that provides free condoms to those who need it.
Read Also
Must Watch – HIV-AIDS, Safe Sex and Condom Use – Dr. Willie Ong (Internist and Cardiologist)
Message of National Condom Day
Safe sex is very important today because of the numerous sexually transmitted diseases that are prevalent. The use of condoms is the most effective and convenient way to prevent the transmission of STDs. It is also one of the best methods for the prevention of an unplanned pregnancy. We need to become comfortable buying, carrying and using it. National Condom Day was created specifically for these purposes so it is important to mark this day and increase awareness about the need for practicing safe sex at all times.
You May Also Like – 8th March
View All