Disability is a general term that covers all impairments, limitations for performing and restrictions to participation in activities. All these are challenges that can be reduced with the right knowledge and other relevant information.
What is Disability?
Disability is the result and consequence of any or a combination of developmental, physical, emotional, sensory, cognitive or mental impairment. It is any condition that continuously restricts an individual's daily activities. The condition can be existent from birth or happen during the lifetime of an individual.
Symptoms of Disability
Although symptoms of disability vary according to its many different types, there are some that apply in most cases. All are characterized by deficits in a person's general abilities. Some of the most common symptoms include:
Disorder and sensory difficulties.
Having trouble obeying directives.
Poor general coordination.
Children attaining progressive milestones a lot slower than their peers.
Trouble or delays in speech and speaking.
Inability to comprehend and understand social norms.
Logical thinking challenges.
A poor sense of direction.
Irritability.
Tiredness.
Getting startled easily.
Some of these symptoms might be present and some might not according to individual circumstances. Like earlier said, there are different types of disabilities. The symptoms present will depend to a large extent on the type of disability and the unique physical attributes of the individual. Children sometimes exhibit some of these symptoms at some point of their development only to become absent at a later point.
Causes of Disability
The odds of becoming disabled even for adult workers before retirement increases at around one in three. Some disability causes might come to you as a surprise because of the variety and nature in which they come in. Some of the most common causes of disability include:
Poverty and malnutrition.
War.
Nuclear accidents.
Poor access to basic healthcare.
Illness.
Medicines and injections.
Hazardous conditions at work.
Accidents.
Poisons and pesticides.
Inheritance from parents.
Disability in Figures
Research conducted by the world health organization (WHO) and other relevant disability and humanitarian agencies reveal a lot about disability. The following disturbing figures have been discovered:
An estimated one billion people or 15% of global population live with one form of disability or the other and this makes them the globe's greatest minority says WHO.
People in nations with a life expectancy of more than 70 years spend eight years or 11.5% of their life span, fighting disabilities.
80% of people living with disabilities globally are in developing countries according to UNDP.
An estimated 20% of the worlds' poorest have one disability or the other and are regarded as the most disadvantaged in their various communities.
Relative disability-related legislation studies show only forty five nations globally have anti-discrimination and alternative disability-specific laws in place.
UNESCO says that 90% of children with disabilities do not attend any school in developing countries.
In OECD countries, higher education students living with disabilities are under-represented despite their numbers being on the increase.
The rate of literacy in adults with disabilities globally is a minimal 3% while that of female adults with disabilities is just 1% according to the UNDP in a 1998 study.
The ILO says that around 386 million of working class people globally have one or more types of disability. The rate of unemployment among them in some countries is as much as 80%. This is due to assumptions amongst employers is that people with disabilities cannot work.
A USA study in 2004 found only 35% of working class persons with disabilities actually working as compared to 78% of those without disabilities. 2 out of every 3 of the jobless respondents with disabilities said they desired to work but did not find jobs.
Global Disability Facts
Even though these statistics seem alarming, people's illiteracy concerning disability is much more disturbing. If you can just learn more about it, you will be saving your life and that of other people. Some facts about disability include:
Many people with disabilities have been known to be successful in owning their own businesses according to the US labor department.
Employees with disabilities have higher retention rates. This reduces the overall cost of turnover according to a US study in 2002.
Other US studies have revealed a retention rate of 85% for persons with disabilities after a year of being employed.
Disability Awareness Day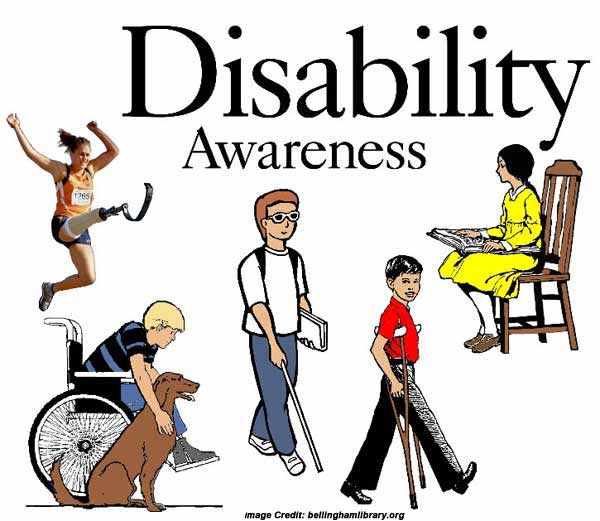 The 12th of July annually is set aside as the disability awareness day. It is a day meant to look into all issues that pertain to the disability challenge and its symptoms. It's a day on which people are educated and inspired to:
Highlight all the services which are available for people with disabilities to overcome the symptoms and become self sufficient.
Campaign for aides and equipment that can improve or maintain such self sufficiency.
What to Do On Any Disability Awareness Day?
Some of the things you can do on the day include:
Host disability awareness activities and events and maybe even distribute badges to mark the day.
Dedicate educational resources to kids who live disabilities each and every day.
Pay particular attention to adults or children with all types of disabilities.
The Message You Should Spread On Disability Awareness Day
Disability is a great trial. It is affecting a larger part of the population much more than you can think of. The disability awareness day is perfect for sharing available information and latest findings on this serious global challenge. This will go a long way in assisting those affected.
View All