Viviscal Extra Strength Overview
If you are looking for something to enhance your hair growth and spare you the embarrassment which follows with bold spots, you've probably come to the right spot.
The product does seem as if it might be able to help you out, so we are going to take a closer look and see for sure.
How Does It Rate?
Overall Rating: 3.7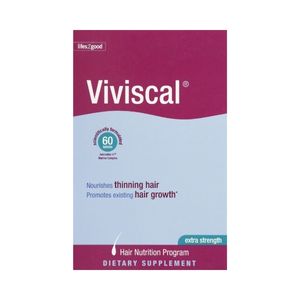 Viviscal Hair Growth Supplements
Brand Highlights
The manufacturer of product is Viviscal.
Backed by 25 years of Research & Development.
This product designed for thinning hair loss & hair growth.
They calaim that they use natural & safe ingredients.
Key Ingredients
AminoMar Marine Complex
Horsetail Extract Silica
Millet Seed Extract
Biotin
Vitamin C
Iron
Pros
Available on Amazon.
Formulated for all hair types
There is a clinical study showing its effectiveness
The product has a good success rate
There are many users saying it is effective
Cons
Side effects are reported.
Product is more expensive.
There are some unsatisfied customers saying it is not effective especially for severe hair loss
It takes 3 to 4 months to deliver considerable results
Some users may be hypersensitive to certain ingredients in the supplement
It is only being sold by select retail establishments but the product can be easily ordered online
May not be suitable for long-term use
---
How Does Viviscal Extra Strength Work?
Visceral Extra Strength primarily works by providing the body with essential nutrients for strong and healthy hair. It conditions the hair while prolonging the growing phase of the hair for fast hair growth. It nourishes the hair follicles from within while strengthening and promoting hair growth.
The formula then promotes the growth of hair which has slowed or stopped growing then it strengthens that hair and conditions it to prevent breakage. The supplement contains specific nutrients that have been identified to play a crucial role in the growth of healthy hair.
Viviscal Extra Strength Active Ingredients
AminoMar Marine Complex
– This is the primary active ingredient in all Viviscal formulations. It is an isolated form of essential protein molecules that promote existing hair growth. This ingredient also improves hair health to prevent breakage and other issues that lead to thinning hair.
Horsetail Extract Silica
– This natural extract has been shown to strengthen the hair which helps address thinning hair.
Millet Seed Extract
– It has been shown to strengthen and condition the hair for thick and vibrant hair.
Biotin
– Biotin, often known as vitamin B7, Some studies said it promotes keratin formation in the hair and can speed up follicle growth. It does not last long in the body and the majority of it comes from the meals you eat. It must be consumed in order to be effective. The amount of biotin recommended for hair development is typically between 100 and 1,000 micrograms (mcg) per day, but this figure fluctuates depending on your body's reaction to biotin. [1]
Vitamin C
– It is a powerful antioxidant that also works to help in the absorption of iron into the blood thus promoting hair growth.
Iron
– This is an essential mineral that helps in the production of red blood cells that carry oxygen to cells throughout the body including the hair follicles.
Viviscal Extra Strength Claims
100% drug free
Contains natural ingredients
Nourishes hair
Promotes existing hair growth from within
#1 selling hair growth supplement in the United States
Scientifically proven to improve the thickness of hair and reduce shedding in 3 to 6 months
Suitable for all types of hair
FAQs
Q: How to Use Viviscal Extra Strength?
A: Take 2 tablets a day for 3 to 6 months for optimum results. Take 1 tablet in the morning and 1 tablet in the evening with water after meals. For maintenance, take 1 to 2 tablets daily.
Q: What Is Viviscal Extra Strength Warnings?
A: Do not take more than the recommended dosage. If you are pregnant or nursing, do not take this supplement. This product is intended for use by women 18 years of age and older only. For those taking medication, consult your healthcare provider before taking Viviscal Extra Strength.
Q: What Is Viviscal Extra Strength Side Effects?
A: The possible side effects are a minor gastric disturbance and hypersensitive reactions but these are quite rare. In case of side effects, discontinue use and consult your healthcare provider.
Q: How to use Viviscal Extra Strength?
A: The product should be used as per the instructions – 2 tablets a day for between 3 and 6 months, depending on your current situation and condition.
Q: How Much is Viviscal Extra Strength?
A: The product retails for $26.99 for a pack of 60 tablets.
Customer Reviews
The product has received thousands of reviews, which is something that we are usually looking forward to. It suggests that it is a widely used product and that a lot of people have taken the time to review it. Of course, as it currently stands with the majority of products on the market, this one also has plenty of both negative and positive reviews.
One person says that it failed to deliver the necessary effects and that he didn't really see any improvements whatsoever. On the other hand, another user reported that the product started working as advertised – after the 3rd month and that he is very happy with the results.
You May Also Like to Read – It Works! Hair Skin Nails

Final Verdict
The Viviscal Extra Strength is a product which is definitely boasting a formulation that might be able to help you grow your hair. However, this is something that requires quite a lot of time and dedication.
The product is predicated on active ingredients with a lot of merits to them. At the same time, though, it is important to note there are no obvious and documented side effects.
Surely enough, it might be a good idea for you to take another look at the market as there are plenty of alternatives that you might be able to take advantage of.
Our Top Hair Product Choices
Verdict on Claimed Benefits: Below is our summary of the available evidence for the claimed benefits of below mentioned hair growth products, supplements and hair growth vitamins based on the available research:
Divine Locks | Thicker, Longer, Healthier Hair

Restores Thicker Hair*
Gold Star Evidence
Detoxifies the Scalp*
Gold Star Evidence
Reduces Hair Breakage*
Gold Star Evidence
Strengthens Hair Follicles*
Strong Evidence
Folexin | Best Hair Growth Support Supplement
Supports Natural Hair Growth*
Gold Star Evidence
Thickens & Strengthens Hair*
Gold Star Evidence
Prevent Hair Loss*
Strong Evidence
Improves Hair Quality*
Gold Star Evidence
Zenith Labs Hair Revital X | Hair Growth Formula
Supports Healthy Hair Growth*
Gold Star Evidence
Nourishes Hair Strands*
Strong Evidence
Healthy DHT Level*
Strong Evidence
Prevents Early Baldness*
Gold Star Evidence