What is Nutrafol?
Nutrafol is a dietary product that is designed to nourish and strengthen thinning hair from within.
It is formulated with botanical ingredients that are clinically proven.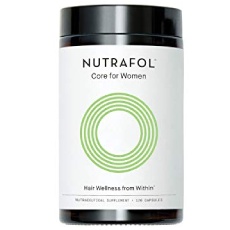 It features the latest technology that standardizes the ingredients to specifically target the multiple triggers of hair loss.
Hair loss is caused by various causes such as inflammation, hormones, stress, and genetics.
Therefore to address this problem you require a sophisticated, multi-targeting formula.
Nutrafol claims to be this formula that will tackle this problem in all dimensions.
It is available on the brand's website. It comes in a package containing 120 capsules.
Who is the Manufacturer of Nutrafol?
The manufacturer of this product is Neutraceutical Wellness Inc.[1] based in New York.
The manufacturer claims that over 500 physicians trust this hair regrowth product.
They claim that the ingredients are clinically tested for their safety and effectiveness in combating hair thinning.
It is 100% free from any drug, shellfish, wheat, and binders.
Working Process And The Ingredients List
This product works through the potency of its ingredients that are rich in vitamins, minerals, and amino acids that provide hair's building blocks.
It is formulated with ingredients that target several causes of hair thinning and hair loss including stress hormones, genetics, and inflammation among others.
It initiates a three-stage transformation to address the root cause of hair loss and promote its growth.
It contains DHT blockers, anti-stress adaptogens that help to reduce cortisol hormones, antioxidants, and anti-inflammatories.
It begins by balancing the level of DHT and cortisol hormones.
It then repairs damaged follicles, followed by the revitalization of dormant follicles by providing them with boost nutrients and building blocks necessary to promote hair growth.
This results in healthy, fuller, and stronger hair.
Here are some of the ingredients used in this formula:
Nutrafol Review – Does It Really Work?
This product contains potent ingredients that allow it to address hair thinning and hair loss from different dimensions.
Targeting several different causes makes this formula to be more efficient as compared to those that target one causative.
Besides, it is backed by clinical studies to prove its effectiveness.
Read Also – Foligain Hair Growth Lotion
What are the Advantages of Nutrafol?
Multi-targeting: You may experience good changes in the body as it targets multiple conditions in the body.
Prevents hair loss
Standardization: Backed by clinical studies
Does not contain: gluten, wheat, shellfish or binders
What are the Disadvantages of Nutrafol?
It is not suitable for women who may be pregnant or breastfeeding.
Different sexes have a different product, there are two separate bottles for men & women.
Nutrafol is for adult usage only i.e user must be 18+ so strictly keep out of reach from children.
You May Also Want To Read – Folexin
Nutrafol Questions and Answers
Q: How Do I Use This Product?
A: You are recommended to take four capsules of this product on a daily basis preferably with a meal. Ensure that you take it consistently for optimal results.
Q: What Are The Precautions When Using This Product?
A: You should consult your doctor before taking this product if you have a medical condition all taking medicines especially the anti-platelet drugs. You should not exceed the recommended dosage.
Q: What are similar products to Nutrafol ?
A: Kerotin, Cocoa Locks and Hairfluence are some products available in the market with similar benefits.
Q: How Long Before I See Any Improvements?
A: The results might differ among different individuals. However, the manufacturer claims that you should see positive results within 3-6 months of regular use of this product.
Q: What are the possible side effects?
A: This product has no known side effects associated with it. It is produced from safe natural ingredients.
Nutrafol Review – Final Verdict
Many men are likely to experience hair loss as they age.
It results due to various factors including inflammation, stress hormones, and genetics, which a common cause of baldness.
Most of the solution in the market concentrates on solving hair loss and thinning as a result of genetics making them inefficient.
Studies have indicated that inflammation and stress, which are often ignored by conventional solutions, loss play a significant role in hair thinning and hair loss.
This has provided new insight in developing solutions that will approach the problem in different dimensions targeting almost all possible causes of hair loss and hair thinning.
Nutrafol is a dietary supplement that may promise to address hair thinning and hair loss from all dimensions.
It may promote hair growth in men as well as prevent its loss by addressing different causes.
It seems to be a better alternative to other hair health solutions. However, not all that glitters is gold.
Meaning it is always important to research more about any supplement you intend to buy including Nutrafol.
This will help you to ascertain for the safety and effectiveness of the ingredients used.
'Nutrafol' can be purchased through their Official WebSite.
Our Top Hair Product Choices
Folexin

Thickens and Strengthens Hair*
Thickens and Strengthens Hair*
Thickens and Strengthens Hair*
Thickens and Strengthens Hair*
**This is a subjective assessment based on the strength of the available informations and our estimation of efficacy.
*Result may vary. The information contained in this website is provided for general informational purpose. No medical claims are implied in this content, and the information herein is not intended to be used for self diagnosis or self treatment of any condition.
*Disclosure of Material connection: Some of the links in the post above are "associate sales links." This means if you can click on the link and purchase an item, we will receive a commission. Regardless, we only recommend products or services which we use personally and/or believe will add value to our readers. We are disclosing this in accordance with the Federal Trade Commission's 16 CFR, Part 255: "Guides Concerning the Use of Endorsements and Testimonials."