In This Review
Bosley Hair Products Overview
Bosley is a name that has been synonymous to hair loss solutions and medical hair restoration treatments. Bosley Medical is home to some of the best hair transplant surgeons as well. Apart from hair transplant procedures, Bosley also sells hair loss and hair regrowth products.
These products range from combs and clinical helmets to shampoos, conditioners, and hair thickening fibers.
How Does It Rate?
Overall Rating: 3.9
Shapiro MD Hair Growth
Brand Highlights
While headquartered in Beverly Hills, California, Bosley is located in Alabama, Iowa, New York, and Oregon to name a few.
At its core, Bosley is composed of Robert D.B. Spurrell, President and Chief Executive Officer, Ken Washenik, M.D., Ph.D., Medical Director, Michael J. May-Devey, Vice President of Human Resources.
They insist on providing world-class, state-of-the-art care to each patient entering their clinics.
They owe their success to its roster of certified physicians, world-class training, and state-of-the-art technology.
Pros
The product is an FDA-approved, wearable device that claims to help with hair restoration due to androgenetic alopecia.
The product uses scientifically approved LLLT technology to help reduce hair loss and promote healthy hair growth.
It features a controllable pod that gives you complete control of the device.
Cons
According to Bosley Reviews, the product might take a while before you see any results.
It's an expensive hair growth product.
The laser cap only comes in two sizes.
---
How Does Bosley Hair Products work?
Aside from its hair transplant procedures and clinical treatments, Bosley manufactured its own line of effective hair loss and hair re-growth products.
These products are recommended to patients as part of their maintenance and even to individuals seeking the effects of Bosley on their hair-related woes.
Advertisement
*All individuals are unique. Your results can and will vary.
Bosley's hair loss and hair re-growth products are all FDA-approved and guaranteed to work to complete treatment, the results of hair transplantation, and for people beginning to manage the early stages of hair thinning and hair loss.
Alternatives to Bosley Hair Products
Gentleman's Beard Club Reviews
Hair Eternity Reviews
Hair Magik 10 Reviews
Bosley Hair Products
Below is a list of Bosley's hair products:
The Bosley Laser Comb – The Bosley Laser Comb brings that reputation into your home with a clinically proven laser hair loss treatment that is safe and effective. Bosley Laser Comb is FDA-approved and hand-held medical device that promotes hair re-growth.
It is also aids against hair loss. It provides low-level laser light energy. The comb stimulates hair follicles promoting new hair growth. The consistent use of these combs starts giving benefits in a few weeks as per the clinical study.
---
Theradome Laser Helmet – The Theradome® LH80 PRO Laser Helmet is an over-the-counter FDA cleared wearable clinical-strength therapy device for the treatment of hair loss.
It is non-invasive and is intended for use in the privacy and convenience of one's own home. The Theradome® PRO Laser Helmet uses 80 medical-grade lasers to provide Low-Level Laser Therapy (LLLT) as an effective treatment for hair loss.
---
Bosley Professional Strength for Men – Bosley Professional Strength for Men is a series of hair treatments that contain Minoxidil, a known topical solution for treating hair loss. This contains 5 products – a nourishing shampoo, a volumizing conditioner, a hair regrowth treatment, a dietary supplement, and a follicle energizer.
---
Bosley Professional Strength for Women – The Bosley Professional Strength for Women contains a 2% Minoxidil solution, the FDA-approved formula specific for women's use. It also contains the 5 products – the nourishing shampoo, volumizing conditioner, hair regrowth treatment, dietary supplement, and follicle energizer.
---
Bosley Hair Thickening Fibers – Bosley Hair Thickening Fibers are designed specifically for eliminating the appearance of baldness and thinning hair. The micro hair fibers are designed to be rain-, wind-, and sweat-proof as well.
---
Propecia – Propecia® is sold by prescription only but is available with a prescription by a Bosley physician. 1). Propecia® works by inhibiting the formation of DHT which is a key factor in hair loss, and 2). slowing the progressive thinning of non-transplanted hair. Propecia® is ideal for patients experiencing early stages of hair loss, and Propecia® is the only FDA-approved oral medication shown to halt and/or slow hair loss in men. Depending on the stage of hair loss, It may be recommended before, or even after, a hair transplantation procedure.
---
See Also – Follicle-RX Reviews, Shapiro MD Hair Growth
Advertisement
*All individuals are unique. Your results can and will vary.
Bosley Hair Products – FAQ's
Q: What are the Benefits of Bosley Hair Products
A:
As a clinic known to have performed more hair transplants than any other medical group in the world, there is a brand of confidence in the use of products Bosley manufactures under its proprietary formula.
Additionally, as a pioneer of major advancements in the area of hair transplantation, individuals looking for a hair loss and hair thickening product can wisely set their expectations if they use home care treatments by Bosley.
Bosley is an awarded clinic, widely certified and affiliated with notable governing bodies in the field of medicine and hair, such as the American Board of Cosmetic Surgery, The Hair Foundation, North American Hair Research Society, and National Alopecia Areata Foundation to name a few.
Q: What are the Drawbacks of Bosley Hair Products?
A:
Depending on one's current hair condition, Bosley can have different effects and deliver different results to users.
Some report that using the Bosley shampoo and conditioner leaves their hair dry.
While others experience positive results in the first two months of use, some report that the difference in their hair loss or hair re-growth is very minimal and not noticeable.
Additionally, some find Bosley hair products to be too expensive.
Q: What is the Usage Instructions for Bosley Hair Products?
A: To realize the full and positive benefits of Bosley hair products, use these accordingly as stated by its instructions.
Using the products, such as the Propecia tablets and professional strength line, in excess won't make the product work any faster than it claims to be.
Q: Can a regrowth product be used if expired?
A: The majority of hair products will be still safe to use just after the recommended use-by date but when it comes to hair growth products, you should be more conservative. The biggest risk for a product expiring is not necessarily the time but now they've been stored.
You May Also Like – Toppik Reviews
Bosley Hair Products – Final Verdict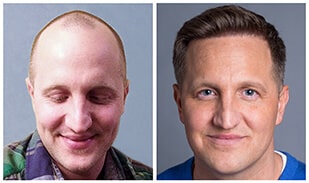 Anyone dealing with hair loss and hair regrowth problems has definitely come across different products and brands.
Bosley is one of those brands that are worth the shot considering the scientific basis and the social proof the brand has.
And if you are unsatisfied with the results, there are product guarantees that you can take advantage of.
'Bosley Hair Products' can be purchased through their Official WebSite.
Our Top Hair Product Choices
Verdict on Claimed Benefits: Below is our summary of the available evidence for the claimed benefits of below mentioned hair growth products, supplements and hair growth vitamins based on the available research:
Product reviews are provided for informational purposes only and reflect solely the views and opinions expressed by the contributors and not those of Consumer Health Digest. We do not verify or endorse any claims made in these reviews. Please read the full product reviews disclaimer. *All individuals are unique. Your results can and will vary.
Ask a Question
Bosley Hair Products Ques and Ans
Q: My scalp has been extremely itchy, I believe I am also noticing some thinning of my hair. Which product would you recommend for me?

A: For women with genetically driven hair loss, the Bosley topical treatment has been clinically demonstrated to regrow hair and slow down hair loss in some circumstances. On the other hand, regrowing hair takes time while using this product and each person's hair regrowth rate is different, and Bosley products will not work for everyone. As a result, it is suggested that you do additional research on different hair growth products or use a hair growth supplement. Folexin is a natural hair growth supplement that promotes thicker, healthier hair. Some users show results within 2 weeks or may take 1 month but the result is guaranteed without any side effects.
Have a Question? Please Tell Us What We Are Missing Here!
**This is a subjective assessment based on the strength of the available informations and our estimation of efficacy.
*Result may vary. The information contained in this website is provided for general informational purpose. No medical claims are implied in this content, and the information herein is not intended to be used for self diagnosis or self treatment of any condition.
*Disclosure of Material connection: Some of the links in the post above are "associate sales links." This means if you can click on the link and purchase an item, we will receive a commission. Regardless, we only recommend products or services which we use personally and/or believe will add value to our readers. We are disclosing this in accordance with the Federal Trade Commission's 16 CFR, Part 255: "Guides Concerning the Use of Endorsements and Testimonials."