In This Review
What is Amplixin?
Amplixin is a natural and complete treatment for hair damage. It's a product said to be manufactured from organic ingredients, which function well in reducing baldness and excess hair loss.
The ingredients used are said to be compatible with the user's skin and to work well without causing further damage.
This product is made available on the internet, and users can purchase it directly from the company's official website.
How Does It Rate?
Overall Rating: 3.7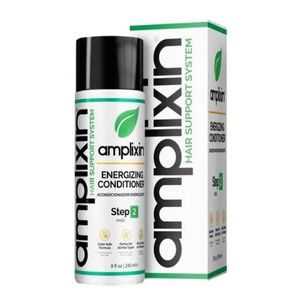 Amplixin Hair Support System
Brand Highlights
Amplixin is the company behind the production of this formula.
The brand was founded few decade ago.
It's a company situated in the USA.
The manufacturer states that this is a natural hair growth product, produced to boost hair growth.
This product designed for promotes stronger, longer, and thicker hair.
They calaim that they use natural & safe ingredients.
Key Ingredients
Horsetail
Pantothenic Acid
Biotin
Folic Acid
Calcium
Riboflavin
Iron
Pros
Available on Amazon.
This is a potent hair product in reducing the shedding off of hair as well as in enhancing healthy hair growth.
It's manufactured from natural elements, which function well in maintaining body hormones that enhance hair growth while regulating the one that causes hair loss.
It's a natural product with no parabens; thus it works well without causing negative health impacts.
It's manufactured by a reputable company, dedicated to producing natural, potent and safe products.
Cons
Side effects are reported.
The exact quantities of compounds contained are not indicated on the product's official website.
There are no mentions of any free trial offer.
The formulation is not for everyone.
More expensive product than other similar.
It may not effective for all users.
---
How Does Amplixin Work?
This formula is claimed to work well in enhancing the required results.
It's manufactured from a blend of organic ingredients, which work well for strengthening healthy hair growth, as well as reducing hair loss. It also regulates the production of hormones that cause hair loss.
Ingredients In Amplixin – Are They Safe & Effective?
This formula is said to be manufactured from natural ingredients, which are compatible with the skin and which boost follicles health.
The ingredients used are free of parabens; thus they work without causing any adverse impact.
The ingredients used to produce this formula include:
Horsetail

– It's an herb extract containing plant silica, which works well in promoting hair regrowth and in providing the user with selenium. However, according to the study, more evidence is needed to rate the effectiveness in hair growth. The presence of Horsetail Extract in Nº 77 Leave-In Hair La Vie Review article suggests its potential role in stimulating hair growth. It is a natural and potentially effective way to nourish the hair follicles and stimulate hair growth.

Pantothenic Acid

– It's a vitamin that works well in nourishing the hair follicles and helps the hair cellular to multiply. A study by Prz Menopauzalny says that pantothenic acid helps in hair growth and gives hair moisture.

Biotin

– According to Tréssurge Reviews, its role in keratin production, the protein that forms the structure of hair, makes biotin an essential nutrient for maintaining strong and vibrant hair. Additionally, it plays a role in enhancing fatty acid synthesis, which further contributes to strengthening the user's hair. As PubMed reports, biotin is used for hair growth, although research demonstrating its efficacy remains limited.[1]

Folic Acid

– It plays a role in enhancing hair growth. It helps in cells renewal, which helps in hair regrowth.

Calcium

– It helps to regulate the production of body hormones that can lead to hair loss. It also stimulates the production of hormones that enhance hair growth such as androgens.

Riboflavin

– This is a vitamin B, which promotes healthy hair growth and follicle development. Riboflavin deficiency may lead to hair loss.

Iron

– It helps in red blood cell growth, which carries oxygen to the body cells to support tissue healing and repair, including those that promote hair growth. According to research published, hair follicle cells can be particularly sensitive to decreasing levels of iron and may not be able to grow.

You Can Also Check – Nourkrin Reviews


Amplixin Questions and Answers

Q: What Are The Side Effects Of Amplixin?

A: As of now there are some side effects reported by users who have used Amplixin. And some of the ingredients used may cause allergic reactions in some individuals.

Q: How Do I Use This Formula?

A: A bottle of this product contains a 60 days package that provides invigoration for one month; hence it's supposed to be used twice a day and on a daily basis to acquire the desired results.

Q: What Are The Precautions When Using This Product?

A: This product has not been evaluated by the FDA. Keep it in a cool, dry place and away from direct sunlight. Consult specialized doctor use.

Q: How Long Before I See Any Improvements?

A: It's claimed to be a fast-acting treatment, which gives quick and admirable outcomes.

Q: Which are the alternatives to Amplixin?

A: The alternatives to Amplixin are Folexin, Andrea Hair Growth Oil, Beard Growth Spray and Ultrax Labs Hair Surge.


Amplixin Review – Final Verdict

Amplixin is a natural product, produced to take care of falling hair.

It's manufactured from a blend of organic ingredients, which work well in enhancing hair growth, in reducing hair loss and as well as reducing baldness.

This formula has some positive customer remarks about its efficacy. It helps to balance body hormones, thus helping them to perform their work with ease. It strengthens hair follicles, thus boosting strong and healthy hair production.

However, the manufacturer has not provided information about risk-free guarantees or about the exact ratios of ingredients used to formulate this formula.

Details contained on the official website are inadequate to conclude about its effectiveness. Therefore, it's important to research more about it before making a purchase.
Our Top Hair Product Choices
Verdict on Claimed Benefits: Below is our summary of the available evidence for the claimed benefits of below mentioned hair growth products, supplements and hair growth vitamins based on the available research:
Folexin | Best Hair Growth Support Supplement

Supports Natural Hair Growth*
Gold Star Evidence
Thickens & Strengthens Hair*
Gold Star Evidence
Prevent Hair Loss*
Strong Evidence
Improves Hair Quality*
Gold Star Evidence
FoliPrime | Health of Your Hair and Scalp
Regrow Hair Naturally*
Gold Star Evidence
Removes Scalp's Dead Cells*
Strong Evidence
Boosts Hair Growth Enzymes*
Strong Evidence
Promotes Healthy Hair Growth*
Moderate Evidence
Zenith Labs Hair Revital X | Hair Growth Formula
Supports Healthy Hair Growth*
Gold Star Evidence
Nourishes Hair Strands*
Strong Evidence
Healthy DHT Level*
Strong Evidence
Prevents Early Baldness*
Gold Star Evidence