Hair you see are a string of dead cell protein called keratin. The protein is produced in hair follicles. As the new cell produced by follicles, old cells are pushed out through the surface of the skin. The life cycle of follicles varies according to age, disease and other factors. It is natural that when people age, the growth of hair slows.
Hair loss
There are different types of conditions for hair loss. Some related to genetic, often in a natural condition, baldness, all body hair fall out and temporary hair thinning. Hair loss can be easily overcome by different methods and treatments. Most treatments are based on preventing future hair loss while some of the below treatments aim to regrow hair.
Are There any Successful Hair Loss Treatment?
Hair loss treatments are varied from a simple home treatment to a combination therapy. There are numbers of successful hair loss treatment.
1. Cell-Based Hair Follicle Regeneration
In this treatment, cells around hair follicles are taken and grow in a lab then re-inject to the scalp to grow hair. The result significantly shows more hair after one-year treatment.
2. Latisse
The treatment is the FDA approved the drug for eyelash growth. The main function of Latisse is to reboot hair follicles with cells. However, it is difficult to penetrate the scalp for the time being and research and studies are underway.
3. Combination Therapy
The combination therapy combines the drug similar to Latisse with other medication that treats allergies and asthma. It affects the hormone-like substance that preventing hair from growing.
4. FDA-Approved Medications
Most medications for hair loss are available over the counter. Lotion for hair treatment such as Rogaine which can be applied to the scalp. Prescribed medication, Propecia is the first and only over the counter oral medications. It is a long-term hair replacement therapy that has to use to get effective results. Keranique contains an ingredient that regrows hair, increases the strength of hair as well as improve hair texture and luster. Apart from lotion and prescribed medication, specific hormonal treatment are able to help hair loss.
5. At-Home Treatments
Certain home remedies for at-home treatments are easy to use and just a hand away. For instance, castor oil which can prevent and treat infections from hair loss contains toxin ricin. Castor oil can easily prevent hair loss as well as repair hair damage and split ends. Other types of treatments include saw palmetto, aloe vera, rosemary, and sage. Try this hair growth formula Folexin which help you for better growth of hairs.
6. Hair Transplants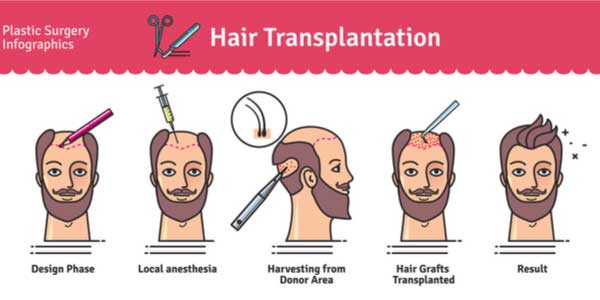 The process is quite similar to grafting of skin. Hair from the fuller areas especially hair from side and back of the head are redistributed to the balding or thinning areas. The transplant hair follicles act as normal hair, growing at the same rate. This treatment is popular and permanent.
7. The ARTAS Robotic System
The treatment uses a Follicular Unit Extraction (FUE) technique. The device ARTAS Robotic system provides assistance in harvesting graft. It includes infrared cameras to calculate the follicular unit number and density and also the exact angle and depth. The advantage is there is no scar left after the treatment and the patient can get their hair short.
Advertisement
*All individuals are unique. Your results can and will vary.
8. NeoGraft Restoration
This treatment uses a surgical method. Neo Graft made a tiny punch to extract follicular units. It removes the hair from donor areas, separated by size and transplant into the balding areas. This technique has many advantages including no linear scars, minimum risk of bleeding, quicker healing and recovery time, shorter operating time and it is one of the popular procedure for people who desire short hair.
9. Capillus272 Mobile Laser Device
The device lets the treatment available to undergo at anywhere. The treatment is suitable for both men and women and to achieve ultimate hair restoration result. It is one of the most effective low-level laser treatment and stimulates hair follicles to revive and thicken the hair. This therapy with low-level infrared increase blood circulation, oxygen supplies and cellular metabolism in the scalp.
10. Compounded Finasteride/Minoxidil
The product is off-label, customized compounded medication and contain a key ingredient of the same FDA approved standard over the counter medication. It reduces side effects and increases the potency of drug. The medication can be obtained with a doctor's prescription.
11. Vampire PRP
The treatment is widely used in dentistry, orthopedic and plastic surgery. It is known as Platelet-Rich-Plasma therapy. It is performed by administering through a series of injection to the scalp. Currently, there are a few doctors who perform the process.
Although there are successful hair loss treatments, it is also vital to consult with experienced hair restoration physician. The physician will be able to understand and correctly diagnose, track the hair loss and choose the appropriate treatment.
View All