A well-balanced dinner is comprised of starch, protein, and non-starchy vegetables to provide the ideal balance of nutrients to support vibrant health.
Be mindful of what you select from each food group to optimize the nutritional value of the meal.
The starch food group is one that varies greatly in terms of nutrition content.
Some starchy foods are nutritionally void, offering more calories than nutrients, and these are often referred to as refined carbohydrates (source).
On the other hand, complex carbohydrates are full of nutrients and fibre and the better choice. They take longer to digest, meaning they keep you fuller for longer and help to keep your blood sugar and hunger levels stable.
A delicious source of complex carbohydrates is sweet potatoes.
According to Healthline, sweet potatoes are highly nutritious root vegetable that is high in vitamin A, vitamin C, and fibre, and are inexpensive and durable, making them an ideal kitchen staple.
While a baked sweet potato is an easy side dish, there are more exciting ways to incorporate this wholesome ingredient into your meals.
How to make this nutrient-powerhouse the star of a variety of dishes?
# Tip 1
– Make a Sunday night dinner double as preplanned lunches for the week by throwing cubed sweet potatoes, broccoli florets, and chicken thighs on a sheet pan. Season the vegetables with salt, pepper, and olive oil, and coat the chicken with barbecue sauce.
Bake for 30 to 40 minutes at 425 degrees F, and you'll have perfectly cooked, moist chicken and tender vegetables. This dish is ideal for batch cooking because there are minimal cleanup and prep time.
# Tip 2
– A healthy and satisfying option for football Monday starts with sweet potato chips. Thinly slice a sweet potato, coat with olive oil and season with salt and pepper before baking in the oven until edges appear crisp and browned.
Advertisement
*All individuals are unique. Your results can and will vary.
Top with lean ground beef, low-fat pepper jack cheese, green olives, diced tomato, peppers, onion, and avocado, and eat as a nourishing alternative to nachos.
# Tip 3
– Use a mandolin to cut sweet potatoes into thin rounds. These can be used to finish a casserole or frittata to add natural heartiness and sweetness, and an appetizing golden brown topping when broiled for a few minutes as the last step of preparing the dish.
You can also crisp these rounds in a pan with a pat of butter until crispy and use in place of toast. Try topping with mashed avocado and a fried egg or light cream cheese, smoked salmon, and dill.
You can even use them to make grilled cheese to pair with tomato soup on a crisp fall evening.
# Tip 4
– Get the most out of Taco Tuesday by swapping the usual tortilla for a sweet potato "boat." Simply halve a baked sweet potato, scoop out some of the fillings, and replace with taco meat topped with shredded cheese, shredded lettuce, beans, guacamole, and salsa. Alternatively, you can use the same approach for a gluten-free gyro style meal.
Instead of a pita, fill the sweet potato bowl with chicken or steak topped with feta cheese, hummus, tzatziki, peppers, onions, and olives.
# Tip 5
– While sweet potatoes might not seem like a typical salad ingredient, they can enhance the nutrition and texture. Cut sweet potatoes into ½ inch cubes, mist with an olive oil spray, and bake in the oven until crispy. Let them cool, and add to your favorite salad in place of croutons.
If you prefer a crisp texture in your salads, be aware that it is safe to eat raw sweet potatoes. You can use a spiral slicer to create thin, curly strands of sweet potato to add a boost of colour and crunch to your salad.
You can also cook these sweet potato "noodles" until soft and use for a cold pesto salad. Another option is to exchange that cold salad for a harvest bowl, and fall is a perfect time.
Combine the baked sweet potato cubes with roasted brussels sprouts, sautéed kale, cooked brown rice, and top with parmesan, sliced almonds, and dried cranberries for a warm bowl overflowing with micronutrients, whole grains, and healthy fats.
#Tip 6
– With cold weather approaching, now is the perfect time to use the crockpot for stews and chili. Sweet potatoes are a wonderful addition for a convenient one-pot meal, especially since they can be added in chunks to the crockpot and still have time to cook through until tender.
Advertisement
*All individuals are unique. Your results can and will vary.
Consider combining sweet potatoes with a protein that is better when slow-cooked, such as short ribs. Also, enhance their subtle sweetness with fragrant spices.
You might be familiar with enjoying them on Thanksgiving with fall spices like cinnamon and nutmeg. These spices can be used in savory lentil or bean stews along with the sweet potatoes for a unique and aromatic flavour.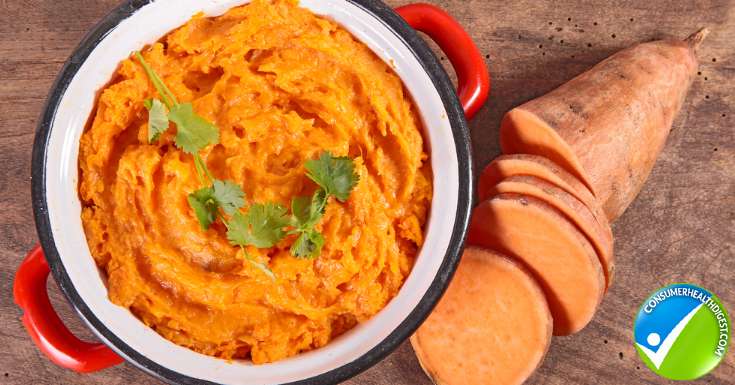 #Tip 7
– Use mashed sweet potatoes to add texture and nutrients while reducing the amount of higher fat ingredients in soups and sauces.
Mashed sweet potatoes can be combined with herbs like thyme and rosemary to replace the traditional tomato sauce on a pizza topped with gourmet ingredients like pear, gorgonzola, prosciutto, and a balsamic glaze.
Mix mashed sweet potato into soups instead of cream or cornstarch to thicken. Reduce the amount of cheddar cheese in macaroni and cheese and add a mashed sweet potato for a creamy texture and bright colour.
Sweet potatoes can offer a satisfying element to any meal. They complement many hearty recipes that will warm you up as we approach autumn. They are a wonderful substitution for less nutritious ingredients, helping you improve the nutrient content of any recipe.
Since they are in season, they will taste even better, be less expensive, and offer intact nutrients. Take advantage of this delicious root vegetable at its prime time.
Experiment with the suggested usage ideas to see for yourself how versatile it is and how it can enhance the flavor, texture, and appearance of almost any dish.
Image Credits
Feature Image: Shutterstock.com
In-Post Image: Shutterstock.com
View All