Snacking on delicious and healthy foods that are filled with fiber and protein will help to stabilize your blood sugar and keep you feeling full throughout the day. I like to incorporate healthy fats (such as nuts and avocados) and low-glycemic fruits (such as strawberries, dates, and plums) to satisfy your cravings while not compromising your health. Here is a list of 7 snacks to stabilize your blood sugar levels throughout the day:
1. Dates With Almond Butter
Dates are a great sweet snack that is low-glycemic. The glycemic index ranks how much food increases your blood sugar in comparison to glucose. Therefore, the higher the glycemic index, the faster it increases your blood sugar levels.
Low glycemic foods won't spike your blood sugar and give you that crash afterward. Two-three dates per serving (pitted) with a tablespoon of almond butter on top is a perfect filling snack containing healthy fats, protein, and natural sugars to keep your blood sugar stable while allowing you stay fuller longer in between meals.
(And did I mention they are delicious?!) Dates will satisfy any sweet tooth. They are also a great substitute for sugar when you are baking. Adding a few dates in a food processor or blender will be a perfect low-glycemic addition to your baked goods without the processed table sugar.
2. Half an Avocado With Salt And Pepper
Avocados are packed with healthy Omega-3 fatty acids that help lower your blood sugar naturally. Avocados are considered "healthy fats" since they are a monounsaturated fat that helps to reduce LDL cholesterol. Adding more monounsaturated fats in your diet can help people with diabetes, and blood sugar issues process glucose and insulin more effectively.
Making avocado toast is also a great option. All you need to do is smash a half of an avocado, add some salt, pepper, (if you like spicy you can add cayenne pepper or paprika too), spread it onto a slice of whole-grain toast, and you have yourself a very filling, satisfying, and healthy snack.
3. Handful of Almonds
Almonds are not only filling in small doses but also delicious! Almonds are another healthy fat packed with fiber which helps stabilize blood sugar levels because they control the rise in blood glucose and insulin levels in between or after meals. They are packed with vitamins, minerals, and protein. You can sprinkle almonds in your oatmeal, yogurt, salads, or just eat them plain. Almonds are great to take with you on-the-go when you're in a hurry. Just throw some in a zip lock bag, and you're ready to roll!
4. Hard-Boiled Egg
Yes, you can eat the yolk! Eggs are loaded with protein which slows digestion helping you stay fuller longer in between meals. No mid-afternoon crash with this snack! One egg consists of 63 calories, 6 grams of protein and 4 grams of fat (healthy unsaturated fat). Since eggs barely contain any carbohydrates, they are an excellent snack choice if you are watching your blood sugar levels. You can also prepare these as a meal prep for the week. Just boil a whole carton of eggs on Sunday night, and you have yourself snacks throughout the week!
5. Organic Sprouted Grain Bread With Nut Butter
Sprouted whole grain bread like Ezekiel Bread is low in sodium and includes 4g of fiber and 5g of protein in one slice. Flaxseeds are loaded with fiber, healthy Omega-3 fats. They also contain lignans which serve as antioxidant qualities. What could be better?! Add some almond or cashew butter for some extra protein, and you have yourself a protein and fiber–rich snack.
You can also make your own homemade nut butter. In a food processor or blender, all you have to do is mix a nut of your choice (I love using cashews or almonds), and you have yourself a creamy and smooth spread for your fiber-rich toast.
Advertisement
*All individuals are unique. Your results can and will vary.
6. Pumpkin Seeds With Yogurt And Berries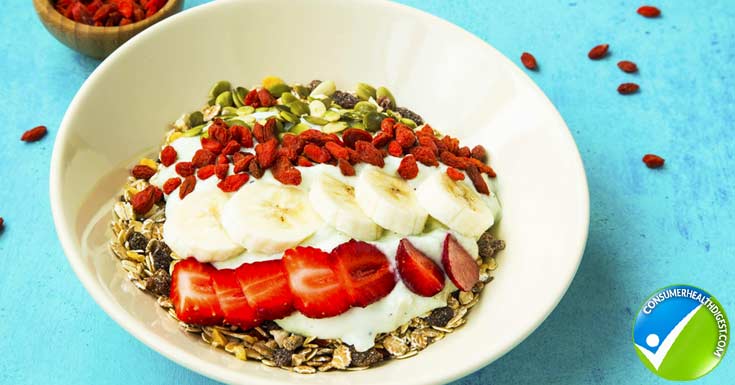 Pumpkin seeds are packed with vitamins and minerals such as zinc, magnesium, as well as protein. With the added protein of some organic yogurt and some berries, you have yourself a great snack that will satisfy your hunger and your sweet tooth. I would recommend a yogurt that is unsweetened. A lot of the sweetened flavors are packed with tons of added sugars.
Eating an unsweetened full-fat organic yogurt will give you all the healthy fats and protein without an unwanted sugar high. Try to pair your yogurts with a balance of low-glycemic fruits such as strawberries or cherries while adding seeds for protein.
7. Organic Cheese Stick
Organic cheese sticks such as Horizon Organics are such an easy snack to stabilize those mid-afternoon crashes and cravings before dinner. Cheese is an excellent source of calcium and protein. It is also very low in carbohydrates which slow glucose absorption keeping your blood sugar spikes to a bare minimum. Try to avoid processed cheeses as they are filled with preservatives and usually contain more carbohydrates.
Try sticking to an organic brand, free of harmful chemicals and processed ingredients. Cheese sticks also come in handy when you're running out the door for work on a busy day, just throw one in your bag! This snack is also a great addition for your kid's snack time treat.
You May Also Want To Read – 8 Reasons Why Eating Cheese Is Harmful For Health
Conclusion
So there you have it! Simple, practical, and delicious- that's what snacking is all about (oh, and don't forget healthy)! And remember; snacking is your go-to when you are on the go or when you need that extra little filler-up between meals to avoid a blood sugar crash. Try to avoid processed snacks such as candy, chips, and cookies and cakes. These are loaded with unwanted sugars and carbohydrates that will wreak havoc on your blood sugar.
The goal is to eat about five times throughout the day, so your blood sugar remains stable. Skipping meals and not snacking throughout your day is something to avoid. Keep in mind that skipping meals doesn't make you lose weight. Snacking on delicious and healthy treats will keep your weight and blood glucose steady while giving you an energy boost throughout your day!
View All