Stomach ulcers are a common disorder of the upper digestive tract occurring in 2.4% of the Western population. These painful lesions that occur in the lining of the stomach are caused by either excessive gastric acid production, an infection by the bacterium Helicobacter pylori, chronic use of NSAIDs, alcohol abuse, and certain medical conditions. Studies show that herbal remedies are more effective in treating stomach ulcers than conventional medicine. Herbal remedies also cause fewer side effects and are cheaper. So, if you are suffering from stomach ulcers, try these 10 proven home remedies to get some relief.
1. Piper Betel
According to one study, taking Piper betel extract at a small dose of 2 mg/kg daily for 7 days can significantly reduce ulcers which the study claims was up to 93%. The herb is native to Southeast Asia where it was long used as a medical plant. Its strong flavor has also made this plant a popular mouth freshener.
2. Felty Germander Extract
Made from the sub-shrub and herb native to the western Mediterranean region, Felty germander extract is able to repair ulcers and reduce inflammation as found in one study. The healing effect of this popular plant extract comes from its antioxidant activity and ability to reduce gastric secretions and stimulate cell growth in the stomach lining.
3. Cabbage Juice
Cabbage contains vitamin U which is known as an antipeptic ulcer factor. According to one study, drinking cabbage juice for as little as 7 days can completely heal peptic ulcers but some studies show that the juice takes at least a month of regular drinking to offer any benefits. However, this probably depends on the severity of the ulcers and vitamin U concentrations.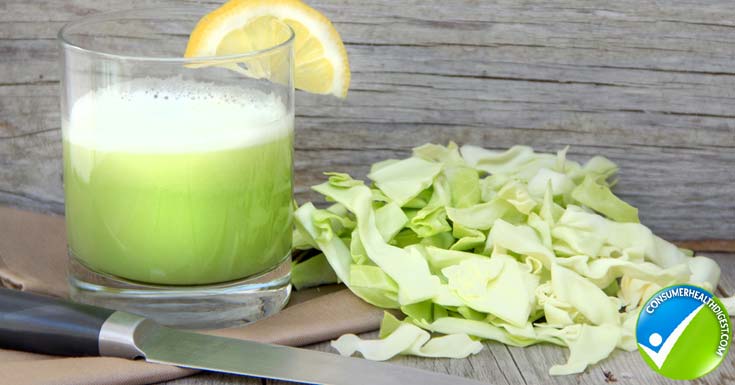 4. Plantain Banana
The plantain banana is a banana variety that is a bit starchier and contains less sugar than banana variants usually sold in supermarkets. A study published in the British Journal of Pharmacology found that unripe plantain bananas were especially effective in treating stomach ulcers by stimulating the growth of gastric mucosa. Another study found that your regular unripe banana may also help.
5. Fenugreek Seeds
A popular ingredient in Indian cuisines, fenugreek seeds are also great for treating stomach ulcers. One study compared the efficiency of fenugreek seeds to omeprazole in treating alcohol-induced stomach ulcers. Fenugreek seeds were efficient in preventing and healing stomach ulcers by decreasing stomach acid secretions and increasing the stomach's antioxidant capacity which makes the stomach more resistant to ulcerations.
6. Coconut Milk
Drinking 2 ml of coconut milk daily can reduce your stomach ulcers by 54% according to one study. The researchers from this study compared this effect of coconut milk to Sucralfate which is a conventional ulcer treatment that was only slightly more efficient in reducing ulcers (56%) which means that coconut milk is an effective remedy for reducing the size of stomach ulcers.
7. Qualea Grandiflora
Qualea grandiflora is a Brazilian medical plant traditionally used in the treatment of gastric ulcers. It is unique in that it has the ability to treat gastric ulcers without affecting the stomach acidity or gastric secretions. Its abundance in steroids, terpenes, phenolic compounds, saponins, and tannins may explain why the herb is so effective in treating ulcers.
8. Holy Basil
Holy basil is native to the Indian subcontinent where it is used for the production of aromatic oils as well as in the preparation of herbal teas. It can offer immediate relief from gastric ulcers by reducing gastric acidity and secretions by up to 70% according to one study published in the Journal of Ethnopharmacology. However, researchers believe its antioxidant activity may be the main reason why holy basil aids in ulcer healing.
9. Honey
Although not an herb, there are lots of benefits of honey, it can be considered a home remedy for many ailments, gastric ulcers included. One study found that honey was as effective as cimetidine in treating ulcers caused by Aspirin. To get the full benefit, make sure to look for natural and organic honey as many commercially-available products are diluted with corn syrup.
Advertisement
*All individuals are unique. Your results can and will vary.
10. Aloe vera juice
Juice from Aloe vera is not only tasty but can also help with gastric ulcers by affecting your brain functioning. According to one study, drinking Aloe vera juice which is rich in vitamins A, C, E, and also abundant in minerals can affect brain disorders that may be causing your stomach to secrete too much acid. Drinking Aloe apparently, helps with gastric ulcers caused by anxiety and nervousness.
Conclusion
Although stomach ulcers can be uncomfortable, they can be successfully treated with home remedies. In fact, studies show that home remedies can be as effective as conventional medicine in the prevention and treatment of stomach ulcers. In case you have problems with stomach ulcers, try some of these 10 home treatments and see if they work for you.
View All