Protein is a vital component of every cell in your body. Your body needs this nutrient to manage your weight, build or maintain muscle mass, stabilize blood sugar levels, improve mood, support brain, and heart health, and so much more. Consumption of protein-rich foods is widely recommended and while you know some protein sources, there are many others you didn't even think of. In this article, you're going to see ten sinfully delicious foods that also happen to contain high protein content.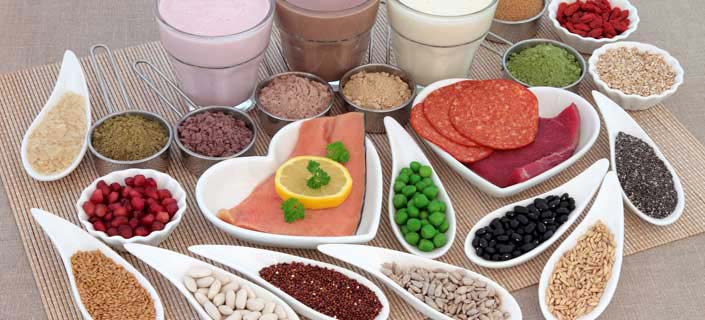 High Protein Food
Protein is incredibly important, but the good thing is that you can obtain it from the diet. Unlike many other nutrients, we can get the recommended daily value of protein solely from the food we eat. That said, it's not just about eating a high protein food, you also have to make sure you get enough of this important nutrient. How much protein is enough? Here are the recommended daily values:
Infants:
0-6 months – 10g
7-12 months – 14g
Children and adolescents:
1-3 yr – 14g
4-8 yr – 20g
Boys: 9-13 yr – 40g, 14-18 yr – 65g
Girls: 9-13 yr – 35g, 14-18 yr – 45g
Adult men:
19-30 yr – 64g
31-50 yr – 64g
51-70 yr – 64g
>70 yr – 81g
Adult women:
19-30 yr – 46g
31-50 yr – 46g
51-70 yr – 46g
>70 yr – 57g
What is the Importance of High Protein Food In Diet?
Do you belong to the group of people who, simply, don't see a reason why to eat high-protein food? What's a big deal anyway? These benefits of protein will motivate you to jump on the bandwagon:
Reduced appetite and hunger levels
Increased muscle mass
More strength
Stronger bones
Reduced desire for late-night snacks
Faster metabolism helps burn fat
Blood pressure management
Stabilized blood sugar levels
Better mood
Healthy brain function and learning
You May Also Want To Read – Top Four Muscle Foods By Father Fitness
What Foods are High in Protein?
As mentioned above, you can obtain the recommended daily value from your diet. Here are some foods that are high in these valuable nutrients:
Almonds, Broccoli, Brussels sprouts, Chicken and turkey breast, Cottage cheese, Eggs, Fish and shrimp, Greek yogurt, Lean beef, Lentils, Milk, Oats, Pumpkin seeds, Quinoa and Tuna
Advertisement
*All individuals are unique. Your results can and will vary.
Besides these foods, there are many others with high protein content. In fact, some products are beyond delicious that you don't even think are healthy for you. Seriously! Here are ten amazing sinfully delicious high-protein products to try.
1. Protein Pudding by MHP
Power Pak Pudding by MHP is a delicious, ready-to-eat high protein pudding that makes consumption of this nutrient simple and enjoyable. Super delicious taste of the pudding shouldn't fool you, it contains as much protein per serving as the leading protein bars on the market, but nearly half the calories and without unhealthy trans fats.
Yes, one pudding pack provides whopping 30 grams of protein! The Power Pak Pudding is also easy to digest, abundant in calcium and doesn't contain fructose and other unhealthy substances. It is available in three different options: chocolate, vanilla, and butterscotch.
2. FlapJacked Protein Muffins
FlapJacked Mighty Muffins are gluten-free, super delicious, and high in fiber and protein content. Each container provides 20 grams of protein and it also comes with a powerful probiotic to support your immune system health. Mighty Muffins are available in different flavors including chocolate, peanut butter, S'mores, maple pumpkin, cinnamon apple. All you have to do is to add water, microwave for 35 seconds, and that's it.
3. Oh Yeah! ONE Birthday Cake Protein Bars & Cookie Dough Bars
This is a perfect snack for all those people who love delicious and healthy high-protein bars. Oh Yeah! Nutrition's protein bars and cookie dough bars contain only 1g of sugar and 22 grams of protein. Another reason you should, definitely, try these bars out is that they are rich in fiber and gluten-free. The website shows numerous protein bar options chocolate birthday cake, almond bliss, chocolate chip cookie dough, peanut butter pie, and many others.
4. P28 High Protein Spreads
Everybody loves a great tasty spread and this one will exceed your expectations. High Protein Spreads from P28 contain 14g protein per two-tablespoon serving and are made of natural ingredients. You'll also be happy to know that the delicious protein spread doesn't contain cholesterol, trans fats, or gluten.
High Protein Spreads are available in different flavors such as white chocolate, peanut, almond, banana raisin, caramel turtle, apple crisp, gingerbread, and pumpkin spice.
5. MuscleEgg Flavored Egg Whites
Do you use egg whites? Well, now you can try world's first flavored egg whites laden with protein. Someone, actually, figured out that it would be amazing to create flavored egg whites and you really have to try it. MuscleEgg is, basically, protein in its most natural form with 25-26g per serving (one cup).
Besides flavors like chocolate, strawberry, chocolate caramel, vanilla, mint brownie, cake batter, pumpkin spice, key lime, you can also get original and organic egg whites on the official website.
6. Kodiak Flapjack Waffle Mix
Waffle Mix is the first product released by Kodiak and was based on an old family recipe. With no added sugar, fat, or cholesterol, you'll be amazed how delicious and light these flapjack and waffle mixes can be. A serving of 1/3 cup contains 7g of protein, 100% whole grain wheat flour, dried honey, and non-fat dry milk. To make waffle or flapjack, all you have to do is to add water to the mix.
7. 100% Food Chocolate Soy Protein
This is a protein drink made with raw and organic ingredients to deliver different nutrients to your body. The one-minute complete meal contains all nutrients according to FDA 2000 calorie diet and doesn't require cooking, you just add water, shake, and enjoy. The protein content varies on the version you choose. For example, low-carb version contains 56.25g while triple protein version contains 37g.
Advertisement
*All individuals are unique. Your results can and will vary.
8. Dough Bar High Protein Donuts
Donuts are incredibly delicious but can be quite unhealthy. Now, donut lovers can enjoy this snack the healthy way. Dough Bar High Protein Donuts come in different flavors and with 11g of protein content. That's a very decent amount of this nutrient coming from donuts, don't you think?
9. My Oatmeal
Oatmeal is highly nutritious breakfast that improves your health and wellbeing. What makes My Oatmeal so special? Well, you have the option to choose the content of your purchase. For example, you can choose the type of oats, flavors, sweeteners, toppings and get oatmeal made just for you. The protein content, as well as other nutritional facts, depend only on ingredients you choose and you can track everything to get the most nutritious oatmeal.
10. Frooty (Fruity) Loops Phormula-1 by 1st Phorm
After a hard, exhausting workout you have to recover and the best way to do that is to have a protein shake. You, probably, haven't tried this protein shake but you should definitely do so. What makes it different? Well, it tastes exactly like popular Fruit Loops and a serving of 1 scoop delivers 22g protein. Of course, you can choose other flavors too e.g. cherry lime, chocolate milkshake, watermelon, and so on.
Conclusion
Protein is necessary for your health and wellbeing. You can get sufficient amount of this nutrient through your diet and if you haven't already tried foods from this article, it's time to change that. All foods listed above are very delicious and healthy at the same time. It's a win-win situation for you, eating a tasty meal while benefiting your health.
View All