Christmas is a time for joy and gifting, while New Year is a time for celebration. While these two are events occur every year and are quite popular, more and more people are also starting to make a tradition of celebrating Halloween every year through spooky parties, scary costumes and, of course, food and drinks that match the spirit of Halloween.
With an increasing awareness of the human body's wellbeing and how a person can improve their health, many people are starting to say no to refined sugars, processed foods and the many alcohol beverages that are considered to be simply "empty calories".
When a person makes such drastic changes in their lives, it might become more difficult to celebrate some of these annual events. Christmas often calls for large meals and a lot of pudding, while New Year usually involves a lot of drinking and partying.
Similarly, Halloween is now known to also attract a lot of attention in the party department. Thousands of parties are held each year on the night of Halloween – these parties tend to provide guests with a spooky theme, while expecting guests to accompany the theme through costumes, special hairdos and, of course, a face full of makeup.
Apart from the costumes that people are often requested to wear and the decoration used in clubs that are throwing Halloween parties, the drinks and food served are usually created in such a way to represent Halloween – unfortunately, they are also often not healthy choices either.
Luckily, there are ways to have a great Halloween party without having to opt for unhealthy foods, while also not being the only one not having a drink at the party.
Top Healthy Halloween Drinks
In this article, we will share some excellent ideas for Halloween drinks that are not only empty calories, but actually provide you with some healthy benefits – or, at least, won't cause too much damage to your wellbeing. These drinks are easy to prepare and they go great with almost any kind of party.
If you have made the switch to a healthier lifestyle and do not wish to ruin the progress you have made thus far, then opt for these drinks instead and you'll still be able to have fun this Halloween, while staying healthy altogether.
1. Cauldron Smoothie Bowl
Let's start with something that you can use to start the day at home – the Cauldron Smoothie Bowl, shared by Eating Well[1], is perfectly suited for the entire family and will surely get everyone excited for the rest of Halloween.
This drink is suitable for vegetarians, and does not contain eggs, nuts, soy or gluten. All you need is some frozen mango chunks, some spinach, frozen bananas, yogurt, reduced-fat milk, vanilla extract and a honeydew melon – as you can see, all of which are healthy ingredients.
Advertisement
*All individuals are unique. Your results can and will vary.
2.Tomato-Jalapeno Bloody Mary
A bloody mary is a must for many people on Halloween. The drink does, after all, look quite… bloody. Unfortunately, a lot of bloody mary recipes are not so healthy for you. This one, however, is a healthier alternative to the traditional bloody mary you'll find at the club on Halloween night. Also shared by Eating Well[2], the Tomato-Jalapeno Bloody Mary requires some ripe tomatoes, lemon juice, jalapenos, horseradish and Worcestershire sauce.
You'll also need some sugar, celery salt, ground pepper, olives and dilly beans. For the "kick", you'll want to add some vodka too. The recipe contains no gluten. This particular bloody mary is also low in fat and carbohydrates, so it won't simply make you drink a lot of those "empty calories".
3.Count Dracula Sangria
Another alcoholic Halloween drink that is definitely only for the adults in the room, the Count Dracula Sangria is not only delicious, but also very good for you. The recipe has been shared by Symptom Find[4], who reports that the ingredients have many benefits for the heart, as well as for increasing levels of HDL cholesterol, also known as "good" cholesterol.
Furthermore, unlike a traditional Sangria, this one does include as many calories. You'll need some red wine, apples, oranges, a can of diet lemon soda and some club soda. It's quite easy to make this drink – simply mix everything together and serve the drink with ice.
4. Vampire Blood Punch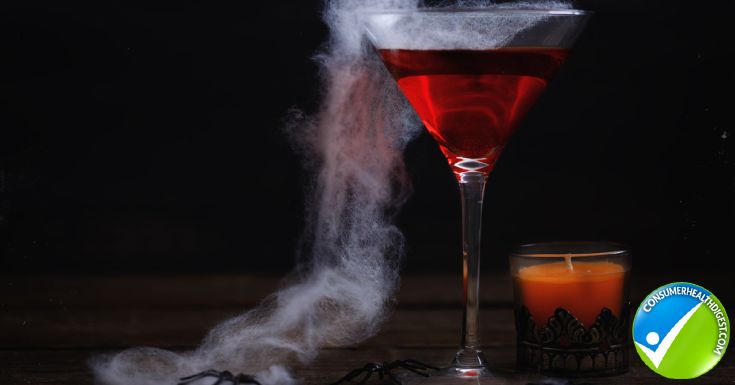 If you're looking for something that is extremely simple, does not require any mixing, and is perfect for both you and the kids… then the Vampire Blood Punch, shared by Whitney E.
RD[3] , would be a great choice. This recipe literally only requires two ingredients – how simple is that? You just need to pick up some plastic eyeballs from your local hobby store. Then pour a glass of naked juice – the best choices are usually the Bright Beets or the Pomegranate Blueberry flavors, since you are looking for that "bloody" effect. Throw some plastic eyeballs in the glass of naked juice and you're all set. For you, however, a shot or two of vodka would definitely spice things up a little.
5. The Sludge Monster Martini
For those looking to steer away from the red and bloody look for a while, the Sludge Monster Martini might be the perfect drink for you. This drink features a greenish color and the ingredients found in it are all very good for your body. Organic Spa Magazine[6] lists this as one of the best Halloween drinks for those aged over 21. All you need to make a glass of The Sludge Monster Martini is some fresh spinach, a red apple, some lemon and orange juice, a shot of triple sec and some vodka.
6. Sweet And Spooky Creamsicle
This one is for the vanilla lovers out there – and also not appropriate for the kids. Shared by Shape[5], the Sweet and Spooky Creamsicle only contains around 65 calories per glass and absolutely no sugar – definitely good news. You only need some vodka, preferably vanilla flavored, and some sparkling ICE, which should ideally be the orange mango flavor. Mix these together and add about five candy corn pieces to complete that "Halloween look" in your drink.
7. Bloody Punch
Finally, let's share another excellent Halloween drink idea that is appropriate for the kids as well. 54 Health explains[7] that the Blood Punch Halloween drink offers many health benefits for the kids without including a large amount of sugar. To prepare this drink, mix some cranberry juice, apple juice and grape juice together. You can add some cola – the kind without caffeine. To top things off, add some frozen strawberries to the punch bowl where you have mixed the juiced together and get a fake hand to place inside for that extra spookiness.
Conclusion
Halloween is now celebrated by millions of people. Thousands of clubs dedicate an entire evening to Halloween every year, and many more people host their own Halloween parties at home. For those who are preferring a healthier approach to eating and drinking, it might be difficult to satisfy the entire guest list without making them feel bored with their selection of foods and drinks – but the list of drink ideas we have shared here will surely help you spice up the evening by offering your guests a way to drink up, get drunk, but still gain some health benefits at the same time.
Image Credits
Feature Image: Shutterstock.com
In-Post Image: Shutterstock.com & twoboysonegirlandacrazymom.com
Advertisement
*All individuals are unique. Your results can and will vary.
View All