Christmas is just around the corner and we all are doing our best to get ready for the festive holidays. While some people are stocking their kitchen with delicious treats and ingredients to be used in festive meals, others are worried about not looking their best during the holidays.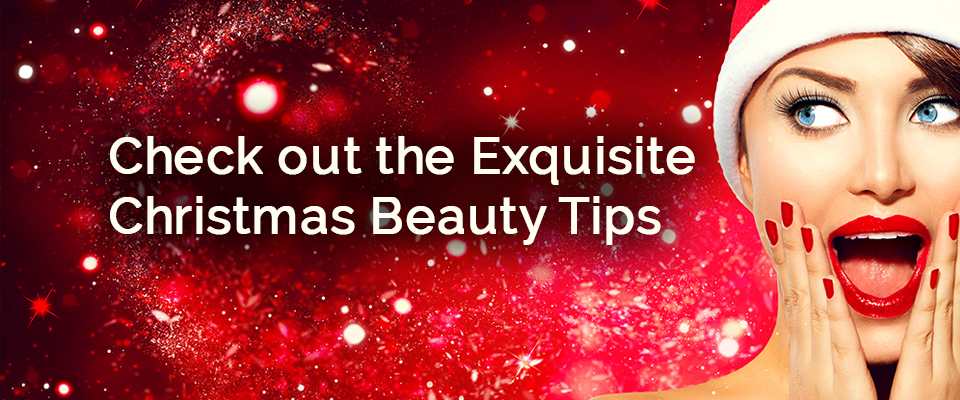 While we are excited about the holiday season, it can be quite stressful. As a result, you pay less attention to simple stuff that improves your look. When it comes to looking your best this Christmas, it all comes down to establishing a skincare routine that you'll be following even when holidays are over. Treat your skin with rich moisturizing creams and apply makeup that enhances all your features without making you look like you're wearing a mask.
Take it easy with a powder, and opt for a smokey eye effect when attending parties. Remember, if you have smokey eyes you should go for a lighter lipstick. On the other hand, if you want to make your lips stand out, then take it easy with eye makeup. Master the art of simple hairdos, even an ordinary updo looks super sophisticated with your festive outfit.
Not all people struggle with makeup and hairdo. For some, their weight may be a problem, and for those who are already conscious about their health and fitness, they may be worried about splurging out during Christmas. In this post, we'll take a quick look at simple techniques that will help you keep on track with your healthy diet, while still allowing you to splurge out now-and-then.
With Christmas and the festive holidays coming up, people are concerned about possibly cheating their diet and indulging in the many delicious treats that will be set out on the table. A bowl of Christmas pudding and perhaps even a late night of celebration. Fortunately, with some effort from your side, it is definitely possible to overcome these obstacles while still being able to enjoy yourself.
The very first thing we would like to advise our readers is not to completely restrict themselves from the Christmas feast that will be served during the holidays. It is okay to splurge out once-in-a-while, but the key is to know your limits. Try to prioritize the healthier options when choosing your food, and dish up a minimal amount of the less healthy options. This will allow you to enjoy the traditional food that might be considered fattening, but without succumbing to their unpleasant after-effects.
While prioritizing the healthy options in order to be able to enjoy the lesser healthy options is one way to go, we would also like to emphasize the fact that you should try to limit the amount of servings you have. When we are feasting during Christmas time, we are often tempted to go for a second or even a third plate of that delicious meal laying before us on the table. Unfortunately, this is not a healthy choice and will most certainly not have any positive impact on your waist line. Instead, limit yourself to a single serving during every meal.
In addition to tips that will be discussed below, it is also important to always remember to keep yourself hydrated, as well as to stay physically active. Even just participating in a 15-minute exercise protocol on a daily basis may will help to keep your metabolism active and help you avoid gaining excess weight after you have consumed some of the unhealthier choices that might have been served during the festive meals. There is no need to take part in heavy exercises during the festive time – even just performing some yoga or taking a jog every day can be beneficial.
Consumer Health Digest's Expert Roundup on Summer Skin Care Tips 2017
Yvonne
In a day when world cultures are rapidly falling apart, we desperately need to learn again how to live life to its fullest. You can make a difference in your family, in your community, in your company and your culture at large. People want to know that life can work for them. We all need heroes to model our lives after and mentors to guide us. We need real solutions when life hits us with a marriage collapse or a cancer diagnosis. Yvonne Chamberlain radiates a super-charged, high-energy presence that immediately involves people and has them responding to her exciting challenge to reach for the best in themselves!With her talent for humour, flair for drama and unique insight into human behaviour, Yvonne delivers solid content in her book "Why Me?", her seminars, and personal coaching with practical techniques that can be put to use immediately in your marriage, your health and your life. She talks from her own experience of 48 years marriage and surviving a 6 week death sentence of black melanoma.
---
Beauty So much money is spent on advertising, asking us to spend our money to obtain beauty. Use this crème and you will look 10 years younger the glossy magazine ad tells us. But true beauty, is it an outside job? Yes, we do care for our skin, yes we do go through the rituals of cleanse, tone, and moisturize morning and night, a weekly scrub and an enriching massage! We eat the right foods for health to give our skin that beautiful 'glow'. But all that 'external' beauty is simply superficial and not lasting. When your beauty comes from external sources, when you stop 'doing' you stop 'glowing'. Real beauty isn't how straight your teeth are, or if your nails are broken from doing the weeding. True beauty comes from the inside out. Who are you "being"? Beauty is an attitude. An attitude of gratitude. An attitude of uplifting. An attitude of peace and harmony. An attitude of making a difference, doing whatever it takes. No excuses, living as your word. Trustworthy and loyal, tenacious and persistent. An attitude of putting the other person first. An attitude of investing in people who can never repay, an attitude of respect and confidence. Beauty is a life that is worth living: one with energy, vibrancy and sharing your joy. It doesn't mean life is perfect, or you have no challenges. But it does mean that you have a poise of purpose. You are passionate about your destiny and you pursue it to your full. People love your presence because you are the sunshine in the room. I looked at the woman, smiled and heard myself saying "I know. You opened your door so that I could see your beautiful purple dress." The driver looked at her and then at me, shocked at my verbiage. I added with an even bigger smile, "you should wear purple often it suits you". She stammered out a thank-you not believing what she was hearing. Then I went into the shop to gather my grocery list together. I saw her later in the shop, pushing her trolley, standing tall, with her head held high and a smile on her face. I bet every time she wears that dress, she will feel tall and beautiful. What did it cost me to release any anger and reassure her that she is a worthwhile human being, a precious creation made by the same Creator as me? Beauty. It doesn't come from a bottle. It is all around us, if only we will open our eyes and see.
Conclusion
Taking care of your skin is a lifelong challenge. But when you think about how it is the largest organ and how it protects all the other organs from getting damaged, it all turns out that it is totally worth it. And when we say that it is a lifelong challenge we do mean it. Because you might have found the perfect skin product now, but chances are that in few months to a year, your skin will change due to the aging process and then you are left with the need to find another great skin product. However, there are some skincare tips that do not get old which is why we call them the ultimate skincare tips. And if you have read our article, now you know all the ultimate skincare tips that will help you take care of your skin this summer and help it protect from the harmful sun damage that is to be expected. Take a better care of your skin and you will be thankful.
View All