Food Fight, for Parents of Picky Eaters, is a practical, hands-on guide with simple solutions. Loaded with over 60 family-friendly recipes, and proven tips that work.
Chef Gigi's shares her years of positive parenting and teaching techniques, sprinkled with tips on how to elicit the Science behind flavor, just like professional chefs do.
Stop the battle and take mealtimes back! Published by Koehler Books. Chef Gigi's cookbook can be purchased online at Amazon, and Barnes and Noble. Chef shares information on how Consumer Health Digest helped her help others!
Chef, Now That You've Written Food Fight, For Parents of Picky Eaters, What's Next For You?
Chef Gigi –
Now that I have completed my latest book, "Food Fight, for Parents of Picky Eaters," which launched on Barnes and Noble, Amazon and Ingram Spark Aug 30th, 2018. It's time to spread the message.
I have a touring schedule built for 2019, and currently, I have been sharing information throughout the land via radio broadcasting and social media tours.
Radio and social media allow me to reach a broader audience and gives me the opportunity to share this important information to households who struggle with the frustration of mealtimes.
Radio and social media outreach such as Consumer Health Digest has helped me, help others instantaneously. I recently completed a project with Groks Science Show, a syndicated radio podcast, discussing my strategies on how I manage picky eaters through the Science of flavor using umami. A chef's secret ingredient.
Why Did You Choose Culinary As a Profession and From Where Do You Get The Inspiration for your Recipes?
Chef Gigi –
As a child I always dreamt of becoming a professional chef. When I was seven years old, and my older brothers would not drive me to my favorite "drive-thru" spot was when I began designing recipes with ingredients found in my home kitchen to strictly emulate and satisfy my fast-food cravings.
I had no idea I was already on the road to beginning a lifelong strategy of cooking whole food to imitate, "fast food" but on a much healthier level. Very ironic, because, my recipe inspirations comes from wanting to eat, and feed my family cleaner. I am currently working on my third book, with my youngest daughter Dakota- which details the same information.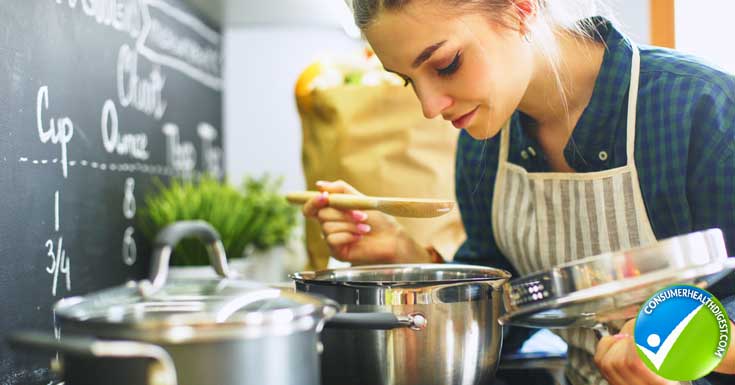 It's called, Cook Outside The Box. The book will be discussing enjoying foods that imitate the fast foods products our nation consumes.
Advertisement
*All individuals are unique. Your results can and will vary.
My recipes will be designed from whole ingredients containing a better source of nutrients while still satisfying the craving we all have for pre-prepared and "fast foods"; less the shelve stabilizers and added unhealthy ingredients that are mandated by our own FDA in pre-prepared sale foods.
What Is Umami? What's The Role of Umami Taste In Culinary Community?
Chef Gigi –
As a professional chef I spent a large portion of my thirty-five-year career studying the balance between taste and flavor. On the daily, chefs use umami-rich ingredients to complement their recipes. To understand all of this better we must interpret the process of umami. Umami was discovered by a Japanese chemist in 1908 and has been a topic of debate in the scientific community since.
In 1985, umami was actually recognized as a technical term to describe the taste of amino acids; this became a great sense of relief for the culinary community. Umami is usually described as a pleasant, meaty or brothy flavor, which is identified by our tongue's taste receptors. We all have sweet, sour, bitter and salty stimuli that live on our tongue. Umami does not live on our tongue, but rather resides within certain ingredients.
Adding umami-rich ingredients to our recipes can help enhance flavors. When we use the strategies I've listed in my book to bring the picky eaters to the food; umami acts as added insurance. Umami-rich foods we present will indeed be appetizing and uniquely support the process of getting your picky eater to accept a new food when the time presents itself.
How Parents Can Use Strategies to Deal With Picky Eaters?
Chef Gigi –
For parents understanding the Science behind flavor is an additional tool to add to their food fight arsenal.
For instance, some children will not accept the flavor of nutrient-dense green vegetables. However, when enhanced with flavors of umami, the landscape of flavor changes, and for the better. Using the Science behind flavor, layered with parenting techniques found in my book will certainly enhance your toolbox. One of the most important things to remember when engaging is to make sure the food tastes good when finally accepted.
I'd also like to mention; not all picky eaters are equal. Some kids will eat what others will not. Keep an open mind. If you scowl or comment negatively about food, the kids might too. I've added an array of interesting recipes at the end of my book that might run the gamut for all levels of eaters. Perhaps a few of them you will add to your family's culinary repertoire.
Some children that are picky or selective eaters could be reacting to their own bodies' defense mechanisms too. Children who are not speaking yet or have been identified as disabled or on the autistic spectrum might not be eating due to internal reactions to the foods. Your child's body will naturally reject certain foods for a multitude of reasons.
This is a good time to begin identifying food allergies. If children react to certain foods, pay close attention. The body may be speaking or screaming for help. Observe these cues and keep a food journal. Maybe your child is pressing his belly against the dinner table. This might signal a bellyache. Whatever foods are causing these reactions should stay off the menu forever.
Look for symptoms such as nausea, stomach pain, low intestinal integrity, shortness of breath, or hives, just to name a few. This is unlike being a picky eater and should be identified as "food intolerance." If the digestive system alone rejects the food, finding it difficult to digest properly, seek help sooner than later. Along with other irritant reactions, sometimes intolerances are hard to immediately recognize. Observe, take notes, list the nuisance foods and the responses you see your child having, and get to a medical professional as soon as possible.
Advertisement
*All individuals are unique. Your results can and will vary.
How to Handle Picky Eaters?
Chef Gigi –
All children are different and, if you have more than one child, you might find that one is very picky and another eats almost anything. I'd like to say this is not the result of your parenting; however, the problem could be the way that many parents present or represent food.
Very young children do better with finger foods, and a variety of textures and colors served in small portions on their plates.
A child's body does crave the nutrition it needs, and they usually will self-regulate. Parents should always try to refrain from negatively presenting foods or using bribing tools.
As parents, we learn that there are developmental reasons for everything related to our child's growth as we grow with them. Keep in mind that it is normal for kids between one and three years of age to poke at their food.
Also, after a year of rapid growth, toddlers gain weight much slower and therefore require less food intake. The fact is, toddlers are always on the go and won't sit still for anything, including food. This will affect their eating patterns.
Don't punish; teach. If the child in this age range is forced to sit down at a table and be still during a meal, you will lose the battle.
Each age range has different and contains different developmental characteristics, unfortunately, for toddlers – sitting still is not one of them.
Toddlers inherently snack their way through the day and are more compatible with the busy explorer lifestyle than sitting down to a full-fledged feast.
You should make smaller offerings throughout the day and more frequently. When this age group moves to older developmental styles and behaviors, you can start to introduce by bringing them to the family table and keeping them there.
Just remember, every child is different. Some children that are larger in stature will be working longer on their motor coordination. Don't compare.
What is the Single Most Important Thing Every Parent Need To Keep In Mind?
Chef Gigi –
As a parent, learning more about developmental stages and ages can really help you relax. Your job is simply to buy the right food, prepare it nutritiously (steamed rather than boiled, baked rather than fried) and serve it, creative or not. Trust yourself and leave the rest up to the youngsters.
How much they eat, when they eat, and if they eat is mostly their responsibility. Sounds crazy I know. As a parent, part of emotional maturity is learning to take neither the credit nor the blame.
This is a difficult level to achieve since, as parents, we are also about power and control. Food fight successes come from designing and working within a closed-ended boundary model of household management systems. I also discuss these techniques in the book.
It is my hope readers will learn healthy tips and strategies for the future as well as avoid some of the pitfalls that many other parents have encountered. Develop nutritious routines before the battle begins, and dinnertime will be a pleasant experience for everyone.
Advertisement
*All individuals are unique. Your results can and will vary.
As a parent myself, I realize that each situation is as individual as the child.
Who struggles with food choices. Remember, each child is unique, and you may need to adapt some of the techniques to work for your particular circumstance. Regardless of your approach, consistency is the key to success!
Remember: You're breaking unhealthy habits today and replacing them with behaviors that will ensure a healthy future for your child. Once you have been introduced to proven strategies for developing healthy eating habits, you can rest assured that your child will get the proper nutrition he needs.
Follow through. Expect some resistance at first, but be firm and continue your path. Your parenting role will become easier if you stick to a repetitive plan of action. Will your child whine or cry and demand her own way? You can count on it!
Read Next: 12 Bad Effects Of Junk Food – Hazard That Will Shock You
As new parents, we often worry that we are not actively making the right choices for our children. Toddlers' bodies are precisely calibrated to take in the necessary number of calories they need to grow and thrive. Our job is just to make sure they get the right variety of calories.
Stress less and love more. Child raising goes by rapidly; it would be a shame to miss it because you're too busy stressing about every little green pea. Remember, you have one of the most important jobs in the world, so be good to yourself, too!
Image Credits
Feature Image: Image given by Author
In Post Image: Shutterstock.com
View All