Do you live a fast-paced lifestyle? Do you want a healthy body and mind? Do your skills in the kitchen leave little to be desired? Then you have come to the right place.
Here we will present 20 meal ideas that will make cooking, easy, quick, stress-free, but most importantly healthy.
Breakfast Ideas
The morning rush to work or school can often lead to breakfast being easily forgotten or substituted for sugary, calorie loaded rubbish. Or worst of all, a cup of coffee may be deemed a suitable breakfast. A cup of coffee does not have the nutrimental requirements to get you acting like a productive and mentally apt individual. Plus, there is nothing worse than your stomach making noises that could rival a growling dog during an important meeting or during a lecture. So, for a healthy start to the day, breakfast is must.
Mornings may be hectic, but there are easy healthy meals that you can make with little fuss and most importantly in little time.
Key guidelines for a healthy breakfast:
Say Yes to food that is vitamin and mineral rich, such as fresh fruit.
Say Yes to food that will keep you full for longer, such as oats, eggs and grains.
Say Yes to drinks that are rich in calcium or antioxidants, such as green tea, milk or pomegranate juice.
Say No to food that is high in sugar, such as sugary cereals and pop tarts.
Say No to food that is high in salt or fat, such as bacon.
Say No to skipping breakfast, even a simple piece of toast is better than nothing at all.
Five Healthy Breakfast Ideas for You to Give a Try This Morning
1. Oatmeal:
Oatmeal is defiantly not everybody's idea of a tasty and appealing breakfast. It is something that your grandma or mother tries to make you eat while frowning in disproval over your frosted pop tart or chocolate cocoa pops. But, oatmeal can be made really tasty while remaining extremely good for you.
If you have a sweet tooth, you can still sweeten up your oatmeal without resorting to sugar. Simply drizzle on a couple of teaspoons of Honey or low sugar maple syrup onto your bowl of oatmeal.
For a fruity twist, incorporate sliced banana, chopped dry figs, apricots or 1/4 cup of fresh blueberries. This will ensure you get a good start to your five-plus-a-day goals.
However, if sweet is not your thing, then you should try one of these savory alternatives. Sprinkle a tablespoon of crushed walnuts or almonds over your oatmeal for a crunchy and nutty breakfast.
Advertisement
*All individuals are unique. Your results can and will vary.
How Does Oatmeal Benefit Your Body?
If you decide to have oatmeal topped with a selected extra for breakfast you will be acquiring: fiber, vitamin A, C and B6, calcimine, iron, magnesium, and protein. The fiber will ensure that you remain full for longer, which will mean less morning snacking, and the various minerals and vitamins are great for your body, inside and out.
2. Eggs
Eggs are a great breakfast option due to their versatility, as well as being high in protein—giving you the energy needed to get through a busy morning.
You could make a simple omelet, by mixing egg and milk together, seasoning it, and pouring into a hot pan. Sprinkle some healthy toppings over the mix, such as diced red peppers, spring onions, spinach or diced tomatoes. If you want to be super healthy, you could make an egg white omelet. This simply means that you only use the egg whites and leave out the yolks and milk.
Or go ahead and boil an egg, butter some whole meal toast and cut them into slices for the classic egg and soldiers assemble.
A final suggestion is that you could have a delicate poached egg on a hearty slice of wholemeal bread.
How Do Eggs Benefit Your Body?
A single egg contains within its delicate shell a great deal of health benefits. They are rich in Vitamin A, B5, B12, B2, Folate, Phosphorus, Selenium and protein. Moreover, if you add vegetables or wholemeal bread with your egg you will be gaining added minerals, vitamins and fiber in your diet.
Must Read – Eggs Not Harmful in Type 2 Diabetes
3. Grapefruit
There is a classic image of a healthy breakfast being imagined as a single grapefruit. And the poor soul who has to eat this breakfast dish normally makes it seem a grueling and unpleasant experience. But grapefruit is a great breakfast meal, not only is it extremely easy to make [simply slice a grapefruit in half], it is also extremely good for you.
How Does A Grapefruit Benefit Your Body?
Grapefruits are extremely rich in Vitamin C and Vitamin A and antioxidants, as well as containing traces of Vitamin B6, Calcium, Magnesium and Dietary Fiber. Grapefruit also works at curbing hunger pangs and lower bad cholesterol levels. Grapefruit aid in weight loss as it can work to boost your metabolism. All in all, the grapefruit packs quite a health punch.
4. Smoothie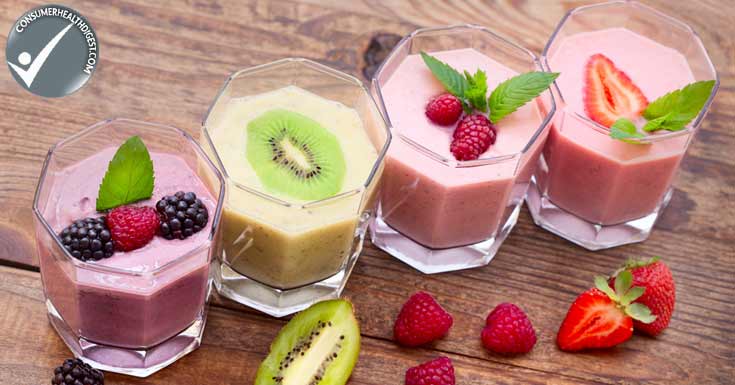 Smoothies are an easy healthy meal to have for breakfast. All it requires from you is to throw in an assortment of ingredients into a blender and whiz it up with a flick of a knob.
What you put in your breakfast smoothie depends on your preferences and what is in the fridge/pantry at the time. A general model for a healthy smoothie is shown below.
A healthy and tasty smoothie = Fresh Fruit [blueberries, apple, raspberries, banana, mango, pineapple, blackberries] + Liquid [low-fat milk, oat milk, soy milk and fruit juice] + Thickener [yogurt, Greek yogurt] + Sweetener [honey, vanilla essence] + Vegetables [spinach, kale, carrot]
Advertisement
*All individuals are unique. Your results can and will vary.
How does a smoothie benefit your body?
Smoothies, in a general sense, are normally packed with vitamins and minerals from the fruits and vegetables used as well as being rich in calcium and protein from the liquid and thickener.
You May Also Like – The Power of Smoothies by Sarah Fader
5. Wholegrain bread
Rather than reach for the white bread, for your next breakfast give wholegrain bread a try. However, a single slice of wholegrain bread sounds a bit boring and Spartan. So to add a bit of excitement to your breakfast, spread creamy avocado over the surface, or top with sliced tomatoes and season with cracked pepper. This will add both nutrients and taste to your breakfast.
How does wholegrain bread benefit your body?
Wholegrain bread is very high in fiber, which will keep you full for much longer. It is also a source of protein, iron, magnesium and calcium. Moreover if you add avocado or tomato, you will boosting your diet with a range of vitamins and minerals as well as contributing to your five-a-day goals.
Lunch Ideas
You have reached midday, and it is time for you lunch break. You could opt to cram a muesli bar in your mouth while you remain working or pig out on a greasy pie or a bag of salty chips, but that is being a healthy nelly. Easy doesn't always equate to rubbish food, something we are trying to prove in this article. Read below for five easy healthy meals ideas that you should give a try tomorrow at lunch.
First, here are our lunch rules:
Follow them closely and your body will be thankful for it.
Say Yes to sitting down for a proper lunch.
Say Yes to homemade food.
Say Yes to fresh ingredients.
Say No to eating at your desk or on the run.
Say No to buying greasy, salty and high-calorie convenience food.
Say No to huge portions.
Say No to skipping lunch.
6. Salad
The salad is a starting dish in any healthy meal plan. Moreover, there is a good reason for this accolade; the salad is a versatile, fresh, nutritious, feel-good dish for a midday meal.
A Greek Salad is perfect for a sweet summer's day, with its juicy tomatoes, creamy feta cheese, bitter olives, and refreshing cucumber.
Or you may prefer a Caesar salad to chase away your midday hunger pangs. This salad traditionally combines such ingredients like crusty bread, rich eggs, crunchy lettuce, sharp parmesan and tangy lemon juice. This would make a fine lunch to enjoy with a friend or for a delightful family lunch.
How Does A Salad Benefit Your Body?
Salads by traditionally being filled with fresh vegetables make them a dish very rich in vitamins and minerals. They are also a good source of fiber and protein.
7. Soup
A perfect meal to warm up with on a chilly winter's day is a hearty, healthy soup. And the great thing about soup is there are many different types, many of which are very easy to make.
Miso soup is an authentic Japanese dish created from miso seasoning and complimented by a number of other ingredients. A basic miso recipe would normally include tofu, spring onion, miso paste, dried seaweed and dashi granules. Most of these ingredients can be found at Asian supermarkets or special stores.
Though it may resemble something more fitting to the exorcist due to its neon green hue, the broccoli, spinach and potato soup is a very healthy, tasty and easy meal to enjoy on a frosty day.
Soup can also make a great lunch choice on a bright summer's day, especially with the chilled Spanish soup, Gazpacho. Gazpacho is made from a blend of tomatoes, garlic, onion and herbs and is served cool.
Advertisement
*All individuals are unique. Your results can and will vary.
How Does a Soup Benefit Your Body?
Soup by being often made through the use of fresh vegetables is packed with vitamins and minerals. Miso soup is very low in calories having only 84 calories in 1 cup of soup and is extremely rich in Vitamin A and Vitamin C. The other soups being are rich in Vitamin A, C and B6 by having their core ingredients being broccoli, tomato and spinach.
8. Wraps
Wraps are a great alternative when you become bored of sandwiches. There is great versatility to this meal and an added bonus is they are very easy to make. Simply lay out the wrap, add the ingredients that you have available or that you prefer [salad ingredients, meats, low-fat cheese, relishes] and then rolling it up. Presto, lunch is served. Wraps are a great healthy lunch option for the work day as you can simply make it the night before and store it in an airtight container ready for the next day.
How Does A Wrap Benefit Your Body?
The health benefits if a wrap will vary in accordance to your choice of filling. But if you make sure that you cram it with fresh vegetables, such as lettuce, tomato, red peppers, avocado or bean sprouts, then they will be a good source of Vitamin A, C and B6. Moreover, by adding a lean meat you will give your diet a good boost of protein, and if you use a wholemeal wrap you will add fiber to your diet.
9. Sushi
Sushi, the traditional Japanese dish, serves to be both extremely tasty and healthy. The seaweed wrap serves as a healthy barrier that encases protein-rich tuna, chicken or salmon, and fresh vegetables, such as carrots and avocado. You can either purchase sushi from your favorite sushi store or attempt to make it from scratch.
How Does Sushi Benefit Your Body?
Seaweed is classed as a super food, being rich in iodine, which is very important to the thyroid gland, as well as being source of Vitamin C and Vitamin A. And that is only the outer layer, inside sushi is rich in protein and various Vitamins depending on the filling chosen. Lastly, if salmon sushi is chosen it will serve as a great source of omega-3.
10. Sandwiches
The lunch classic, the sandwich is easy to make as well as being tasty to eat. Try to pick bread that is wholegrain and avoid white bread if you wish to stick to your healthy eating goals. In regards to the filling, the great thing about the sandwich is the many different filling options. Fill it with things that suit your tastes, but try to keep it fresh and healthy. Lettuce, tomato, avocado, cheese, and lean meats are some viable options for a tasty sandwich, which is also very good for you.
How Does Sandwiches Benefit Your Body?
If you use wholegrain bread, you will be adding a healthy dose of fiber to your diet. Cheese and lean meat will act as a source of protein and calcium, while fresh vegetables will be rich in vitamins and minerals.
Dinner Ideas
It is the end of the day and you are exhausted. All you want to do is slump in front of the television and binge watching your favorite program for the rest of the night. But there is one little problem, you are hungry. The takeout menus are looking very inviting and the kitchen very uninviting, but you need to end the day on a healthy note not a greasy, pizza shaped one. Here we will present five ideas that will make dinner easy, healthy and delicious.
First, here are our dinner rules:
Follow them closely and your body will be thankful for it.
Say Yes to fresh vegetables.
Say Yes to grains.
Say Yes to lean meat.
Say Yes to experimentation
Say No to takeout
Say No to calorie rich food
Say No to readymade food, such as packet noodles
11. Stir-fry
Crunchy vegetables, aromatic sauces and lean meats are staples of this Asian dish. A stir fry is a good midweek dish, as very little time and effort needs to go into it. Simply heat up a wok or pan with oil, preferably peanut oil, and stir fry a protein [chicken, pork, or shrimp], alongside vegetables. Mix in a readymade sauce and presto dinner is served.
How Does A Stir Fry Benefit The Body?
A stir-fry is a good source of protein, accounting the meat component, as well as various vitamins and minerals depending on the type of vegetable included. For example, broccoli and capsicums are rich in Vitamin C and Vitamin A.
12. Salad
Salad is not only a great lunch option; they can also make a superb dinner meal. A pasta or rice salad will serve as a great, hearty dish for your evening meal. See, lunch salads for the health benefits.
Try this Recipe: Herbed Chicken Salad Recipe
13. Poached or Grilled Chicken
Chicken is a great source of protein. However, its health benefits can sometimes be drowned out by fat content by being deep fried, battered, crumbed or slathered in butter. Therefore, the best way to cook chicken is by either poaching or grilling. Serve with crunchy asparagus, a salad or fresh new potatoes.
How Does Chicken Benefit Your Body?
Chicken is a great source of protein, as well as having traces of iron, calcium and Vitamin A.
14. Salmon
Grilled salmon is a delicious choice in dinner, with its succulent flesh and a crispy skin. Serve with fresh new potatoes, asparagus or a baked potato for a delicious and easy dinner.
How Does Salmon Benefit Your Body?
Salmon is a great source of protein, potassium, selenium, vitamin B12 and the essentially fatty acid, omega-3.
Snack Ideas
You're hungry but a look at the time reveals it is only 3pm, way too early for dinner. So what is to be done in order to sate your hunger? The answer rings loud and clear. SNACK TIME! But we must approach this in a prudent manner. This means forgetting about salty chips, creamy chocolate, sugary sweets and bubbly fizzy drinks. A healthy snack will benefit you to a greater degree than the aforementioned junk. Here we have listed five ideas for healthy snacks.
First, here are our snack rules when you are hungry:
Follow them closely and your body will be thankful for it.
Say No to very salty snacks, such as chips
Say No to very sugary snacks, such as lollies and biscuits
Say No to excessive snacking
Say Yes to fresh fruits
Say Yes to healthy snacks, such as nuts
15. Fruit salad
Easy to put together and packed with vitamins and minerals, the fruit salad is a very versatile snack. Simply mix together the fruit that you have available and dig in.
How Does Fruit Salad Benefit Your Body?
This will depend on the type of fruit that you use in your salad. Banana are rich in potassium, blueberries in antioxidants, and oranges in Vitamin C. Regardless, this dish will always be rich in a variety of vitamin and minerals and will place a huge dent in your five-a-day aspirations.
16. Yogurt and fruit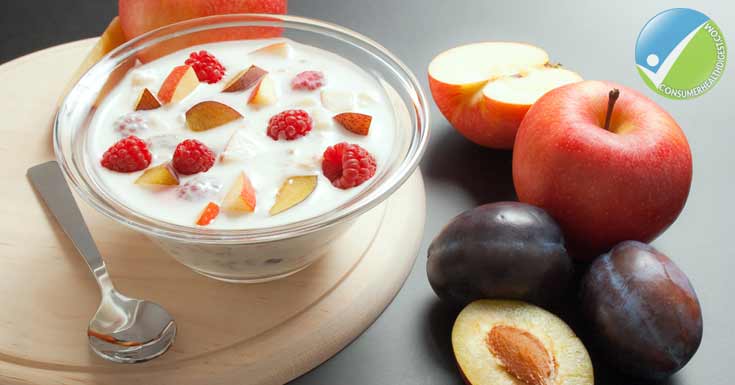 Creamy yogurt mixed with fresh fruit makes a filling and healthy afternoon snack. A drizzle of honey over this dish will work as a perfect finishing accompaniment.
How Does This Dish Benefit Your Body?
The fruit component will include vitamins to your diet and the yogurt a great source of calcium.
17. Mixed nuts
Keeping a bag of nuts in your desk drawer is a great idea. As whenever you get a little hungry you can simply eat a handful of mixed nuts. In this mix, include any nut that you prefer, such as walnuts, almonds, Brazilian nuts and cashews.
How Do Nuts Benefit Your Body?
Nuts are a good source of protein, as well as vitamins, minerals and healthy fats. Nuts are also rich in antioxidants, omega-3 fatty acids and can lower the risk certain cancers, diabetes and reduce stress.
19. Smoothie
Whipping up a quick smoothie can make a snack on a hot summer's afternoon. See, smoothies at breakfast for more details.
20. Banana pop
A banana pop is a great alternative to a sugary ice block or ice lolly. To make this healthy snack, push a Popsicle stick into a peeled banana and place it on a tray covered with baking paper. Freeze for 3-4 hours. A traditional banana pop is normally dipped in chocolate and covered in chopped nuts. You can do this if you are having a cheat day, but otherwise simply eat it plain.
How Do Banana Benefit Your Body?
One serving of banana contains 1 gram of protein, 30 grams of carbohydrate and 110 calories and. It is naturally free of sodium, fat and cholesterol.
Conclusion
Cooking doesn't have to be a difficult and dreaded task and here we tried to show you why and how healthy cooking can be both quick and easy.
View All