Zumba or Salsa?
It's very important for a person to be involved in regular workouts. Getting involved in physical workouts not only improves your physical health, but it also helps in enhancing our mental health. The study shows that regular workouts could enhance our overall mental abilities. After understanding the importance of regular workouts, you must be a bit confused while selecting between Zumba and Salsa.
Both Zumba and Salsa are quite popular. There are many people who have joined Salsa classes. On the other hand, there are also many people who have joined Zumba classes. Because both Zumba and Salsa are quite popular, many gyms have added Zumba and Salsa on their fitness package. Whether you're a Zumba fan or a Salsa fan, it's necessary to gather some information about both of them.
Know something about Zumba
First of all, we will be discussing Zumba. It comprises of international and latin music with a variety of dance moves. There is a well structured Zumba routine. Zumba could be comprised of either 75 minutes of vigorous aerobic activities or 150 minutes of moderate aerobic activities. This routine is also recommended by the Department of Health and Human Services for the majority of the adults.
Regular aerobic exercises can enhance cardio health, boost the mood, reduce health risks, and help in reducing some extra pounds. Zumba fitness is not only beneficial for your health, but it is also done for fun. You will lose some extra pounds and enhance your health while enjoying the class.
However, you should be careful regarding some of the positions in Zumba fitness. Some of the positions may not be comfortable for you. In that case, it's better to consult the trainer, as he could help in modifying the steps.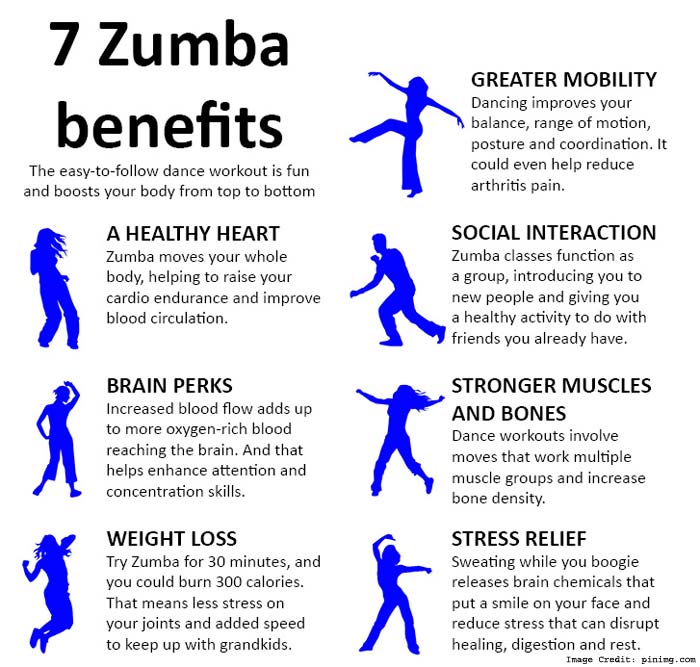 Know something about Salsa
Salsa dance can continually workout various parts of your body, such as legs, arms, hips, and more. It has been around for years. One of the benefits of Salsa dance is that it does not have a negative impact on your legs like running. You can easily burn some calories thanks to Salsa dance. Regular involvement in Salsa dance can significantly raise your level of fitness.
Like Zumba fitness, Salsa dance can be quite fun too. It is because Salsa dance is not like traditional cardio classes, which is very strict and organized. You need a partner to perform dance moves in Salsa. It contains a series of twirls, hip movements, and a variety of dance moves. There are no rigid rules for dancing in Salsa, and this is what makes Salsa dance really interesting.
It helps to keep your muscles active and your lower body will be strengthened if you're involved in Salsa dance regularly. In just a few sessions, you can experience improvement in your fitness level.
Zumba V.S. Salsa
As both are pretty popular, the group of researchers at the University of the West Scotland along with the Kingston University conducted a detailed study on the effectiveness of Salsa and Zumba. The participants for the study were 24 healthy women, age-group of 24-56. The participants were usually involved in Salsa and Zumba classes.
The study explained that Salsa classes focused 50% of their time on their partner's work. The one-hour class of Salsa includes a warm-up song and a few practice songs. The instructor determined the songs, tempo, and class structure.
In Zumba class, there was no emphasis on formal dance moves. It is an aerobic exercise. In a one hour session of Zumba class, there were 2 warm-up songs and 8-10 main songs. Both medium and high-intensity dance moves were included in a one-hour session.
For the purpose of analysis, the participants were asked to wear chest monitors and fitness wristbands. After conducting detailed analysis, the researchers found that Zumba fitness was more effective in burning calories in comparison to Salsa dance. Moreover, the heart rate was also increased more during Zumba than Salsa dance.
Conclusion
Till now, you have some ideas about both Salsa dance and Zumba dance. What would you prefer? Do you like a Salsa dance with a partner or a Zumba dance? Well, the study showed that Zumba dance was more effective in burning calories and increasing heart rate; however, it does not mean Salsa dance is not effective. The participants in the study said that both dance classes helped in improving psychological wellbeing. It depends upon your interest.
If you have an option to choose one from Zumba and Salsa dance, you need to find out your interest. If you have more fun in Salsa dance, then choosing Salsa dance is not a bad choice. It is because you will enjoy the classes. When you enjoy the classes, you're more likely to be involved in it regularly, which will help you extract the full benefits of Salsa dance.
View All