Irrespective your favorite exercise, group exercise is increasingly becoming a popular trend among gym lovers to gain physical fitness along with friends and motivators. The group atmosphere offers a unique environment that is difficult to re-create in a solo exercise session with your headphones. However, group exercise training isn't fit for every person. Here are some pros and cons that are ideal to help you find out if they are worth incorporating in your weekly workout schedule.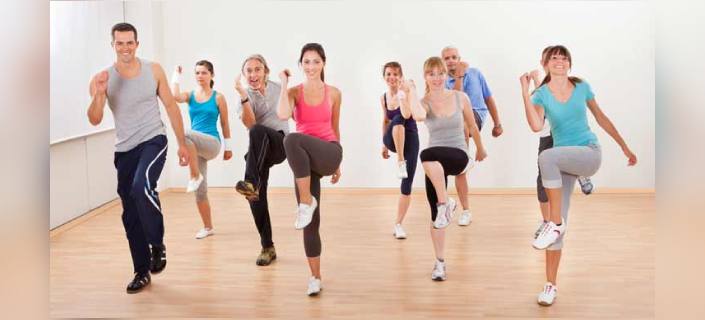 Pros
More Inspiration: The idea of engaging in strenuous exercises on your own may not lead to an excitement – but think of it in the company of 10 or 20 others with the same fitness goals. Group exercises are renowned to inspire when you are in low moods and all you want to do is sit in front of your computer or watch your favorite show on the couch. With vibrant instructors and inspirational music, group exercise training revamps your energy levels preventing you from skipping training sessions instead of engaging in other unbeneficial occupations.
Responsibility Factor: It is easier to skip a solo workout than a group session. You will miss out your friends and feel socially shunned. In other words, being in the company or your workout buddies for a strenuous session is more likely to compel you to attend a gym. You will feel more responsible for the others who are pursuing the same fitness goals like you.

Variety and Fun: If you workout on your own, chances are that you are engaging in the same old routine over and over causing a feeling of dullness and mundane after some time. However, most group fitness emphasizes variety, offering fresh and fun ways to keep you in good shape. And with an increase of class types, you will get a chance to keep physically fit even if you in your worst mood. In addition, you will get different instructors in each session, making an identical class look different based on who is teaching.
Cost Effective: If you are living on the financial edge, hiring a personal fitness instructor can be a major challenge. Luckily, you can cut down the fitness cost by joining a local exercise training class where the fee is shared among the participants. Plus, most exercise training classes offer a variety of training equipment's that are expensive and costly to maintain in your home.
See Also: How To Exercise Regularly?
Peer Pressure: When exercising with colleagues, everyone's goal will be to outshine the rest. You will find yourself trying to work a little harder in order to remain the top scorer. This cannot be the case if you try to exercise on your own. The pressure you will get from your peers can help to propel you towards your fitness goals.
Socially Active: Everyone is aware about the importance of always being socially active. You get a chance to exchange ideas and simple means of dealing with personal challenges. You will make new friends and meet strangers who can be helpful in advancing your social, financial or spiritual statuses.
Cons
Lack of Individual Programming: Although fun and variety may help to deal with boredom, in group exercise training, there is no consistency from one class to the other. This can keep you away from getting the results that you deserve. Additionally. Most group exercise trainings are designed for everyone (not you in particular), and may fail to address individual concerns or weaknesses.
No Personal Training: People perform differently in all fields when it comes to class work or fitness training. In most cases, it can be difficult to receive personalized training when working as a group. Some instructors may deem it unnecessary to conduct a personal training at the expense of others who are already proficient in a certain exercise field.

Lack of Attention to Form: Although there are motivational benefits of having other participant engage in strenuous exercises next to you, there is also the flipside of the experience. Since the instructor is monitoring the progress of a big crowd, it might be hard to notice and correct individual performance. These can also be very hard for an instructor to pinpoint especially when dealing with new equipment's.
See Also: Fitness & Workout Tips: 10 Benefits of Squat
Group Controls The Exercise: When exercising as a group, it can be difficult to control the exercise on your own. In most cases, the instructor will proceed to the next session after realizing that the majority of the group are performing according to his/her expectations. You might end up missing a lot and fail to get the results you had always anticipated for unless you go for personalized exercise training.
Overtraining Potential: Most fitness classes usually have strenuous exercises whereby participants work to the best of their performance. Although this can be a great opportunity to ensure that you exercise at your level best all the time, it has an overtraining potential in some participants. This can lead to exercise injuries or kill motivation in some participants.
Conclusion
Group exercise training can be beneficial to some although not to all. This is dependent on your fitness goal and your level of proficiency in training. If you are a beginner, look for fitness classes that are specifically meant for newcomers who have little or no idea on how to engage physically.
View All