Trying to lose weight or to stay in shape and look your best don't come without certain level of physical activity. Exercise is highly important and experts confirmed through numerous studies that workouts prevent numerous diseases and improve our cognitive function. When it comes to exercises, most people love to hire personal trainers or exercise with workout buddies because in order to exercise properly one needs adequate guidance. This guidance comes in many different forms. Since the 1980s the most frequent form of professional guidance for people who wanted to exercise at the same level in comfort of their home and in gym as well came via exercise videos. These videos were available on video cassettes and then moved to DVDs. With the advancement of technology we have the opportunity to have an easy access to our workouts and special programs and all we need is a good internet connection. Daily Burn fitness program offers guidance and variety of exercises that are available to all your advices regardless where you are.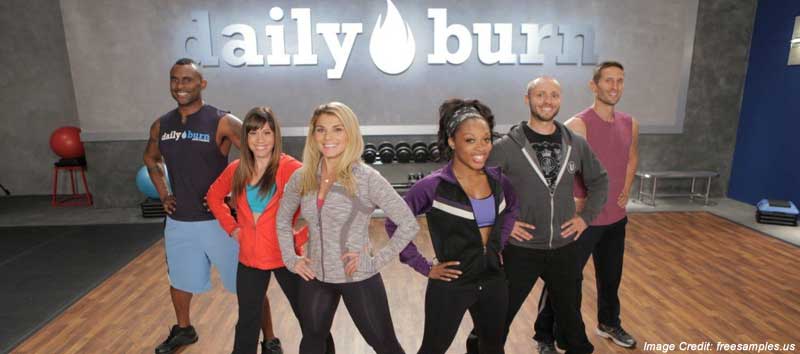 What is Daily Burn?
Daily Burn can be defined as an online fitness destination for both women and men. The website was founded by celebrity trainer Bob Harper who is well-known for his work with contestants of the famous show The Biggest Loser. This website offers a month-long free trial after which you can decide whether to subscribe to their fitness program or not. Moreover, for $12.95 per month you get the access to various exercises performed by different trainers; which proves to be highly affordable considering the fact that exercising twice a week with a personal trainer at a gym who charges $50 per hour would cost you $400 per month.
This program offers guaranteed success in losing weight and toning your body.
How it Works?
In order to have access to a wide range of fitness programs and various exercises when you join Daily Burn you have to answer a few questions first. Also, you need to submit information such as your current weight and goal weight, gender, age, and your e-mail address. Other information the website requires refers to your fitness level, type of body you want to achieve, and how much free time you have for workouts. It is of huge importance to provide accurate and reliable answers because based on the answers you provide, Daily Burn will recommend a perfect trainer and program for you.
It should be noted that you can cancel subscription to this program if you feel like you don't have time for it anymore.
What Does Daily Burn Fitness Program Offer?
One of the great benefits of Daily Burn is variety of exercises. All exercises were created and performed by professionals. A wide range of exercises keep people interested, they don't get bored, and switching from one exercise program to another doesn't come with extra cost. Here are the programs Daily Burn offers:
DailyBurn Black Fire – Lead trainer and creator of this exercise program is Bob Harper. This program is best for intense and advanced results while scheduled overview is 2 months. Black Fire fitness program is characterized by short full-body exercises.
DailyBurn Inferno – Is described as an intense workout for intense results. The schedule overview for this program is 21 days of 30-40 minute workouts. Every week culminates with AMRAP workout (As Many Reps As Possible) and users are able to log their results and beat scores from previous week.
DailyBurn Inferno HR – The program is designed for all people who want to take their Inferno exercise to a whole new level. The program's duration is 4 weeks and it uses the latest heart rate monitor technology to make workouts more effective, trackable, and interactive.
DailyBurn Cardio Sculpt – This program is designed for people who want to lose their weight and tone their body in a fun and easy way. Cardio Sculpt is total body-sculpting program whose schedule overview is 3 months (6 workouts per week). The benefit of this program is losing weight even in stubborn areas on your body. Cardio Sculpt is designed by 5 fitness experts and offers 12 different workouts.
DailyBurn LTF (Live To Fail) – The benefit of this program is its versatility and regardless of your preferences (losing weight or just getting into a good shape) you can benefit from a wide range of exercises. The schedule overview of this program is 90 days and is indicated by intense workouts that burn fat and sculpt your muscles.
DailyBurn DB15 – Offers the opportunity to get fit in just 15 days with 15 workouts that you do for 15 minutes. Each day you do a new workout and the program is a combination of various fitness exercises and yoga.
DailyBurn True Beginner – Is designed for people who are just starting out or starting over with losing weight. The program lasts for 8 weeks and offers exercises that will speed up your metabolism, build strength and stamina.
Other Daily Burn programs are:
Tactical bodyweight training – your body is the gym you need, and the training doesn't include any equipment. It includes 28 days of 40-minute workouts.
DailyBurn Move – lose weight and tone your body with dancing. Program includes 30-47 minute workouts.
DailyBurn Core – opportunity to get tight and defined abs in two weeks.
IntelliBurn – is a unique combination of exercises from all programs included into one DVD edition.
Yoga – has many benefits and improves your concentration and health while increasing your fitness level through many different postures.
Pilates Phase One and Phase Two
DailyBurn DBK – is the first fitness program that teaches you how to master exercises with kettle bells.
Total Cardio – 4-week program of burning calories through fun and challenging cardio exercises.
Beautiful Belly – yoga exercises for pregnant women.
DailyBurn Recover – ejuvenating your body through mobility workouts.
Benefits of Daily Burn Fitness Program
This fitness program is characterized by numerous benefits that make it stand out from other fitness programs you can find online. These benefits are:
Free trial and affordable subscription
Elite trainers that work with celebrities
Variety of exercises and fitness programs
Assessing your information and recommending ideal program and trainer
Ability to switch programs without extra cost
Easy-to-follow nutrition plan for even better results
Ability to access Daily Burn from all devices (iPad, iPhone, Android, Chromecast, PC, TV, XBOX, Apple TV, Samsung TV, and much more)
24/7 unlimited workouts
Ability to track your results.
Moreover, this program became highly popular and has positive reviews from people who subscribed to exercises.
Conclusion
Daily Burn is an affordable and effective fitness program that offers a wide range of exercises and numerous trainers that will guide you towards your goal body and weight, as well as to improve your fitness and sculpt your body. The program is reputable, affordable, and also offers a nutrition plan that is easy to follow in order to get maximum results.
View All