AZO Yeast Plus Overview
AZO Yeast Plus is a multi-benefit dietary supplement, which is used to relieve vaginal and yeast infection symptoms.
It is a homeopathic medicine that supports the body's defense system and healing process. It contains all natural ingredients.
Vaginal yeast infections occur due to an overgrowth of yeast candida. An imbalance of the bacteria in the vagina leads to the growth of the yeast causing infections.
The usual symptoms that arise include irritation, odor, swelling, and discharge.
This product contains a dual action formula in one tablet that delivers relief and prevention of yeast infection symptoms.
This medicine is lactose-free, hence reducing the chances of yeast infection arising. It is taken orally, three times a day as long as the symptoms persist.
The use of this medicine should start, only if there has been a complete diagnosis done to confirm the presence of vaginal yeast infection by a doctor.
If breastfeeding or pregnant, they should consult a health care provider first before using this product.
Antifungal vaginal creams, ointments, and suppositories can be used alongside this product. To prevent future occurrences, the user should take one tablet per day regularly.
This product provides relief from itching and burning sensations caused by vaginal yeast infections.
Advertisement
*All individuals are unique. Your results can and will vary.
It also works in fighting off occasional odor and discharge caused by vaginal yeast infections.
Manufacturer Information and Claims about AZO Yeast Plus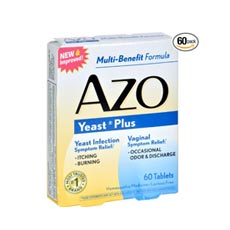 AZO Yeast plus 60 is manufactured by AZO Company.
The company specializes in a line of products designed to maintain vaginal, bladder and urinary health. It was produced using all natural ingredients.
No lactose was used during the production of this product. This product is available for sale online. A multi-benefit formula was used when manufacturing this medicine.
It is formulated to be used alongside other products without causing harm. This product is available in tablet form. It should only be taken orally.
AZO Yeast Plus Ingredients List
This product contains a multi-benefit formula that delivers relief from vaginal and yeast infections.
It offers relief from itching and burning arising from the infections.
It also gets rid of the odor and discharge. The ingredients used include:
Candida Albicans 30X – It offers relief from vaginal itching and discharge.
Kreosotum 30X – It provides relief from odor, burning, and discharge.
Natrium Muriatucum 12X – It assists in eliminating discharge, itching, and odor.
Sulphur 12X – It provides relief from itching, discharge, and odor
Other Inactive Ingredients Include: Dicalcium Phosphate, Fractionated Coconut Oil, Magnesium Stearate, and Microcrystalline Cellulose.
Advantages
The product might be able to help you by reducing the vaginal odor and discharge
It is free of lactose and hence appropriate for lactose-intolerant users
It might be able to prevent yeast-driven infections
It does have the capabilities to potentially prevent annoying itching
Disadvantages
The product can only be used orally, hence the benefits might be slower
You should make sure that you're not allergic to the ingredients.
It should not be used by pregnant or breastfeeding women.
Can cause serious side effects when used in large amounts orally.
AZO Yeast Plus Alternatives
FAQs
Q: Can this product be used by both genders?
A: This product is designed to be used by women only.
Q: What is the dosage?
A: The dosage of this medicine is one tablet three times a day.
Advertisement
*All individuals are unique. Your results can and will vary.
Q: Does AZO Yeast Plus cure yeast infections?
A: For oral use only. This product will not cure a yeast infection. Do not use if you have never had a vaginal yeast infection diagnosed by a doctor. Relieves and prevents the symptoms of itching and burning associated with vaginal yeast infections.
Q: Can this product give you massive diarrhea?
A: No. However AZO Yeast Plus homeopathic medicine is a multi-benefit formula, providing vaginal and yeast infection symptom relief in one convenient pill.
Possible Side Effects
There is no history of recorded side effects after using this product.
Customer Reviews
The reviews are not that many but there are enough to get the general note of the users. Mainly, there are a lot of positive reviews. People are saying that they've received a lot of benefits and that they have managed to fight off the pain associated with a yeast infection.
At the same time, though, there are some negative reviews of people who discredit the usage of the product and say that it is entirely inefficient.
Final Verdict
The multi-benefit formula used in this product, makes it stand out in the market. The dual-action formula helps in providing relief and prevention of vaginal yeast symptoms.
By using this medicine, it might be able to eliminate itching and burning symptoms caused by vaginal yeast infections. It also may get rid of odor and discharge, which makes the patients uncomfortable.
This product may help in reducing irritation caused by vaginal yeast infections. The tablets are lactose-free, hence prevent the occurrence of yeast infections.
If taken regularly, the product prohibits the repeat of the symptoms in the future.
Since the tablets are taken orally, it is easy to use with ease. Women who are pregnant or breastfeeding should not use the product before consulting a professional.
It is advisable to look for other products that deliver the same results without compromising the health state of the person purchasing the product.
Many women experience sexual dysfunction, lack of sex drive and/or poor sexual performance, but are too embarrassed to openly talk about it. Sexual dysfunction among women is prevalent, can occur at any age and can be caused by numerous factors. Sexual performance problems can strain your relationship with a partner. Thankfully, female enhancement products may alleviate these problems promoting a healthy, active sex life. Female enhancement products should be based on potency of ingredients, ability to increase sexual sensation and pleasure, ability to heighten arousal and sexual satisfaction and ability to restore sexual desire.
Below you'll find some of the most effective female enhancement supplements on the market today, in our opinion.
Our Top Female Enhancement Choices
Verdict on Claimed Benefits: Below is our summary of the available evidence for the claimed benefits of below mentioned female libido boosters and sexual enhancement pills for women based on the available research:
HerSolution | Doctor-Endorsed Daily Supplement

Increased Sex Appetite*
Gold Star Evidence
Improves Vaginal Dryness*
Gold Star Evidence
Quicker Full Body Arousal*
Strong Evidence
Increased Sexual Sensation*
Gold Star Evidence
Provestra | Best Female Libido Enhancement Pills
Boost Sex Drive*
Gold Star Evidence
Increase Vaginal Lubrication*
Gold Star Evidence
Heighten Sexual Sensitivity*
Strong Evidence
Relieve Menopause Symptoms*
Moderate Evidence
Vigorelle | Natural Female Sexual Enhancement Cream
Increased Lubrication Properties*
Gold Star Evidence
Increased Moisture Retention*
Strong Evidence
Longer Lasting Sensation*
Gold Star Evidence
Smoother Consistency*
Strong Evidence