In This Article
What is Trimtone?
Trimtone is marketed as an organic diet supplement and thermogenic fat burner for women which speeds up your metabolism, helping you burn fat. The product should help you lose weight quickly. It assists in suppressing your appetite.
In addition, this fat burner pill provides you with extra energy which may lead you to be more active. Finally, this supplement has ingredients which may balance your blood sugar levels.
Who is the manufacturer of Trimtone?
A company called Swiss Research Labs Limited manufactures Trimtone. The company is in Nottingham, UK, and opened in 2019. They are in the health and wellness industry, producing natural fat burners.
How does Trimtone fat burner work?
This supplement contains caffeine, which speeds up metabolism. At this point, the body goes into thermogenesis, which is a state where it's burning fat rapidly. This leads to fast weight loss.
A study published in the European Journal of Clinical Nutrition concluded that caffeine intake can lead to successful maintenance of weight loss. The product contains substances like glucomannan, which is a dietary fiber which suppresses the appetite by filling up the stomach.
A study published in the Journal of the American Collage of Nutrition found that glucomannan leads to significant fat loss. This prevents you from overeating. Another ingredient, grains of paradise, is effective in balancing blood sugar levels in the body.
Trimtone Ingredients – Are they safe and effective?
Here are some of the primary active ingredients in the product:
Green Tea – The Camellia Sinensis plant contains catechins, which are potent antioxidants that support immunity. It also contains caffeine, which speeds up the metabolism and causes fat burning.[2] A study in the International Journal of Obesity (London) showed that green tea has a positive effect on weight loss and weight maintenance.
Glucomannan – This is a dietary fiber which comes from konjac root. It can fill up the stomach, curbing hunger, and this leads to weight loss. A study in the International Journal of Obesity found that glucomannan led to significant weight loss in obese patients, as well as lowering of cholesterol levels.
Grains of Paradise – These are the seeds of the Aframomum Melegueta plant, which grows in East Africa. It's a fat-burning substance which helps burn calories. A study published in the Journal of Nutritional Science and Vitaminology found that daily ingestion of this substance increases whole-body energy expenditure and decreases fat.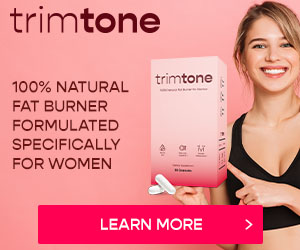 What are the advantages of Trimtone?
This night time fat burner speeds up your metabolism.
Trimtone can help you burn fat.
This supplement curbs your appetite.
It can help you lose weight quickly.
The supplement helps balance your blood sugar levels.
What are the disadvantages of Trimtone?
It contains a lot of caffeine, which may lead to insomnia.
This is a fairly expensive product.
It takes a few weeks for you to see results.
FAQs
Q: How should you take Trimtone green tea fat burner?
A: The recommended dosage is 1 capsule, first thing in the morning before breakfast. Do not take more than the suggested dosage under any circumstances, or it could be harmful.
Q: How much does Trimtone cost?
A: You can purchase Trimtone fat burner for women on the manufacturer's official website. There are no other retailers which sell this product. The company is paying for the shipping. The prices are as follows:
1 Month's supply – $49.95
2 Month's Supply + 1 month free – $99.90
3 Month's Supply + 2 months free – $149.85
Q: What is Trimtone's return policy?
A: The manufacturer has a 100-day money back guarantee. It applies only to products which are not open. If you want your money back, contact the company and send the product back within 100 days of the original purchase date.
The guarantee only applies to purchases of more than one bottle of the product. You'll get a full refund, minus shipping fees.
Q: Does Trimtone belly fat burner offer a free trial?
A: There is no free trial for this product, and the company will not enroll you in an auto-shipping program. This is a one-time purchase. There are no free samples because this green tea belly fat burner takes time to build up in your system. If you want to try it, you can buy it on the official website.
Trimtone Review – Conclusion
Trimtone is an herbal green tea fat burner that has powerful fat-burning properties, helping you lose weight rapidly. This product suppresses your appetite, so you snack less often. It can also provide you with a lot of extra energy, which can motivate you to exercise for longer.
This product also has significant health benefits. It's rich in antioxidants, which supports your immune system. It contains ingredients which can balance out your blood sugar levels. Although the price is somewhat high, its average to low compared with many other top fat burner supplements in the same class.
This is quite a safe and most effective fat burner, which is only associated with mild side effects. If you're sensitive to caffeine, you may want to avoid it.
Anyone who is considering using this lean fat burner must go to the doctor first to get medical approval.