Fucus+ Patches Overview
Fucus+ Patches are transdermal slimming patches which are intended to ensure that you receive all the necessary antioxidants without having to intake any harmful substances.
This is something that is also supposedly going to help you lose weight and slim down. You should use one patch per day and they are designed to deliver a range of benefits.
What is more, it is a known fact that there are a lot of different products of the kind. This is something quite interesting, and you should most definitely keep it in very serious consideration.
With this said, we are going to take a closer look to determine whether or not this is something that is capable of helping you out in the way that it claims it's capable of.
Manufacturer Information And Claims About Fucus+ Patches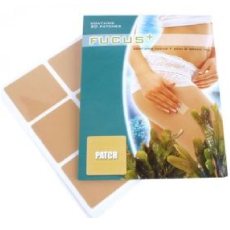 Fucus+ Patches are supposedly going to deliver a range of antioxidants as well as slimming properties without requiring you to use any pills.
This is something that you might want to consider when it comes to it. It would require some truly serious active ingredients and overall performance that's quite envious. Let's see if it's possible
.
Working Process And The Ingredients List
The working process is transdermal and it goes through a patch that's put on your legs. With this said, that's pretty much everything about the working process.
The ingredients included in the product include:
Acai Berry Extract – This is something that's known to be very powerful in serious antioxidants and it's amongst the most powerful products of the kind.
Green Tea Extract – This is going to deliver a lot of enhanced energy levels and additional antioxidants to ensure proper fat burn
Fucus – This is a type of seaweed which is going to help you suppress your thyroid gland – this is something quite important.
Fucus+ Patches Review – Does It Really Work?
Obviously, this is the most important question to consider. Unfortunately, we are not capable of providing you with a comprehensive answer to it because there are no serious reviews left online, making it impossible to summarize things in an objective and concise matter. This is something that you ought to keep in mind.
The Advantages Of Fucus+ Patches
The product may be known for being quite helpful
It doesn't require the intake of pills
Natural ingredients
The Disadvantages Of Fucus+ Patches
The approach is not scientifically proven
There is no FDA approval
FAQ's
How Do I Use This Product?
The most important thing to consider when taking this particular product are the instructions which are set forth by the company who manufactured it. This is quite critical and you ought to keep it in mind.
What Are The Precautions When Using This Supplement?
Even though this is a transdermal patch which isn't going to bring in any ingredients to your system directly, it is still important to ensure that you are not pregnant when you are using it and that you are not undergoing any serious medical conditions. This is something very important and you should keep it in mind.
How Long Before I See Any Improvements?
The benefits should come within a few days of active usage according to the promises of the manufacturer.
Possible Side Effects
There are no side effects that you would have to be worried about.
Fucus+ Patches Review – Final Verdict
The product is particularly comprehensive and it is one that might be quite helpful. This is something that the company would want us to believe. The process is not invasive and it is transdermal and it doesn't require you to take any suspicious pills or capsules – this is something that we like.
However, at the same time, there are a lot of questions. This is the main reason for which we are fairly certain that there are better options on the market which are already established and available to you. You should take a closer look and make sure to find the best option to take advantage of.
A topical fat burner may be the missing piece in your overall fitness regimen. Topical fat burners can enhance the appearance of your abs. In addition to an intense fitness regimen and a healthy diet, cutting gels can help reduce the appearance of unsightly surface fat revealing a trim, fit, and sculpted physique.
Below you'll find some of the most effective topical fat burning products on the market today, in our opinion.
Our Top Fat Burners Choices
Dermacut

Help Spot Treat Stubborn Fat Pockets*
Keep Skin Hydrated and Healthy*
Reduce Fat Without Risks*
Help Spot Treat Stubborn Fat Pockets*
Keep Skin Hydrated and Healthy*
Reduce Fat Without Risks*