In This Review
Overview of NutraLuxe Lash MD
Long, beautiful, and lavish lashes, who wouldn't love them, right? Just walk into a beauty shop, you bet the evidence is right there – lengthening and thickening mascaras, artificial eyelashes, and even lengthening serums products are all the rage. Even eyelash extension salons are increasing in numbers. Let us look at one product being sold on the market that claims to give longer and healthier eyelashes, the Nutraluxe MD Lash.
Nutraluxe Lash MD Beautylash is considered a breakthrough technology that aims to offer amazing-looking eyelashes and even eyebrows. Here is other information about this product:
Has a potent natural antioxidant to protect hair and follicles
Enable lashes and brows to stay longer by improving the flexibility of the lashes
Promotes hydration thus making the lashes and brows grow stronger and shinier
Visible results can be expected in 4 to 6 weeks
Medical prescription is not necessary to procure this product
Nutraluxe Lash MD Beautylash has received registration in the European Union (EU registration) and is tested to be safe
How Does It Rate?
Overall Rating: 3.7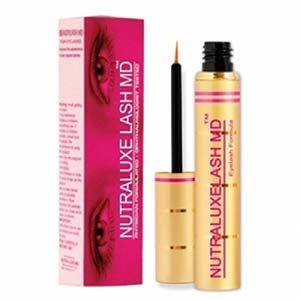 NutraLuxe Lash MD Eyelash Growth Serum
Brand Highlights
Nutra Luxe MD is a skincare manufacturing company based in Florida, USA.
The company's objective is to develop clinically proven and scientifically advanced skin care products and devices that are directed to fight skin aging.
Nutra Luxe MD has a mission to create the best anti-aging products and devices through advanced industry technology while offering these products at an affordable price.
Key Ingredients
Glycerin
Hydrolyzed glycosaminoglycans
Vitis vinifera (grape) seed extract
Sodium lactate
Sodium hyaluronate
Panthenol (vitamin B5)
Panax ginseng root extract
Pros
Alcohol-free and Fragrance-free
Enables your eyelashes to reach their maximum potential in terms of length, thickness, and fullness
It contains natural antioxidants which give protection to hair and hair follicles from environmental harm
Has hydrating factor which helps both lashes and brows to look shiny and strong
Restores and repairs delicate hair damaged by harsh mascara, eyeliner, and other cosmetics
Cons
Thorough studies and clinical trials are yet to be established regarding Nutraluxe Lash MD, and that it is not yet approved by FDA
A clinical report has shown that some consumers experienced minimal tingling and stinging sensation after using the product and that it usually disappears after 3-5 days
There is an ingredient in Nutraluxe Lash MD which could make blond and red eyelashes darker in shade, but this product does not contain any dye
---
Nutraluxe MD Lash Eyelash Serum Reviews – How Does It Work?
This lash enhancement serum contains essential vitamins, peptides, and botanicals that are proven to help strengthen and replenish your lashes or eyebrows, making them look thicker and fuller. Nutraluxe Lash MD also assists in the repair and protection of lashes from damage caused by harsh cosmetics or even by the environment.
Nutraluxe MD Lash Ingredients – Are they Safe & Effective?
– It helps in the formation of a barrier that prevents moisture from leaving the skin and hair follicles [1].
Panthenol (vitamin B5)
– Panthenol is a vitamin B family natural moisturizer. It enters the hair follicles and hydrates them.
Retinyl palmitate (vitamin A)
– Retinyl palmitate helps increase collagen formation to promote hair growth [2].
Niacinamide (vitamin b3)
– Because of its circulation-boosting qualities, niacinamide is essential for growing long and thick hair.
Panax ginseng root extract
– Increases blood flow to the area, stimulating new hair development and enhancing the health of hair follicles and cells, minimizing lash loss [3].
NutraLuxe Lash MD Eyelash also includes water, hydrolyzed glycosaminoglycans, Vitis vinifera (grape) seed extract, sodium lactate, sodium hyaluronate, proline, Arctostaphylos uva uris (bearberry) leaf extract, yeast extract, phenoxyethanol, chamomilla recutita (matricaria) flower extract, hexapeptide-11, palmitoyl pentapeptide-4, magnesium ascorbyl phosphate (vitamin C), and tocophyerl acetate (vitamin E).
Nutraluxe MD Lash – FAQ's
Q: How to Use NutraLuxe Lash MD Serum?
A: Nutraluxe MD Lash is best applied before bedtime. First, wash your face with a mild soap or cleanser to remove dirt and makeup. Then apply Nutraluxe Lash MD in the same way as liquid eyeliner is applied, set a single stroke of the product at the base of the upper and the lower lash line. There is no need to redip the brush because the amount of fluid that is on the brush is sufficient already for the upper and lower lashes of both eyes.
Avoid applying the product near the edge of the eyelid and prevent excess fluid from getting into the eyes. In the event that Nutraluxe Lash MD does accidentally get into the eye, immediately rinse eyes with running water.
Observe utmost care in applying Nutraluxe Lash MD and use the cream as directed. Stop using the product the minute irritation occurs.
Q: Is It Safe For Everyone?
A: A clinical study on the product manifested that Nutraluxe Lash MD does not cause any adverse reaction from its user, therefore, it is generally safe. However, similar to other cosmetic products, some people may be sensitive or may have an allergic reaction from one or more of the product's ingredients.
It is very important to look at the full ingredient list of the product to be aware of its content and to be on the safe side. It is also important to discontinue or stop using the product if sensitivity reactions occur.
Q: Where To Buy Nutraluxe MD Lash?
A: Nutraluxe MD Lash Eyelash Growth Serum can be purchased from the official website, or it is also available on Amazon and Walmart.
Nutraluxe MD Lash Review – Final Verdict
Nuraluxe Lash MD is yet another option for consumers out there who are dreaming of healthier, longer, and fuller lashes. Even though there seem to be limited studies and clinical trials done on the product to gain the approval of the FDA, the reviews and feedback from its consumers are generally on a positive note.
Aside from good reviews and positive results, the fact that Nutraluxe Lash MD made use of natural ingredients and its being a lot more affordable compared to other brands draws the consumer to patronize this product. But of course, it doesn't hurt to compare this brand with other competitor brands.
Check out product review sites, customer feedback, compare pricing and probable disadvantages or limitations of the product versus other eyelash enhancers just to make sure you've chosen the best product out there.
Buying an eyelash enhancer is not an easy thing to do. The most important aspect you have to consider is safety. This is because some eyelash enhancers contain harsh chemicals that can cause serious eye problems. Another important factor is effectiveness. Of course, you want the fastest and most considerable results possible. To find the best products, you have to inspect each product carefully which will take a lot of time since there are hundreds of eyelash enhancers being sold on the market. To find the best eyelash enhancer on today's cut-throat market, we have inspected, tested and evaluated each eyelash enhancer mentioned below.
Below are some of the best Eyelash Enhancer products on the market today, in our opinion.
Our Top Eyelash Enhancer Choices
Verdict on Claimed Benefits: Below is our summary of the available evidence for the claimed benefits of below mentioned eyelash and eyebrows enhancing serums based on the available research::
Revamin Lash | Eyelash Enhancing Serum

Revitalize Lash Growth*
Gold Star Evidence
Improves Lash Density*
Gold Star Evidence
Hydrates Lashes*
Gold Star Evidence
Safe for Sensitive Eyes*
Strong Evidence
City Lash | Daily Lash Treatment
Promotes Longer, Fuller Lashes*
Gold Star Evidence
Prevents Lash Breakage*
Strong Evidence
Enhances Mascara Wear*
Gold Star Evidence
Improves Lash Texture*
Strong Evidence
Beverly Hills MD Thick + Full Brow Enhancing Serum
Restores Brow Shape*
Gold Star Evidence
Fast, Proven Results*
Strong Evidence
Stimulates Hair Follicles*
Strong Evidence
Increases Brow Volume*
Strong Evidence
Product reviews are provided for informational purposes only and reflect solely the views and opinions expressed by the contributors and not those of Consumer Health Digest. We do not verify or endorse any claims made in these reviews. Please read the full product reviews disclaimer. *All individuals are unique. Your results can and will vary.
Ask a Question
Have a Question? Please Tell Us What We Are Missing Here!
PRODUCT NAME
Nutraluxe MD Lash
PRODUCT BRAND
Nutra Luxe MD
PRICE (in USD)
$79.00
ITEM FORM
Serum
VOLUME
3.0ml
INGREDIENTS
Water, glycerin, Hydrolyzed glycosaminoglycans, Vitis vinifera (grape) seed extract, and Sodium lactate.
$59.99 At Walmart
$49.00 At Amazon
3 Sources
We review published medical research in respected scientific journals to arrive at our conclusions about a product or health topic. This ensures the highest standard of scientific accuracy.
[1] Harding CR, Matheson JR, Hoptroff M, Jones DA, Luo Y, Baines FL, Luo S. A high glycerol-containing leave-on scalp care treatment to improve dandruff. Skinmed. 2014 May-Jun;12(3):155-61. PMID: 25134312.
[2] Endogenous retinoids in the hair follicle and sebaceous gland:
https://www.ncbi.nlm.nih.gov/pmc/articles/PMC3237781/
[3] Hair-Growth Potential of Ginseng and Its Major Metabolites: A Review on Its Molecular Mechanisms
https://www.ncbi.nlm.nih.gov/pmc/articles/PMC6163201/
**This is a subjective assessment based on the strength of the available informations and our estimation of efficacy.
*Result may vary. The information contained in this website is provided for general informational purpose. No medical claims are implied in this content, and the information herein is not intended to be used for self diagnosis or self treatment of any condition.
*Disclosure of Material connection: Some of the links in the post above are "associate sales links." This means if you can click on the link and purchase an item, we will receive a commission. Regardless, we only recommend products or services which we use personally and/or believe will add value to our readers. We are disclosing this in accordance with the Federal Trade Commission's 16 CFR, Part 255: "Guides Concerning the Use of Endorsements and Testimonials."