In This Review
Overview of GrandeLASH-MD Lash Enhancing Serum
GrandeLASH-MD is an enhancing treatment designed to improve the appearance of eyelashes and eyebrows. In addition to increasing the length and density of eyelashes, GrandeLASH-MD also claims to prevent damage to the eyelashes by improving flexibility with a host of moisturizing ingredients.
How Does It Rate?
Overall Rating: 3.8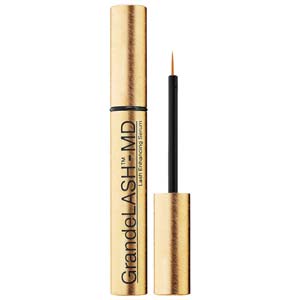 GrandeLASH-MD Lash Enhancing Serum
Brand Highlights
It appears to be produced by a company called GrandeNaturals LLC.
Which is headed by a woman named Alicia Grande and based in White Plains, New York.
There is no further information about the company.
Key Ingredients
Vitamin E
Sodium Hyaluronate
Hydrolyzed Glycosaminogly
Panthenol
Chamomile extract
Ginseng
Palmitoyl-Hexapeptide 11
Palmitoyl-Pentapeptide 4
Pros
It may contain vital vitamins that promote the growth of the eyelashes.
This top rated lash serum promotes the growth of eyelashes within a month of usage.
It might soothe the eyelashes.
Prevents damage to the eyelashes.
Cons
Not a lot of information about the company
The terms and conditions page is blank
The clinical trial information could be more extensive
Not advised for pregnant women or people undergoing chemotherapy
---
GrandeLASH-MD Lash Enhancing Serum Reviews – How Does It Work?
This lash serum contains vitamins, antioxidants, and amino acids to encourage naturally longer, thicker-looking lashes in four to six weeks, with complete results in three months. It's popular for enhancing short or thinning lashes, as well as repairing the look of brittle or damaged lashes.
GrandeLASH-MD Ingredients – Are they Safe & Effective?
GrandeLASH-MD claims to show results within 4-6 weeks and works through a variety of peptides and natural extracts. It appears to be an all-natural formula with ingredients including Vitamin E to hydrate, Sodium Hyaluronate to help lashes retain moisture, Hydrolyzed Glycosaminogly cans to support hair follicle health [1].
Panthenol to moisturize, Chamomile extract to soothe, Ginseng to boost circulation, Palmitoyl- Hexapeptide 11 to improve shine [2], Palmitoyl-Pentapeptide 4 to strengthen, Bearberry Extract to calm, Grape Seed extract to prevent damage [3], Methylamido Dihydro to encourage growth [4], Noralfoprostal to reduce inflammation, and Vitamin C and A to help repair. The full list of ingredients appears on the product order page.
The GrandeLASH-MD website includes a testimonial page with before and after pictures along with sound clips of testimonials. There are five in total, but the last one is from Alicia Grande herself and is basically a radio spot for the product.
The photos do show visible results and all the testimonials are very positive. Included on this page is information about a clinical trial that was conducted on 55 patients between the ages of 25-62, 89% of whom showed eyelash improvements within 30-40 days without any reported side effects.
The study appears to have been conducted by a Miami, FL plastic surgeon named Andrew Hawrych, MD. Another page has press information with a lackluster listing of only two publications, one of which is a small local press. There are several radio stations listed, but it is not clear if these stations were discussing the product or venues for radio spots for the product.
Grande Cosmetics GrandeLASH-MD Lash Enhancing Serum – FAQ's
Q: How do you apply GrandeLASH serum?
A: Apply GrandeLASH-MD using a single stroke on your eyelid just above your upper lash line (like liquid eyeliner). Remember, you're applying to the skin closest to the lashes (the lash root) – not the actual lashes. Use once daily and allow 1-2 minutes for the serum to dry.
Q: How long does it take for the eyelashes to grow?
A: It will typically take about 6 weeks for the eyelash to grow back in if it's cut or burned but there's no damage to the follicle or eyelid.
Q: How much does GrandeLASH-MD Cost?
A: GrandeLASH-MD costs $59.95 for a 4.5ml tube, which the website says will last you 5 months, making it one of the less expensive options on the market. It also comes with a 90-day money-back guarantee when you purchase using the secure website.
Q: Where To Find Grande Cosmetics GrandeLASH-MD Lash Enhancing Serum?
A: For more details, please go to Amazon.com and Walmart.com.
GrandeLASH-MD Review – Final Verdict
GrandeLASH-MD appears to be a promising option for eyelash enhancement. However, it would be much more promising if the website had more information about the product. Since GrandeLASH-MD is applied like liquid eyeliner, it comes very close to your eyes, and it is highly advised to take great caution when selecting such products.
The clinical study results are encouraging, but it would be more beneficial if full information were included. Who is the doctor that conducted the trial? What are his credentials? What laboratory was used and how was the test set up? Also, while there were few negative reactions reported in this trial, it would be helpful to see results from the formulation process showing that the product is safe. Lastly, it would be nice to have more information about the company itself in order to establish more trust and legitimacy.
Buying an eyelash enhancer is not an easy thing to do. The most important aspect you have to consider is safety. This is because some eyelash enhancers contain harsh chemicals that can cause serious eye problems. Another important factor is effectiveness. Of course, you want the fastest and most considerable results possible. To find the best products, you have to inspect each product carefully which will take a lot of time since there are hundreds of eyelash enhancers being sold on the market. To find the best eyelash enhancer on today's cut-throat market, we have inspected, tested and evaluated each eyelash enhancer mentioned below.
Below are some of the best Eyelash Enhancer products on the market today, in our opinion.
Our Top Eyelash Enhancer Choices
Verdict on Claimed Benefits: Below is our summary of the available evidence for the claimed benefits of below mentioned eyelash and eyebrows enhancing serums based on the available research::
Revamin Lash | Eyelash Enhancing Serum

Revitalize Lash Growth*
Gold Star Evidence
Improves Lash Density*
Gold Star Evidence
Hydrates Lashes*
Gold Star Evidence
Safe for Sensitive Eyes*
Strong Evidence
City Lash | Daily Lash Treatment
Promotes Longer, Fuller Lashes*
Gold Star Evidence
Prevents Lash Breakage*
Strong Evidence
Enhances Mascara Wear*
Gold Star Evidence
Improves Lash Texture*
Strong Evidence
Beverly Hills MD Thick + Full Brow Enhancing Serum
Restores Brow Shape*
Gold Star Evidence
Fast, Proven Results*
Strong Evidence
Stimulates Hair Follicles*
Strong Evidence
Increases Brow Volume*
Strong Evidence
Product reviews are provided for informational purposes only and reflect solely the views and opinions expressed by the contributors and not those of Consumer Health Digest. We do not verify or endorse any claims made in these reviews. Please read the full product reviews disclaimer. *All individuals are unique. Your results can and will vary.
Ask a Question
Have a Question? Please Tell Us What We Are Missing Here!
PRODUCT NAME
Grande Cosmetics GrandeLASH-MD Lash Enhancing Serum
PRODUCT BRAND
GrandeLASH
PRICE (in USD)
$68.00
ITEM FORM
Serum
VOLUME
4.5ml
INGREDIENTS
Vitamin E, Sodium Hyaluronate, Hydrolyzed Glycosaminoglycans, Panthenol, Chamomile, Ginseng, Palmitoyl-Hexapeptide 11
$68.00 At Amazon
$68.00 At Walmart
4 Sources
We review published medical research in respected scientific journals to arrive at our conclusions about a product or health topic. This ensures the highest standard of scientific accuracy.
[1] Taylor M, Ashcroft AT, Westgate GE, Gibson WT, Messenger AG. Glycosaminoglycan synthesis by cultured human hair follicle dermal papilla cells: comparison with non-follicular dermal fibroblasts. Br J Dermatol. 1992 May;126(5):479-84. doi: 10.1111/j.1365-2133.1992.tb15120.x. PMID: 1610689.
[2] Topical Peptide Treatments with Effective Anti-Aging Results:
https://doi.org/10.3390/cosmetics4020016
[3] Takahashi T, Kamiya T, Yokoo Y. Proanthocyanidins from grape seeds promote proliferation of mouse hair follicle cells in vitro and convert hair cycle in vivo. Acta Derm Venereol. 1998 Nov;78(6):428-32. doi: 10.1080/000155598442719. PMID: 9833041.
[4] Methylamido Dihydro Noralfaprostal (MDN): An Effective Bimatoprost Replacement On Lengtenhing Eyelashes:
https://www.fcad.com/mdn-an-effective-bimatoprost-replacement-on-lengtenhing-eyelashes/
**This is a subjective assessment based on the strength of the available informations and our estimation of efficacy.
*Result may vary. The information contained in this website is provided for general informational purpose. No medical claims are implied in this content, and the information herein is not intended to be used for self diagnosis or self treatment of any condition.
*Disclosure of Material connection: Some of the links in the post above are "associate sales links." This means if you can click on the link and purchase an item, we will receive a commission. Regardless, we only recommend products or services which we use personally and/or believe will add value to our readers. We are disclosing this in accordance with the Federal Trade Commission's 16 CFR, Part 255: "Guides Concerning the Use of Endorsements and Testimonials."