In This Review
What is Bioluma?
Bioluma is a natural eyelash serum that ensures fuller and longer lashes. According to the manufacturer, it's a proprietary blend of herbal extracts that helps users grow longer lashes.
Bioluma eyelash growth serum is safe and effective and may help enhance your lashes effortlessly.
As a high-quality organic product for lavish lashes, consumers may extend their weak eyelashes with this serum. Additionally, Bioluma eyelash growth serum is said to be fragrance-free and non-toxic.
Dermatologists and ophthalmologists recommend natural products that offer nourishment safely. It is hypoallergenic[1] and chemical-free.
Who is the Manufacturer of Bioluma Eyelash Growth Serum?
Bioluma company is a health and beauty manufacturer. This company conducts scientific research and uses organic ingredients to make products for lashes.
The manufacturer seems to be reliable because of their product sales on third-party retail sites and consumers' reviews from many countries. This lash-improving formula has been on sale since 2017 on Bioluma's website and other online shops.
According to the manufacturer, consumers can enjoy the desired results from Bioluma Eyelash Growth Serum after using this liquid eyeliner at least four times a week.
Apart from enhancing the condition of your lashes, Bioluma Eyelash Growth Serum can help you grow eyebrows effortlessly.
Additionally, the manufacturer has indicated that results may vary with respective consumers.
How Does Bioluma Work?
According to the manufacturer, Bioluma is an advanced growth formula and topical solution. To get the best result, apply Bioluma serum at least twice daily. It's applied like liquid eyeliner to block harmful sunlight radiation that affects eyelashes.
The Bioluma formula is a concentrated extract of an age-delaying fruit cell culture. As stem cells of a rare apple, they trigger the growth of your lashes.
Also, it shields the consumer's lashes from UV damage and oxidative stress and promotes the condition of lashes.
Naturally, Bioluma growth serum may bring significant changes to your eyelashes within some weeks of application.
Bioluma – Eyelash Growth Serum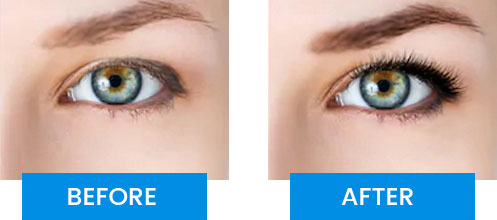 Bioluma Ingredients – Are they Safe & Effective?
The Bioluma serum consists of a natural proprietary blend of plant extracts including the following key active ingredient:
Malus Domestica Stem Cell
The antioxidant-rich extracts from apple[2] have been cell-cultured to form potent stem cells. It's an effective growth ingredient that helps to enhance the condition of eyelashes. As the Bioluma key ingredient, this apple fruit cell culture extract is organic.
These extracts are safe, effective, and can rejuvenate dormant follicles. Additionally, Malus Domestica Stem Cell should not irritate the fragile skin around your eyes. In this advanced proprietary formula, these extracts prevent harmful ultraviolet (UV) ray damage to eyelashes.
The Advantages Of Bioluma
The product contains Apple fruit cell culture extract that may strengthen hair follicles.
This formula is free from chemical additives.
It's a premium eyelash formula that's highly recommended by dermatologists.
Unlike many regular eyelash products, it is hypoallergenic.
The Disadvantages Of Bioluma
Stem cell extracts from plants (phytohormone) don't perform optimally like the live stem cells[3] in humans.
Bioluma Eyelash Growth Serum – FAQ's
Q: How Should You take Bioluma?
A: It is applied like liquid eyeliner. To apply, align the tube and twist its bottom, and brush your eyelashes with serum. Ensure you apply drops of the growth serum on the upper lashes, before lower lashes at least twice every day. Avoid rubbing your eyelashes until the serum dries.
Q: How Much Does It Cost?
A: You can buy one, three, or six bottles of Bioluma from the product's website. One bottle retails for $49, or $22 each when you buy three units. Also, the website allows you to subscribe and save money.
Q: What is Bioluma Return Policy?
A: There is a 60-day refund term on all unused Bioluma products and consumers should note that each bottle is subject to a $10 handling fee.
Q: Does Bioluma Offer a Free Trial?
A: Bioluma's website doesn't display any information on free trials for buyers.
Bioluma Review – Final Verdict
Strong, healthy lashes are something that most people want. As one of the first parts of the body that people see, beautiful, long, and lush lashes can really improve the overall appearance.
Bioluma eyelash growth serum may help to activate and strengthen hair follicles.
The use of Apple stem cell[4] culture in the formula is a positive aspect and this ingredient is being used more frequently in skincare and beauty formulas for its amazing anti-aging benefits.
Plant-based serums like the Malus Domestica stem cell extracts are very effective. However, there's a huge difference between stem cell extracts and live stem cells.
Also, while using it, consumers might experience different levels of satisfaction of physiological effects on their eyelashes.
Overall, it has received very positive customer reviews and the website provides a number of 'before and after' photos from users of the product that show good results.
Buying an eyelash enhancer is not an easy thing to do. The most important aspect you have to consider is safety. This is because some eyelash enhancers contain harsh chemicals that can cause serious eye problems. Another important factor is effectiveness. Of course, you want the fastest and most considerable results possible. To find the best products, you have to inspect each product carefully which will take a lot of time since there are hundreds of eyelash enhancers being sold on the market. To find the best eyelash enhancer on today's cut-throat market, we have inspected, tested and evaluated each eyelash enhancer mentioned below.
Our Top Eyelash Enhancer Choices
Beverly Hills MD Lash Enhancing Serum

Add Length and Volume to Eyelashes*
Nourishing Effect on the Hair Follicle*
Protect Eyelashes from Breaking*
Restore Natural Moisture*
Add Length and Volume to Eyelashes*
Nourishing Effect on the Hair Follicle*
Protect Eyelashes from Breaking*
Restore Natural Moisture*
Product reviews are provided for informational purposes only and reflect solely the views and opinions expressed by the contributors and not those of Consumer Health Digest. We do not verify or endorse any claims made in these reviews. Please read the full product reviews disclaimer. *All individuals are unique. Your results can and will vary.
Ask a Question
Relief Factor Ques and Ans
Q: I have lost most of my eyelashes. I have hypothyroidism and I am in my 70's. Do I have a chance of regrowing my eyelashes with this product?

A: BIOLUMA's advanced growth formula contains a variety of herbs and antioxidants that safely nourish, regenerate, and increase the growth of eyelashes. Prepared in an FDA-certified and GMP compliant facility, BIOLUMA Eyelash Growth Serum has been proven to grow thicker, longer lashes. However, you may consult your dermatologist before using this eyelash growth serum.
See more answered questions
Have a Question? Please Tell Us What We Are Missing Here!
PRODUCT NAME
Bioluma
PRODUCT BRAND
Bioluma Beauty
PRICE (in USD)
$49.00
ITEM FORM
Serum
Amazon | $49
**This is a subjective assessment based on the strength of the available informations and our estimation of efficacy.
*Result may vary. The information contained in this website is provided for general informational purpose. No medical claims are implied in this content, and the information herein is not intended to be used for self diagnosis or self treatment of any condition.
*Disclosure of Material connection: Some of the links in the post above are "associate sales links." This means if you can click on the link and purchase an item, we will receive a commission. Regardless, we only recommend products or services which we use personally and/or believe will add value to our readers. We are disclosing this in accordance with the Federal Trade Commission's 16 CFR, Part 255: "Guides Concerning the Use of Endorsements and Testimonials."