An eyelash enhancement formula that marries alternative plant (herbal) medication and modern technology, Maxolash is gaining popularity with consumers who are looking for long lustrous lashes without the harmful side effects. Another great thing about this product from cosmetic powerhouse Dermagevity™, is that it is pH balanced and non-irritating.
Lash enthusiasts can now breathe a sigh of relief because finally—a product that does the job without you having to fear about your health. Below are some of the ingredients in the formulation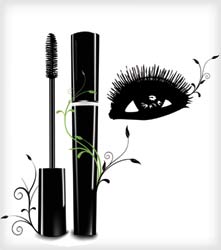 Hyaluronic Acid – As a potent moisturizer this will ensure that your lashes are not only beautiful but healthy as well.
Glycoproteins – The potent ingredients in Maxolash is a plant derived glycoprotein formulation that functions the way some lectins do to encourage growth and strength of hair. It has also been found to stimulate hair follicle activity which encourages hair growth
Pro-vitamin B5
With this product there is the option to use the treatment at night and/or us it under your make up. If you plan to wear it under your make up just make sure to wait a few minutes for the formulation to be absorbed by your skin before putting anything else on.
1. Latisse
Originally marketed as a treatment for glaucoma until the eye doctors and the glaucoma patients started noticing a significant increase in length in their eyelashes during the clinical trial.
The product has the prostaglandin analogue bimatoprost, a compound derived from fatty acids that attaches itself onto the PG (prostaglandin) receptors on your hair follicles. Aside from lengthening the anagen phase of the follicle as mentioned above, this molecule has also been observed to increase the size of the hair bulb as well as stimulate pigment cells on the skin and hair follicles. All of these presumably create the most enviable of lashes.
2. Lilash
Lilash promises to make your eyelash follicles stronger by thoroughly conditioning it and enhancing the natural look of your eyelashes. This product also promises to reduce the brittleness and damage to your eyelashes which can be caused by the use of eyelash extensions, false lashes and even mascara.
Side effects such as redness of the eye area and even itching have been reported. It also has similar side effects to Latisse such as the odd brown pigmentation that can develop in the iris over time and skin darkening.
Another side effect is irregular eyelash growth which just defeats the purpose of buying an eyelash enhancer really. These side effects are attributed to the fact that the product contains prostaglandin analog which the company refuses to address and to make knowledgeable through their list of ingredients.
3. Rapidlash
Contact lens wearers will love this one as this formulation does not contain the prostaglandin analogues that arm harmful to your contact lenses. This contains polypeptides and moisturizers that not only promote growth but repair damage as well.
The moisturizers in particular prevent breakage and add elasticity to the eyelashes, ensuring that no premature breakage will happen. Users usually begin noticing improvements on the first week of usage.
4. LashBlast
LashBlast is a mascara formulated to give you lashes that look 80% thicker. The great thing about this product is the fact that it can be found anywhere (drug stores or department stores) and it is incredibly affordable. However, although most women find that the LashBlast is a great mascara, they also find that it stops there.
It does offer you great thick lashes temporarily. If you're in the market for an eyelash enhancer that will give you knock out lashes with or without mascara, then this is not the product for you.
5. Revital Lash
Another crowd favorite in the eyelash enhancement industry. In a lot of the independent consumer reviews, most of the users noticed a significant increase in the length of their lashes at around 5 weeks of use. The manufacturers suggest applying the treatment once a day. This formulation contains the following components:
Panthenol
Phenoxyehtanol- an anti-bacterial agent
Chlorphenesin-a muscle relaxant not commercially available in the US
Trifluoromethyl Dechloro Ethylprostenolamide-Its a lipid compound that is also associated with increase in hair growth
6. City Lash
City Lash claims that it can stimulates eyelash growth and extends the natural life cycle of the lash. Their clinical trials have shown that city lash can increase and lengthen your lashes by 72% in a span of 40 days. It also claims that unlike other products that contain paraben or prostaglandin, city lash is extremely safe to use and can be used on the most sensitive of skins. It claims that side effects common to other eyelash enhancers will not be experienced when using city lash.
The question now is, does City Lash deliver? It apparently does. Because City Lash works to improve the keratin production of the lashes, it effectively lengthens and thickens the lashes. There was a noticeable change in the eyelash area in a matter of three weeks.
7. Idol Lash
In a study conducted by Idol Lash with 15 subjects who were 24 to 82 years of age, it was found that there was an immediate 25% improvement in the length of their lashes. They also proved that the density of the eyelashes improved by 82% in only as span of 2 to 4 weeks.
They claim that their product is not irritating and actually stimulates and conditions the lashes. The great thing about the idol lash is the fact that it is made with natural ingredients such as kelp, keratin, cellulose and polypeptides which make it incredibly safe to use by those with sensitive skin. However, although the website claims that you will see results within 28 days, results were seen only after two months. But this is just a matter or patience.
8. Neulash
Neulash relies heavily on the panthenol found in its ingredients. Panthenol moisturizes and improves the flexibility and durability of eyelashes. In 2012 this product was recalled in Sweden for the reason that isopropyl cloprostenate, which was an ingredient at the time, was found to cause redness, itching and even change of eye color by the FDA. However, neulash was quick to change its formulation and now it is better than ever.
9. GrandeLash-MD
"If you want the appearance of spectacular long lashes or full eyebrows naturally, GrandeLASH-MD is the right product for you. This SAFE and PROVEN formula will help to improve the appearance of your eyelashes and eyebrows in LENGTH, FULLNESS, THICKNESS and DARKNESS in only 4 to 8 weeks.
Comes with a 90-day money-back guarantee!" This is the statement in the company's website. Does the GrandeLash MD rise to the occasion? It certainly does. Most women found that the Grande Lash MD was not only effective but also a great alternative to the other products in the market since it was a whole lot cheaper.
Conclusion
The brand names we included above are some a few of the dozen, or maybe hundreds, of products that are available in the market today. Before deciding to purchase and use, make sure to read the labels and ingredients of the eyelash enhancer you want to buy.
There is a wealth of information (blogs, peer reviewed research, you name it) that is available online and most reputable brands with nothing to hide will be generous with information about their product so do your research first before starting on any of these lash enhancers.