Q:
I wore false lashes for the first time and I removed them wrong and lost about 10 lashes so how long before they come back to full strength and length.
Expert Answer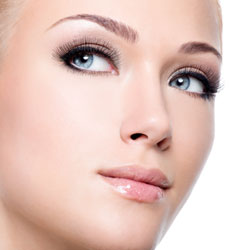 The first tip (and best) tip in your situation is to learn how to properly remove* false eyelashes. No matter how strong your lashes are, constant tugging and wrong false eyelash removal will just bring you back to square one. Having said that, the good news is you can get your long and strong lashes in no time with the help of these tips. Let's start with the don'ts.
Don'ts
Don't Rush The Growth of Your Eyelashes: We can't stress this enough, be patient with your lashes. No amount of oils, massaging and even eyelash growth products will give you long lashes tomorrow. It is important to realize that your body goes through its natural processes and time is an essential element to these procedures. Remember ladies, Rome wasn't built in a day.
Don't Neglect Your Eyelashes: Always remember to give your lashes a few days off from all of the mascaras, eyeliners and eye shadows. Giving your lashes some time to breath is important in keeping them healthy and damage free. Always remember to wash your face before going to bed since your lashes cannot stand another eight hours with that much gunk on them. Take the time to condition them with natural oils to strengthen and lengthen them.
Do's
Do Have Patience: Like in all bodily functions, you cannot expect your lashes to grow half an inch overnight. Lashes follow a very short growth phase which means your eyelashes fall off every 30 to 45 days, according to the American Hair Loss Association. You have to be patient with the regrowth of your lashes. Your patience will surely pay off.
Drink Lots of Water Every Day: Water is an essential part of everyone's diet. When your body is fully hydrated and is properly retaining the fluids your body needs, your body's absorption and circulation are in tiptop shape. This means that the circulation in your eye area will encourage the growth of your eyelashes.
Do Watch Your Diet: Eating healthy is not only beneficial to your weight but it can also aid in the proper growth of your eyelashes. Your lashes need certain supplements such as Vitamins E, C and H in order to have healthy and longs lashes. Also, Omega-3 fatty acids also help in the natural growth of eyelash hair. According to the University of Maryland Medical, omega-2 fatty acids aid the body in absorbing the vitamins already mentioned above.
Do Use Eyelash Growth Products: Eyelash enhancers usually come in tubes with their own wand applicator. Clean the eye area and remove* contact lenses. Just draw the wand applicator as close to the base of your eyelashes as possible and you're done. You only have to do this two times daily. Results will start to show in a span of a week to three weeks.
Compare and Check The Ingredients
The best advice to give in situations like this is just to do your research. Look up potential
eyelashes enhancing* products on the internet. Look for reviews of women who have used it. Also make sure to check the ingredients online (most companies post this on their website), just to make sure there aren't any red flags.
Conclusion
All women want strong, lush and long lashes. By following these simple steps and guidelines, damaged, short and brittle lashes can become a thing of the past.
View All