The skin around eyes is delicate compared to other areas of your face which is why it is more prone to different signs of aging.
The main reason why fine lines and wrinkles develop in this area first is the lack of sebaceous glands.
These glands produce sebum vital for nourishment and hydration of the skin.
Due to lack of much-needed sebum, the skin around the eyes is prone to dryness. Causes of dry skin under eyes are numerous ranging from sun exposure to harsh products.
Skin dryness is accompanied by scaly and oftentimes itchy patches that contribute to dully, ashy, and lifeless appearance.
Needless to mention that dry skin in this area makes a person appear older.
Is there any way to eliminate dryness and make the skin around eyes nourished and smooth? Yes, here are some useful suggestions.
1. Wear sunglasses
A major cause of skin dryness is exposure to the sun's harmful UV rays. Therefore, adequate protection is a must and the best way to do that is to wear sunglasses.
They are more than a timeless fashion accessory, sunglasses do a great job protecting the delicate area around your eyes of radiation and prevent future damage.
The American Academy of Ophthalmology recommends purchasing sunglasses that block 100% of UV rays.
Advertisement
*All individuals are unique. Your results can and will vary.
Bigger sunglasses provide better protection, but you should bear in mind that darker lenses don't necessarily protect better.
That's why it's important to read the labels and get informed about the protection before you purchase some shades.
2. Avoid products with alcohol
Alcohol is a common ingredient in the skincare industry, but it's not overly beneficial for your skin.
In fact, a dry patch of skin under eyes can be caused by products that contain alcohol. This is especially common among individuals whose skin tends to be dry or sensitive in general.
In order to get rid of dryness, check all products you use regularly. If they contain alcohol to stop using them and opt for alcohol-free alternatives. That way, delicate skin around your eyes dry out.
3. Reduce skin stress
Your skin is exposed to different kinds of stress every day. Not only does psychological stress play a role in skin health, but the physical stress of this delicate area can also contribute to dryness. These stresses include rubbing and touching your eyes too frequently, using dirty makeup brushes, reapplying makeup too often, among other things.
All these things prevent the skin to function properly. Try not to touch your skin and avoid rubbing entirely. What's more, you shouldn't rub the skin with your towel after you're done with cleansing the face.
It's simple, rubbing irritates skin thus causing dryness. Also, strive to clean your makeup brushes regularly and there is no need to apply makeup too often. Don't forget to remove your makeup before bedtime.
4. Use an eye serum
The serum is a type of lightweight moisturizer. Don't let the lightweight texture fool, this skincare product contains a high concentration of active ingredients, usually antioxidants, which do both nourish and rejuvenate the delicate skin around eyes.
Apply your serum after cleanser but before the regular moisturizer. Otherwise, your skin wouldn't be able to absorb all the useful ingredients from serum.
Well if you are not too keen on using an eye serum, you might consider using an eye cream.
Advertisement
*All individuals are unique. Your results can and will vary.
An eye cream which should suffice the above-mentioned benefits as provided by an eye serum is known as Radiant Bloom Cream. This eye cream could help reduce under-eye puffiness, dark circles, etc.
5. Eat a healthy diet
The food you eat has a significant influence on your skin. An important strategy to treat dry skin under eyes is to make some changes in your diet. Make healthier choices and try to consume more fruits and vegetables.
They are abundant in vitamins, minerals, and antioxidants that your skin needs to stay smooth and nourished. A growing body of evidence confirms that increased produce intake induces measurable effects on skin appearance within six weeks only.
6. Use aloe vera
Aloe vera is one of the most powerful plants for skin health and an easy tool to nourish dry skin in the eye area. It's always useful to have aloe vera plant at home, but store-bought gel works fine as well.
Aloe vera promotes healing, induces protective effects and prevents damage caused by UV radiation, exhibits anti-inflammatory properties, and it also hydrates your skin at the same time.
It's a perfect anti-aging ingredient that you should use regularly. Apply aloe vera gel directly on the dry patch of skin under eyes. Just let your skin absorb the gel, there is no need to wash it off. Repeat this every day and you'll notice an improvement in skin softness.
7. Try coconut oil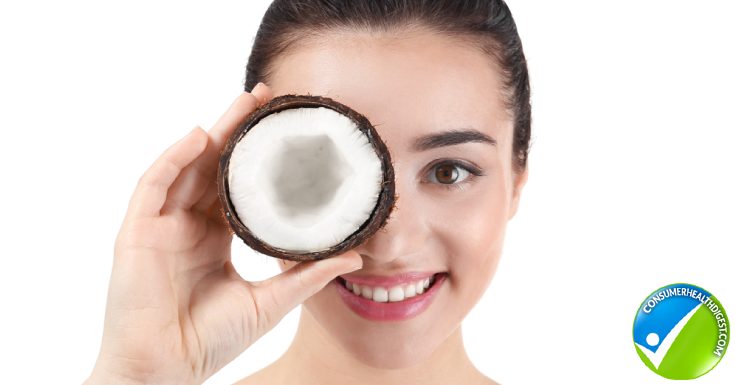 Don't have aloe vera? There's nothing to worry about, you can also treat skin dryness under eyes with coconut oil.
After all, coconut oil is well-known for its moisturizing properties which is why it can effectively soften your skin and reduce flakiness.
It penetrates the skin easily and provides deep hydration while keeping a protective layer on your skin to minimize the impact of everyday stresses.
Make sure you apply coconut oil onto the dry skin around your eyes two times a day, in the morning and before bedtime.
If you don't want to use coconut oil as a part of your morning skincare routine, you can opt to use it at night only. Massage the oil under your eyes in circular motions to improve blood flow.
8. Avocado
Avocado isn't just for guacamole. Bearing in mind it's a great source of healthy fats, avocado provides a number of health benefits. Plus, it can also help you treat delicate skin under your eyes.
Avocado also contains potent carotenoids which repair the skin and fight free radicals that damage it.
Vitamins C and E, present in avocado, function as antioxidants and the latter is also known for its moisturizing effects.
Advertisement
*All individuals are unique. Your results can and will vary.
Take 1/4 of avocado, peel and grate it before applying the paste-like mixture under your eyes. Remove avocado with a wet tissue after 15 minutes and rinse your face with lukewarm water.
9. Green tea bags
Green tea is considered one of the healthiest beverages in the world. To most people, green tea is an ingredient in weight loss products, but it does more than that.
This tea is beneficial for your entire health and skin too. For instance, studies show that green tea cosmetic products have potent moisturizing properties and anti-aging effects.
That would explain why green tea is a common ingredient in beauty and skincare products.
For this trick, you don't need a product per se, you just need tea bags. Dip green tea bags into cold water and then place them on your eyes for about 12 to 15 minutes.
Repeat this process twice a day and you'll notice an improvement in skin's smoothness and appearance because green tea antioxidants also prevent the formation of wrinkles and boost generation of new cells around your eyes. Plexaderm Review can help you to treat such skin problems.
You May Also Want To Read – Having Dry Skin Around The Eyes?
Conclusion
The skin around our eyes is very delicate which is why it's more prone to damage, irregularities, and signs of aging. Dry skin under eyes is a common problem, especially as we get older.
Dryness is accompanied by flaky, scaly, sometimes itchy, and dull skin with a rough texture. Different treatments help hydrate delicate skin in this area and make it smooth and youthful again.
View All