No one likes having dark circles under their eyes. These unsightly dark colored areas can make you look tired, haggard, and even age you. Most commonly dark circles are the result of too little sleep, or they can even be caused by poor diet. For some people though, no amount of sleep will help erase the permanently dark areas under their eyes. For lasting results, often times Dark Circle Surgery is needed to correct the problem. Before scheduling the surgery though, patients should first consult with their physician. Using Plexaderm Review can be the better option rather than doing surgery if it can help you to deal with the eye problems.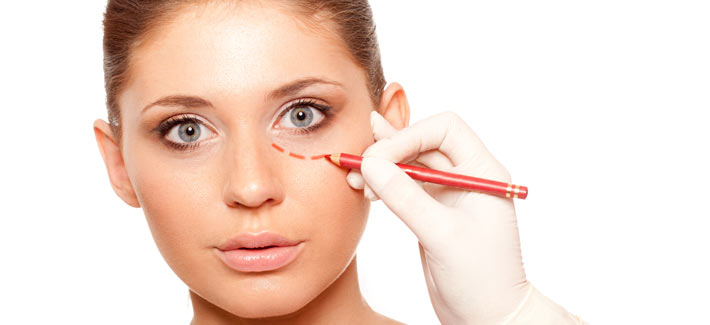 Dark circles underneath the eyes can be caused by several different things. The most common is lack of sleep, and this can be corrected by treated by simply getting enough sleep. This might not always be possible or practical, and if this is the case there are some effective ways, apart from undergoing surgery to get rid of dark circles, that help to remedy the situation and thus it's good to try that method first. These methods include:
Placing a cool towel or even slices of cucumbers over the eye area is a great method for removing dark circles caused by lack of sleep.
Changing the position you sleep in at night may also help to reduce circles and puffiness. Sometimes the position you sleep in can cause fluid to build up under the eye cause temporary circles and emphasizing a tired and haggard appearance.
Other common causes of dark under eye circles can also be related to excess drinking, allergies, sleeping without removing eye makeup on a regular basis, and the constant rubbing of the eyes. All of these can be corrected with either allergy medication or a change in your behavior. Other causes could be related to medical conditions and surgery may be needed to correct the dark circles.
Surgery Options
For patients suffering from darker pigmentation under the eye an under eye cream with hydroquinone may gradually work over time, depending on the amount of the dark pigmentation. The cream will slowly whiten the area, skin bleaching, over a period of usually eight months. For those with larger amounts of the dark pigmentation, a licensed dermatologist can perform ablative laser resurfacing which uses a lower wavelength setting resulting in a smoother and lighter under eye area.
Eyelid surgery or Blepharoplasty is another possible option for surgery to get rid of dark circles that may be recommended by a physician. This procedure helps to correct the dark under eye circles that are caused by shadows created by large bags underneath the eye. There are two different types of the surgery; one removes the excess fat from inside the eyelid, while the other procedure removes not only the excess fat but also the skin that is left behind. A subtle tightening of the muscles is also done as well. The second method is the most commonly practiced and does seem to give better results.
As with all surgeries, there are some risks involved, but they are minor and are normally limited to redness, swelling, and some minor irritation. Dark circle removal involving the use of lasers can take more than one session if the pigmentation is exceptionally dark and complaints have been made in reference to the "tingling" sensation that results from the use of laser surgery. Eyelid surgery is the most effective treatment for under eye circles that result from hanging skin and shadow is extremely effective but costly. Each surgery also only works on specific problems and will not work on separate causes. One of the best benefits of either type of surgery is the long-lasting results.
You May Also Like – Dark Spots Under Eye
Before Choosing Surgery
For some chronic suffers from dark under eye circles surgery is the only option, but a physician should be consulted before any steps are taken. Most people can fix their eye problem with the use of eye creams and a minor change in daily habits. A healthy diet and plenty of rest are essential to having and keeping the younger looking skin. If you are not already using an under eye cream, consider using one with retinol or caffeine. Many popular skin care brands advertise caffeine as one of their ingredients as it helps to "wake up" tired looking skin and reduce the appearance of dark circles. Over time, dark circles can be reduced or eliminated entirely.
Everyone wants to look their best, but before deciding that dark circle surgery is the only alternative open, talk to an expert or dermatologist. Sometimes the best remedy is found at home, not in a surgeon's chair. One of the best remedy which is easily available and quite affordable than a surgery could be using an eye serum. Well, don't get baffled by the infinite choices available on the market. You can take a quick scan of Estée Lauder Advanced Night Repair Review which could be a decent option in a pool of eye cream on the market.
View All