The skin around the eyes is where the first tell-tale signs of aging appear. Some of these changes are under-eye puffiness, wrinkles, fine lines, and dark circles which we know very well are caused by too much sun, sleepless nights, poor nutrition, and other factors known to speed up the aging process. While creams and potions cannot completely erase all those years of accumulated skin damage, they can reduce the appearance of aged skin around the eyes according to Patricia Farris, MD from the Tulane University School of Medicine. Today's eye creams have gone a long way thanks to new skin care technologies. We know more about our skin now than ever before and this knowledge has resulted in some of the best and effective eye creams available to anyone willing to offer a bit more pampering to their delicate skin around the eyes.
How to Choose the Best Anti-Aging Eye Cream?
A study published in the Journal of Cosmetic Dermatology examined the effectiveness of new anti-aging products on the appearance of wrinkles. The study found that most products were effective in reducing wrinkles appearance which researchers concluded after thorough skin examination. With that being said, the top eye cream is the one clinically proven to be effective. Modern generation eye creams contain ingredients like peptides, active vitamins, antioxidants, hyaluronic acid, and even molecules extracted from snail slime. These ingredients have been extensively studied for their effectiveness in treating aged under-eye skin which you can easily check by doing a bit of internet research. A good eye cream also needs to contain enough active ingredients to offer more benefits than simply moisturizing your skin. But do keep in mind that more active ingredients also mean the product will be on the pricier side.
Choosing the Right Type of Anti-Aging Eye Cream for You
The market for eye creams is huge and can be hard finding a product that works for you. To find a suitable eye cream, you need to first examine your skin and see what your biggest concern may be. Is it under eye puffiness? Is it excessive dryness or wrinkles? Maybe you have unrelenting dark circles making you a slave to your concealer. Whatever your problem may be, there is a cream out there meant to target each of these skin concerns or even better – tackle all these problems at once. Another factor you need to consider before picking out an eye cream other than what skin concern you want to remove is to choose the eye cream according to your skin type. For instance, if you have sensitive skin around the eyes, you might want to avoid creams containing retinoids because these were found to cause burning and scaling in some.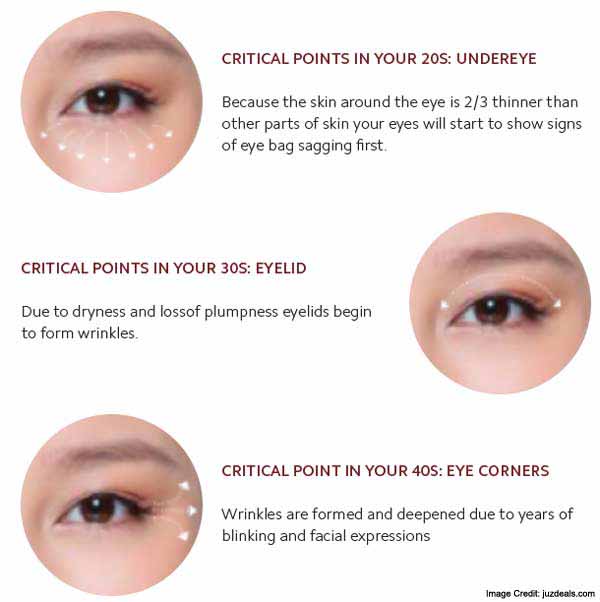 What Makes a Good Anti-Aging Eye Cream?
A good eye cream needs to be both safe and effective. According to Susan Raffy, a cosmetic chemist, a good eye cream should be fragrance-free to avoid skin irritation. A good eye cream will also be well formulated to prevent active ingredient degradation. According to an article from the Oregon State University, vitamin C needs to be added to formulas with a pH below 4.0 to prevent degradation. Another factor you need to consider is packaging. When it comes to eye creams, it is best to find those in dark pump dispensers that help prevent air and light from degrading the active ingredients in the product. And finally, the anti-aging eye creams is the one with a lot of positive customer reviews such as that it helped them get rid of dark circles or under eye puffiness.
How Anti-Aging Eye Creams Work?
Anti-Aging Eye Creams work, first of all, by moisturizing the delicate skin around your eyes. Novel eye creams can deliver their moisturizing effect at the deeper layer of the skin with ingredients like hyaluronic acid which one study found significantly improved skin hydration and elasticity after 60 days of treatment. Besides hydration which your eye area definitely needs, eye creams also offer antioxidants and anti-aging ingredients to reduce the signs of aging. Anti-aging eye creams that target dark circles usually contain combinations of vitamin K and caffeine which studies found decreased the appearance of dark circles. Anti-aging eye creams are also thicker and richer than facial moisturizers.
Popular Ingredients: What You Can Expect from Anti-Aging Eye Creams
The most popular ingredients in anti-aging eye creams are hyaluronic acid, ceramide, retinol, vitamins C and E, and peptides. Eye creams will also contain emollients and moisturizers such as fatty acids, glycerin, natural oils combined with a good SPF to protect your skin from sun damage. Given the effectiveness of these ingredients, you should expect to see some results with consistent use of eye creams which will depend on your age and condition of your skin. Of course, anti-aging eye creams can only do so much in terms of treating aged skin and you should also consider the role of lifestyle factors in the condition of your skin such as smoking, physical activity, stress, and nutrition.
The 10 Overall Best Anti-Aging Eye Creams
#1 Eyevage
Manufactured and sold by Solvaderm, this medical-grade eye cream is meant to offer maximum efficiency in the safest way possible. The cream contains mostly plant-based ingredients that help reduce the appearance of all major problems of the under eye area such as fine lines, under-eye bags, and dark circles. Read more about this product here.
#2 Neutrogena Eye Reviver Eye Cream
Eye Reviver contains a specially formulated protein complex meant to tighten, brighten, and refresh the skin around your eyes. The cream is light-weight, irritant-free, and non-comedogenic making it a suitable option for any skin type. Read more about this product here.
#3 Oxytoxin
Oxytoxin contains peptides and antioxidants meant to rejuvenate prematurely-aged skin around the eyes. It does so by strengthening the connective tissue of the skin and fighting free-radical damaged caused by the sun and air pollution. Read more about this product here.
#4 StriVectin-SD Eye Concentrate
This is yet another product meant to target all the major concerns of the eye area. This award-winning product contains peptides, aloe vera, and the patented NIA-114 molecule which was found significantly improve the skin's appearance. Read more about this product here.
#5 Vanilyx
Vanilyx is an eye cream that helps reduce the appearance of dark circles and puffiness. It was found to be highly effective in clinical trials according to manufacturer claims. Read more about this product here.
#6 Boots No7 Protect & Perfect Eye Cream
This eye cream primarily fights the first signs of aging such as crow's feet and fine lines but it also reduces the appearance of puffiness and dark circles. It is hypo-allergenic making it suitable for even the most sensitive skin types. Read more about this product here
#7 Clinique All about Eyes
A product that is meant to be applied both morning and evening to reduce all major signs of aging, it also works as a perfect makeup base. Its top ingredients are powerful moisturizers such as butylene glycol and glycerin, but also potent plant extracts to deliver maximum anti-aging benefits. Read more about this product here.
#8 Cellumis Eye Gel
Cellumis Eye Gel is a lightweight serum that is supposed to improve your skin's health. It works by penetrating the deeper layers of the skin through its easy absorbent formula. Read more about this product here.
#9 Clarins Eye Revive
If you have sensitive and tired-looking eyes, then Clarins Eye Revive may be your dream come true. This product revives your tired eyes thanks to its blend of all-natural and herbal ingredients. Read more about this product here.
# 10 Genucel
Genucel's anti-aging formula should deliver visible results after just 15 days of use according to manufacturer claims. The product contains ingredients like Eyeseryl, and green tea leaf and algae extracts that were scientifically proven to work wonders on the eye area. Read more about this product here.
References
http://www.ncbi.nlm.nih.gov/pmc/articles/PMC2699641/
http://www.reviews.com/best-eye-cream/
http://lpi.oregonstate.edu/mic/micronutrients-health/skin-health/nutrient-index/vitamin-C
http://www.ncbi.nlm.nih.gov/pubmed/22052267