Having dark circles, dark bags, dark spots or whatever you want to call them, is something all of us want to avoid. It's an aesthetic thing and it's normal for us mere mortals to want to look as better as we can. It is simply human nature.
Although that is one of the main reasons why people want to get rid of dark circles under their eyes, there could be a hidden meaning lying behind them. You see, everything that happens to our skin, every change no matter how small it may seem to you, is an indicator. Those messages are warnings sent to us directly from our bodies.
They either want to tell us that something is already wrong, or that something is about to get wrong.
That's exactly what dark circles are – indicators. Before we get to the point where we learn what to do in case dark circles appear and how alpha hydroxy acid works, let's get into the root of the problem.
What are Dark Circles Exactly?
First of all, you need to know that the color of your " bags under eyes" can vary. The answer to this dilemma lies in the skin. You see, different people have different skin. Some have thicker, while others have thinner skin.
The thinner the skin the more likely it is that your blood vessels will be visible. So, the difference in thickness determines the color of your circles under the eyes.
That specific area where dark circles appear is called periorbital area. It is a lot thinner than the rest of your skin (normally 0.5 mm while other parts are up to 2 – 3 mm). To check the full structure of that region you can click here.
What are the Reasons for the Appearance of Dark Circles?
This can help you a lot. If you eliminate the factors that can lead to this problem, you will be dark circles free.
Not enough hours of sleep
Drugs
Sun exposure
Edema
Aging
Sun exposure
What Can You do to Get Rid of Dark Circles?
Okay, here are valuable tactics, other than alpha hydroxy acid, that you should try.
According to this research, these are innovative and efficient tactics that could help you get rid of this problem:
Intense pulsed light – Your skin is exposed to light emitted from high-output lamps. This treatment improves the homogenous tone of the skin.
Radiofrequency – Contracts collagen under your skin by using electric currents. This treatment tightens the periorbital part of the skin.
Q-switched lasers – Maybe one of the most efficient treatments from this list, Q-switched lasers are a safe, new method of dealing with dark circles. This treatment uses a 694nm laser that eliminates risk factors in patients with Fitzpatrick type I and II.
Pulsed dye lasers – Treat dark circles using the principle of selective thermolysis.
Other tactics that may also work:
Hygiene – Avoid rubbing your eyes, especially if you haven't washed your hands.
Alcohol – Reduce alcohol as much as you can as it is dehydrating your skin. This only damages the skin even more.
Allergies – Try managing your allergies as they may be the reason behind your "watery eyes". It leads to itching which may infect the periorbital area.
What are Alpha Hydroxy Acids?
Okay, now it's time to reveal another valuable tactic that could potentially work for you – alpha hydroxyl acid.
Alpha hydroxy acids are chemical compounds consisted of carboxylic acids. They are very popular in the world of cosmetics and aesthetics.
AHAs (short for alpha hydroxy acids) are very common in products that eliminate wrinkles, improve skin elasticity and improve skin quality in general.
This research only proves how alpha hydroxy acids transformed the world of cosmetics.
Alpha hydroxy acids are one of four types of hydroxy acids, according to the previous research.
Those 4 types are:
1. Alfa Hydroxy Acids – already mentioned.
2. Beta Hydroxy Acids
3. Polyhydroxy Acids
4. SA
How do Alpha Hydroxy Acids work?
Let's check what's the magic behind the success of AHAs. This research has given us valuable information that will answer that question.
First of all let's check the safety of these acids.
According to the previously mentioned research, alfa hydroxy acids are: not carcinogenic, not mutagenic, not skin sensitizers, not reproductive toxins.
The function of the alfa hydroxy acids tells us the story of how it all works.
AHAs promote cell growth by removing Ca ions from cell adhesions. This helps skin in its regeneration process.
This brief research shows us exactly what alpha hydroxy acid cream does to your skin if you use it frequently – it moisturizes the skin, eliminates wrinkles and makes your skin smoother. Plexaderm Review; which can act as a wrinkle reducer that helps you to get rid of wrinkles and fine lines.
So, if you want to effectively get rid of dark circles under your eyes, look for products (crèmes) that have alpha hydroxy acids in them. One of the most common alpha hydroxy acids is glycolic acids. They are very popular in today's market so you won't have a problem finding them.
You might also want to use: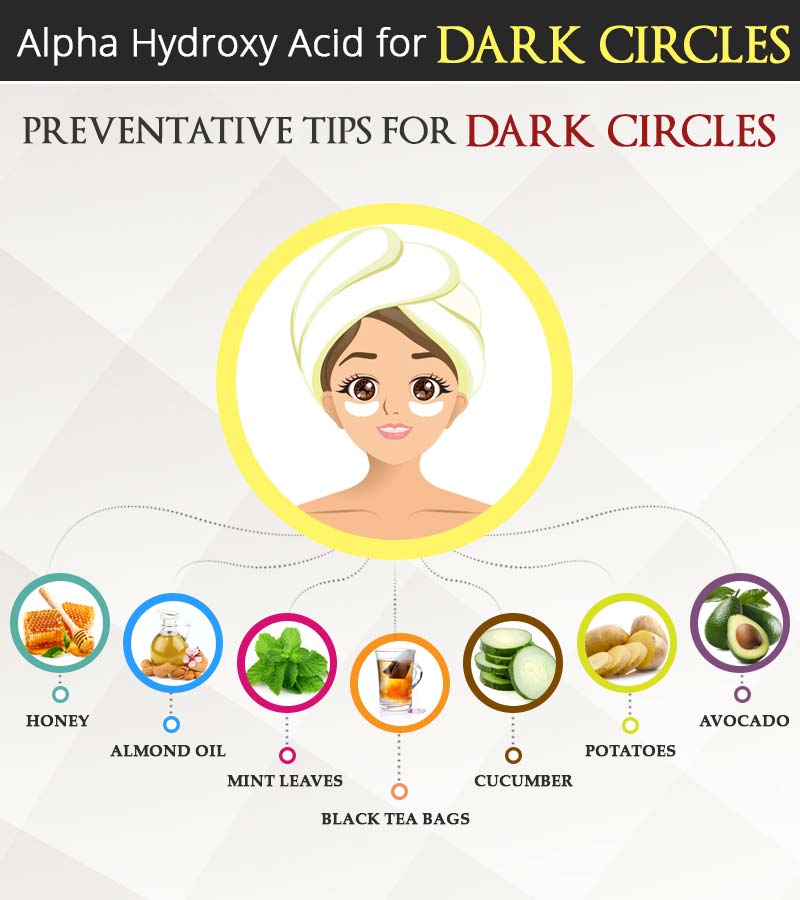 Honey – Has excellent anti-inflammatory features
Almond oil – Simply tap a couple of drops under your eyes and wash it off in the morning
Black Tea bags – Put your tea bags in the refrigerator and once they are cooled down, apply them to the damaged area.
Avocado – Leave a slice of avocado under both of your eyes for at least 15 minutes. Avocados are rich in fat and emollients.
Mint leaves – Apply raw leaves of mints under both of your eyes for at least 10 minutes. Wash the area after.
Potatoes – You can soak your towel with potato juice and rinse your face with it. You should be doing this for at least 10 minutes. Besides from potatoes, you can use fresh tomatoes.
Cucumber – Apply thick cucumber slices to the damaged area. Leave them there also for 10 minutes and wash the area after.
And that's all that you can do. Try and pick up as many of these tips as you possibly can and implement them in your daily routine. Alpha hydroxy acids will be your biggest help in this quest, but don't forget the rest!
If you mix these tips or try and use all of them (if it's possible), you will most definitely get rid of those boring dark circles.
Conclusion
Everything that you need to know in order to prevent dark circles from happening, or get rid of them, has already been said. I would like to mention some extra tips that might work in combination with the previously mentioned ones.
Removing dark circles under your eyes isn't hard, once you know all the tricks. They can be persistent, yes, but they can definitely be defeated.
Well, that would be it. My job here is done. May the dark circle's removal begin!
There are many types of research like you have seen, that back these tactics up, so all that you have to do now is read the article again and make your own plan. Well, either way, you can use an anti-aging eye cream to reduce problems around eye skin area. We suggest you take a quick scan of Kremovage Review to narrow down your choices in a pool of eye creams.
Advertisement
*All individuals are unique. Your results can and will vary.
View All