Prolonged stress, sleeplessness, and unhealthy habits that include poor diet, excessive alcohol drinking and smoking all contribute to the appearance of dark circles around your eyes and eye bags. Tired, puffy eyes result from either water retention due to high levels of salt in your diet or, inability of your skin to hold enough moisture to keep from drying your eyes and the skin around it. Dryness causes your eyes to swell. Fortunately, there are top 10 home remedies for dark circles and eye bags, which improve the appearance of the area around your eyes and combat eye bags.
While taking in nutritious foods, especially those that contain high levels of essential vitamins and minerals and fiber, is advisable in treating puffy eyes, direct skin application of these foods most definitely also redound to beauty benefits!
Natural Treatment & Home Remedies To Cure Dark Circles and Bags
These days, health experts are not the only ones taking a travel back in time to rediscover healthy food selections abundant in nature. Beauty experts are also setting aside costly bottled skin creams in a quest to find inexpensive natural solutions to remedy skin emergencies, eye bags included. Try this Revision Skincare D.E.J Eye Cream that might help you to prevent the aging effect or dark circles.
Below are some popular home remedies to clear those dark spots around your eyes. Try these and be convinced of the beautifying power of nature:
1. Cucumber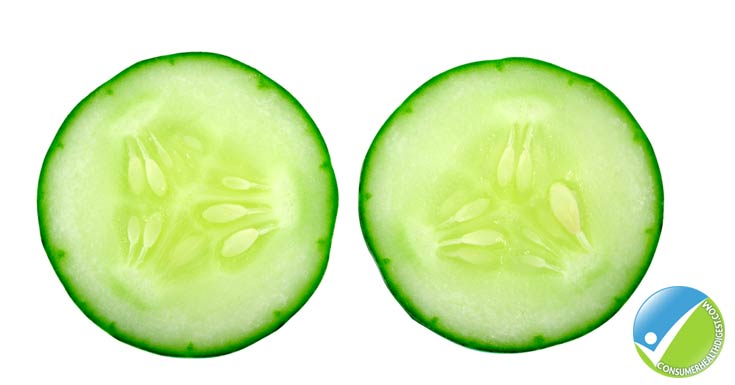 Cold cucumber slices not only help relieve puffy eyes but are also rich in potassium. The body requires potassium to retain skin moisture. Simply make two cucumber slices. Place these in the fridge. Once cold, top your eyes with each of the slices.
2. Raw Potato
Either raw white potato or sweet potato will help rid you of those eye bags. You may simply slice your potatoes into circles or half-moons or, try them grated. Potatoes are rich in Vitamins A and C, fiber, phytochemicals, and potassium which help detoxify your skin and improve blood circulation around your eyes. If you prefer grated potatoes, try creating a paste with olive oil or honey. Adding olive oil and honey to your grated potatoes will have the added benefit of tightening and moisturizing your skin.
3. Tomato
Tomatoes have astringent properties. High levels of lycopene found in tomatoes aid in protecting the skin against damage, including from harmful UV rays. Topical application of lycopene by using tomatoes is an easy way to improve antioxidants found on skin surface. Simply halve the tomato and place on your eyes, with the inner portion touching your skin.
4. Rose Water
Rose water and even rose oil has been used since time immemorial to treat skin imperfections. Rose water has anti-inflammatory, astringent, and toning properties thus, aids in relaxing your eyes, reduces swelling and skin irritation, clears oil and dirt build up on your skin, and helps in skin cell repair. It is also rich in antioxidants that help fight skin ageing. Pure rose water or rose oil is available commercially but could be expensive compared to other essential oils. For best results, apply a drop around your eyes directly or by using a cotton ball before retiring at night.
5. Almond Oil
Another essential oil that can help beat those eye bags is almond oil. Almond oil is a rich source of Vitamin E, Vitamin B2, manganese, and copper which all play important roles in cell growth and regeneration. Almond oil also boosts collagen production which improves the skin's ability to collect and hold moisture. Pure almond oil is commercially available in organic beauty bars. Religiously apply before bedtime for best results.
6. Lemon Juice
The most Vitamin C-rich food on this list is lemon juice. It is laden with citric acid which has been shown to possess skin lightening properties. In fact, lemon peel contains higher concentrations of antioxidants than lemon juice, as demonstrated by a study led by Guimaraes. Apply lemon juice directly onto your eye bags or prepare a mask by adding honey, olive oil or other essential oils into the solution then gently massage onto the affected area. You may also want to try placing lemon peel on each eye or, grate it and fold into your lemon juice mask to maximize those antioxidants.
Advertisement
*All individuals are unique. Your results can and will vary.
7. Mint Leaves
Mint leaves would have the same content but with much lesser amounts of vitamins and minerals as lemon does. It has a strong cooling effect on the eyes though, which can help relieve the discomfort of puffy eyes, and improve blood circulation around your eye area. Crush the mint leaves and place on your eye bags for about 20 minutes.
8. Cold Water
Water retention is a common cause of eye bags which, in turn, unnecessarily put pressure on your eye area. Soothe the swelling by washing your eye area with ice cold water. For more convenience, use an eye pack. Put it in the fridge before using.
9. Turmeric
Turmeric is a type of ginger, available fresh or in powdered form. Fresh turmeric will work better on your eye bags and will have higher levels of potassium which helps rejuvenate and moisturize your skin. Boil the turmeric then cool it down. You may apply the turmeric-containing water directly to your eye bags or prepare a mask by adding in essential oils and lemon juice. If turmeric powder is preferred, mix it with honey or other essential oils to make a paste. Apply generously on the affected area and keep it on for about 20 minutes.
Easy Ways to Get Rid of Under Eye Bags and Dark Circles
Vitamin C and Iron:
Vitamin C and iron deficiencies may be causing your eye bags. Use citrus fruit juices like lemon to boost Vitamin C levels in your skin. Iron deficiency means your skin may not be getting enough oxygen to fuel its cellular functions. To help increase iron levels on your skin, try applying beaten eggs onto the affected area, and leave on for about 15 to 20 minutes. Egg yolk is rich in iron while the egg white helps tighten skin.
If your eye bags do not seem to improve after considerable time and after using your preferred solution provided in the top 10 home remedies for dark circles and eye bags, then you should consult your doctor. Either way, you can consider using an eye cream such as Perricone MD Eye Cream which might work to deliver the optimal results thus reducing eye-bags and dark circles altogether.
View All