In This Review
What is Revitaleyes?
Revitaleyes is a beauty product produced to take care of delicate eye skin.
Revitaleyes is a single solution that has been shown to be effective against all three types of eye aging Wrinkles, chronic puffiness, and serious dark circles.
It works immediately and produces spectacular results in just seven days.
Revitaleyes eye cream claims to decrease wrinkles by 38%, 40% in 7 days, and 63% in 28 days.
It reduces chronic puffiness in the eyes by utilizing a unique tensing effect.
The product is fragrance-free and gel-based, making it suited for all skin types.
Let's learn more about Revitaleye Ingredients, Revitaleye reviews, and its working.
The manufacturer of Revitaleyes is a frozen frame, created by an Australian firm that was founded in 2009.
This company's specialization is that they use cutting-edge technology that promises to improve your skin and body while also giving you confidence.
Freezeframe claims to be Australia's best-selling skincare brand, and their eye cream has been the best-selling for the past five years.
Advertisement
*All individuals are unique. Your results can and will vary.
Creams, lip plumpers, belly tuckers, breast enhancers, and other skincare items are among their offerings.
How Does Revitaleyes Rate?
Overall Rating: 3.8
Revitaleyes
Brand Highlights
The brand has an imposing line of sports nutrition products.
Revitaleyes uses clinically proven ingredients in its formulations.
They are committed to being a source of top-notch, original goods.
It is known for developing and releasing the most cutting-edge products.
Key Ingredients
Acetyl Octapeptide-3
Acetyl Tetrapeptide-5
Vitamin C
Hyaluronic acid
Citric acid
Pros
Revitaleyes penetrate deep into the skin to combat age lines, loose skin, and wrinkles.
Revitaleyes' citrus and vitamin C content may help to target pigmented areas on the face, such as dark circles.
The ointment can also help prevent the formation of eye bags by reducing puffiness.
The gel-based product is suitable for all skin types and claims to work in 30 minutes to one week.
If you are not satisfied with Revitaleyes, you can get your money back.
Revitaleyes decreases wrinkles and lines, which are apparent indications of aging.
Revitaleyes moisturizes the delicate eye area gently.
The skin becomes younger and refreshed.
Cons
Revitaleyes does not provide any free trial samples.
The eye cream is on the pricey side, which may be a burden on your wallet.
The product's evaluations are mixed, and it may or may not work for everyone.
Some of the Revitaleyes chemicals in the solution have been known to induce reactions.
---
How Does Revitaleyes Work?
Revitaleyes is a unique combination of chemicals containing three super-strong peptides that target the three principal indications of ageing: wrinkles, dark circles, and chronic puffiness. By elevating and smoothing the eye area, the solution hydrates the tissues and improves microcirculation.
Revitaleyes Ingredients – Are they Safe & Effective?
The Revitaleyes Ingredients include a variety of benefits-
Acetyl Octapeptide-3
Acetyl Octapeptide-3 is a peptide that works to reduce wrinkles by reaching deep into the skin. It[1] has been proven in studies to help with muscle contraction and skin tightening in the face.
Acetyl Tetrapeptide-5
It is a natural moisturizer and humectant that may help tighten the skin. It has been shown in studies to reduce puffiness in the eyes and prevent the glycation process, which is the major source of wrinkles.
Advertisement
*All individuals are unique. Your results can and will vary.
Vitamin C
Vitamin C has numerous skin advantages, ranging from skin oxidation to collagen production[2]. It's a common skin-care component since it can help with wrinkles and hyperpigmentation. It can also be used for sun protection and to brighten dark stains.
Hyaluronic Acid
It is one of the key factors in decreasing aging. Hyaluronic Acid increases skin moisture and soothes redness, reducing wrinkles and fine lines on your skin. A study has shown that it is also good for you to add to your beauty regime every day.[3]
Citric Acid
It is found in most citrus fruits and may aid in skin exfoliation. It keeps the skin hydrated and unclogs pores by eliminating dead cells. According to studies, it can help erase spots and imperfections from the skin.
You Can Also Check – Origins Eye Doctor Reviews
FAQ's
Q: What is Revitaleyes?
A: Revitaleyes is a beauty product produced to take care of delicate eye skin. It Works on three types of eye aging Wrinkles, chronic puffiness, and serious dark circles.
Q: Where to buy Revitaleyes?
A: You can purchase Revitaleyes from its Official Website or other online platforms like Amazon and Walmart.
Q: Does Revitaleyes really work?
A: As per Revitaleyes reviews, This solution works well in enhancing the required results. It is manufactured from a combination of ingredients, which work well in eliminating blemishes that form around the eyes.
Revitaleyes is formulated from a blend of ingredients that improve skin tightness thus reducing eye bags, skin sagging and wrinkles formation around the eye skin.
Q: How much does Revitaleyes cost?
A: The cost of Revitaleyes is $49.99 for a 15 ml pack.
Q: Are there any Revitaleyes side effects present?
A: There have been no reports of Revitaleyes having any negative side effects. However, no one can predict how the various substances will respond to different people.
Q: Does Revitaleyes provide a free trial or refund policy?
A: The company does not provide any free sample testing sessions. It provides a refund policy that you can return within 30 days of ordering.
Q: What are the precautions for using Revitaleyes?
A: This product is designed to be applied externally only. Avoid contact with the eyes. Store in a cool, dry place.
You May Also Like: Benefiance Concentrated Anti Wrinkle Eye Cream Reviews
What Do the Reviews Say?
It actually doesn't accomplish anything. It might give you some short-term skin comfort for a few hours, but the expense is not justified. I haven't noticed any notable advantages as a result of using it.
~ Tammy
Conclusion
Generally, there isn't much information on Revitaleyes eye cream. The cream is pricey, and while there is an official website to back up claims and refer to, the majority of true reviews are unfavorable. But on the other hand, Revitaleyes ingredients will provide several benefits .result, as always, visit your dermatologist before purchasing the product.
Advertisement
*All individuals are unique. Your results can and will vary.
The most common eye area issues are puffiness, dark circles, wrinkles and crow's feet, and loss of hydration. There are countless eye creams available on the market today, making it seem nearly impossible to find the "right one" that meets our specific under eye needs. It is imperative to find a product that has been formulated to address a variety of complex eye area problems.
Below you'll find some of the most effective eye cream formulations on the market today, in our opinion.
Our Top Eye Cream Choices
Verdict on Claimed Benefits: Below is our summary of the available evidence for the claimed benefits of below mentioned anti-aging eye creams and eye serums based on the available research:
Serious Skincare Insta-Tox - Instant Wrinkle Eradicator

Instantly Smoothes Out Deep Wrinkles*
Gold Star Evidence
Removes Under-eye Bags And Crow'S Feet*
Gold Star Evidence
Minimizes The Appearance Of Sagging*
Gold Star Evidence
Helps Provide Smoother, Tighter Skin*
Strong Evidence
Skinception Eyelasticity | Age-Defying Eye Therapy
Reduces Crow's Feet*
Gold Star Evidence
Less Under-Eye Puffiness*
Strong Evidence
Dark Circles Vanish*
Gold Star Evidence
Thickened Delicate Skin*
Strong Evidence
XYZ Smart Collagen | The Best Collagen Cream
Wrinkles Reduction*
Gold Star Evidence
Improves Skin Firmness*
Strong Evidence
Improves Skin Texture*
Gold Star Evidence
Smart Collagen Management*
Strong Evidence
Product reviews are provided for informational purposes only and reflect solely the views and opinions expressed by the contributors and not those of Consumer Health Digest. We do not verify or endorse any claims made in these reviews. Please read the full product reviews disclaimer. *All individuals are unique. Your results can and will vary.
Ask a Question
Have a Question? Please Tell Us What We Are Missing Here!
PRODUCT NAME
Revitaleyes
PRODUCT BRAND
Frozen Frames
PRICE (in USD)
$49.99
ITEM FORM
Cream
VOLUME
15 ml
INGREDIENTS
Acetyl Octapeptide-3,Acetyl Tetrapeptide-5,Vitamin C,Hyaluronic acid,and Citric acid.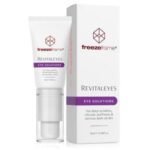 $49.99 At Amazon
Walmart
**This is a subjective assessment based on the strength of the available informations and our estimation of efficacy.
*Result may vary. The information contained in this website is provided for general informational purpose. No medical claims are implied in this content, and the information herein is not intended to be used for self diagnosis or self treatment of any condition.
*Disclosure of Material connection: Some of the links in the post above are "associate sales links." This means if you can click on the link and purchase an item, we will receive a commission. Regardless, we only recommend products or services which we use personally and/or believe will add value to our readers. We are disclosing this in accordance with the Federal Trade Commission's 16 CFR, Part 255: "Guides Concerning the Use of Endorsements and Testimonials."