In This Review
Olay Pro-X Eye Restoration Complex Overview
The first step when you're in the market for an eye cream is to determine your specific needs. You need to know your particular problems or the signs of skin aging you want to address.
Is it dark circles, eye bags, crow's feet, fine lines, eye puffiness or a combination of two or more of these signs of skin aging? Once you're aware of your needs, you can go on with your search and look for a formula that addresses your concerns.
The product is called Olay Pro-X Eye Restoration Complex which has been clinically proven to be effective. Details on the clinical study proving the formula's effectiveness is available on the Olay website.
Before making your decision to purchase a product, you need to make sure that it is both effective and safe. You can do this by closely inspecting the formulation and checking what customer reviews are saying about it. In order to help you find a best eye creams, we will be reviewing a popular eye cream from a renowned skin care brand.
How Does It Rate?
Overall Rating: 3.7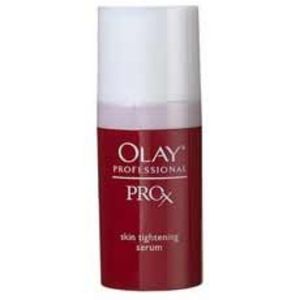 Olay Pro-X Eye Restoration Complex
Brand Highlights
First of all, the product to be closely inspected is from the world-renowned skincare company Olay. The company offers a wide range of skincare products from lotions to anti-aging formulas.
The company is now prominent in the anti-aging industry because of its wide array of products including its Regenerist and Total Effects lines which are good Plexaderm alternatives.
The product to be scrutinized is from their new Pro-X line-up which offers a money-back guarantee on each formula. This is a testament to the effectiveness and safety of each product.
Key Ingredients
Niacinamide
Peptides
Caffeine
Pros
The formula has been clinically tested and proven to be effective.
Olay Pro-X Eye Restoration Complex is from a renowned skin care company.
The key ingredients are clinically proven to be effective.
It is designed to address all signs of skin aging around the eyes.
A substantial number of customer reviews say that it works.
Cons
It is priced higher compared to similar formulations being sold on the market.
There is some customer feedback saying it isn't very effective especially for serious signs of skin aging around the eyes.
This product may cause skin irritation.
Some customers complain that it is very difficult to get a refund from Olay.
---
ow Does Olay Pro-X Eye Restoration Complex Work
Olay Pro-X Eye Restoration Complex is designed and has been clinically tested for the most delicate skin in the body which is found in the area around the eyes.
The specialized anti-aging treatment deeply hydrates the skin to reduce different signs of skin aging around the eyes particularly wrinkles and the dreaded crow's feet.
It also addresses dark circles and eye puffiness which are among the most problematic eye aging signs. One of the best features of this formula is that it has been clinically proven to be effective. Another excellent feature is the money-back guarantee offered on the Pro-X line of Olay.
Olay Pro-X Eye Restoration Complex Ingredients – Are they Safe & Effective?
According to the product's website, the key ingredients that make the formula effective are caffeine and niacinamide (vitamin B3). Niacinamide[1] which is popularly known as vitamin B3 essentially works by improving the moisture barrier of the skin. This assists in the natural production of collagen while also strengthening the stratum corneum or the outermost layer of the skin.
It helps improve the rate of skin surface renewal which reverses the appearance of skin aging signs like discolorations, fine lines, wrinkles and enlarged pores. This active ingredient is backed by several clinical studies proving its effectiveness and safety for all skin types.
Caffeine[2], the other active ingredient of Olay Pro-X Eye Restoration Complex reduces water retention in the area where it is applied. This helps reduce eye puffiness and eye bags. Caffeine also constricts blood vessels in the affected area which reduces the appearance of dark circles.
This active ingredient is also clinically proven effective but some individuals are hypersensitive to this ingredient which may cause side effects like skin irritation.

Olay Pro-X Eye Restoration Complex FAQ's
Q : What are the results and research
A: Clinical research on the anti-aging product from Olay has found that it causes 33% less moisture loss and double the exfoliation rate after 30 days of use. Preventing moisture loss is one of the most effective ways to prevent the development of skin aging signs like fine lines, wrinkles, and crow's feet.
Improving exfoliation rate helps make the skin become more elastic, youthful, smooth, and radiant. This anti-aging eye cream also help to reduce the appearance of skin aging signs like fine lines and wrinkles.
How to use Olay Pro-X Eye Restoration Complex?
A: Apply the formula after cleansing your face. Treat the skin around the eyes twice daily in the morning and at night. Apply on the corners, lid, and suborbital eye area and massage the formula until fully absorbed. Avoid getting the formula into your eyes to prevent eye irritation. In case of skin irritation, wash with water and discontinue use.
What are the steps to get the maximum results?
A: For maximum effectiveness, the Olay website suggests using Pro X Wrinkle Smoothing Cream before applying Olay Pro-X Eye Restoration Complex and then Pro-X Skin Tightening Serum afterward. Make sure the formulas are fully absorbed before applying other skin care products.
Q : What are the precautions that need to be undertaken while using this product?
A: If you have very sensitive skin, consult a skin care professional before use. Check the ingredients carefully and make sure you're not allergic to any of them before using. Be careful when applying the formula and make sure it doesn't get into your eyes.

Final Verdict
After thoroughly inspecting Olay Pro-X Eye Restoration Complex, it is a good eye cream. The formulation of this eye cream is above average and it has been clinically proven to be effective.
Many customer reviews say it really works but some customers complain that it doesn't really have considerable effects in reducing skin aging signs around the eyes.
Another problem with the formula from Olay's Pro-X line is the high price and the fact that some people are hypersensitive to certain ingredients in the formulation.
The most common eye area issues are puffiness, dark circles, wrinkles and crow's feet, and loss of hydration. There are countless eye creams available on the market today, making it seem nearly impossible to find the "right one" that meets our specific under eye needs. It is imperative to find a product that has been formulated to address a variety of complex eye area problems.
Below you'll find some of the most effective eye cream formulations on the market today, in our opinion.
Our Top Eye Cream Choices
Verdict on Claimed Benefits: Below is our summary of the available evidence for the claimed benefits of below mentioned anti-aging eye creams and eye serums based on the available research:
Radiate + Revive Hydrating Eye Cream

Help To Moisturize, Revitalize, Rejuvenate Delicate Skin*
Gold Star Evidence
Improve Elasticity, and Smooth Fine Lines*
Gold Star Evidence
Reduce Wrinkles, Dark Circles*
Gold Star Evidence
Protect the Skin From UV Rays*
Strong Evidence
Skinception Eyelasticity | Age-Defying Eye Therapy
Reduces Crow's Feet*
Gold Star Evidence
Less Under-Eye Puffiness*
Strong Evidence
Dark Circles Vanish*
Gold Star Evidence
Thickened Delicate Skin*
Strong Evidence
XYZ Smart Collagen | The Best Collagen Cream
Wrinkles Reduction*
Gold Star Evidence
Improves Skin Firmness*
Strong Evidence
Improves Skin Texture*
Gold Star Evidence
Smart Collagen Management*
Strong Evidence
Product reviews are provided for informational purposes only and reflect solely the views and opinions expressed by the contributors and not those of Consumer Health Digest. We do not verify or endorse any claims made in these reviews. Please read the full product reviews disclaimer. *All individuals are unique. Your results can and will vary.
Ask a Question
Have a Question? Please Tell Us What We Are Missing Here!
PRODUCT NAME
Olay Pro-X Eye Restoration Complex
PRODUCT BRAND
Olay
PRICE (in USD)
$11.57
ITEM FORM
Serum
VOLUME
20 ml
INGREDIENTS
Niacinamide, Peptides and Caffeine
But At Amazon
Buy At Walmart
**This is a subjective assessment based on the strength of the available informations and our estimation of efficacy.
*Result may vary. The information contained in this website is provided for general informational purpose. No medical claims are implied in this content, and the information herein is not intended to be used for self diagnosis or self treatment of any condition.
*Disclosure of Material connection: Some of the links in the post above are "associate sales links." This means if you can click on the link and purchase an item, we will receive a commission. Regardless, we only recommend products or services which we use personally and/or believe will add value to our readers. We are disclosing this in accordance with the Federal Trade Commission's 16 CFR, Part 255: "Guides Concerning the Use of Endorsements and Testimonials."